Elections
Resentment lingers in 175th District after wards' 'bait-and-switch'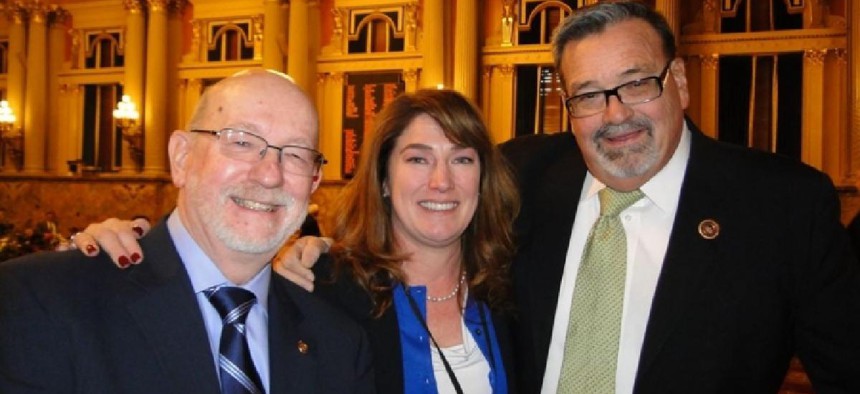 Democratic ward leader Mike Boyle found himself at the center of a rare controversy in his Center City Philadelphia district. A vocal minority of committee people, many of them insurgent reformers, said the 5th Ward leader had colluded with 175th District state Rep. Mike O'Brien to appoint O'Brien's chief of staff Mary Isaacson as a successor after his abrupt retirement.
Boyle said he was just following party bylaws – as did Isaacson, for her part – and delivering a prompt fill-in candidate for the November election. But Isaacson now says she realizes her unusually swift appointment, just five days after O'Brien announced his retirement, could cost her.
"They were bombarding him with emails," Isaacson said of Boyle's critics. "I recognize it. I told every single committee person that I will immediately start meeting with voters in order to earn their trust."
But some in the district say that might not be good enough. Nikil Saval, who rode a wave of resentment against politics-as-usual into leadership of the 2nd Ward this year, said he had supported a call to delay the appointment to give alternative candidates a chance to pitch themselves to the wards. But he felt Boyle and other ward leaders had intentionally rushed the process, depriving committee people of the chance to hear from potential candidates – including Isaacson herself.
"I thought it felt like (the nomination) had been set up. I didn't understand why it was being rushed," he said. "I just don't understand how dire the situation has to get for this party or the country to realize that this kind of politics is completely alienating to voters." 
However, Isaacson denied that it was all a premeditated "bait-and-switch." She said she didn't know O'Brien had planned to retire until last week – conveniently after he had survived a primary but just before the filing deadline for any other would-be challengers. She described herself as a victim of circumstance who was being unfairly criticized by reformers and the press. 
"Boyle called me and told me I would be the best candidate...This was decided by the ward leaders. I didn't get a say," she related. "I assume they could have delayed the meeting, but it wasn't my decision. The request was that it was as soon as possible."
She said she didn't ask supportive wards to delay the vote that ended with four out of five wards voting to put her on the ballot. But Isaacson says she would support changing the process in the future.
"I said I'd support changing the rules," she said. "Of course, that's going to have to come up from organizing...and you have to go out and get two-thirds of the ward leaders to change the city committee bylaws."
Committee person Neil Makhija said it was a little late for all that – he and another resident both unsuccessfully presented themselves as last-minute alternatives for the seat on Sunday, just before the ward vote.
He said ward leaders could have acted differently without changing party bylaws and that the decision to expedite the appointment had shut out potential candidates from different communities in a highly diverse House district.
"I don't want to make it personal...But we need to start enfranchising those communities and not just looking within the party establishment," he said.
For her part, Isaacson said she hadn't heard from anyone who thought she would be a bad fit for the heavily Democratic district. She said she supports fair funding for public schools, environmental initiatives, more funding for higher education, and anti-discrimination laws. 
"I also recognize that the 175th is one of the economic engines for the state. I hope that I have the experience to keep (economic development) grants coming in," she said. 
Committee person Caroline Tiger, who authored a recent op-ed criticizing the ward selection process, said she had been "impressed with Isaacson" on paper but still felt that a handful of ward leaders had foisted an undemocratic selection process on the district; some committee people had never even met Isaacson, let alone alternative candidates.
"I align with her on most policies. But it was almost was like this process was separate from who the candidate ended up being," she said. "I'm disappointed by the process, not necessarily the candidate."
She said that her fellow reform-minded committee people wouldn't forget the experience. Some have called for a longshot effort to recall Boyle as a ward leader; others are already calling on primary challengers.
"It's made all the reform-minded committee people very aware of this seat – and that it will be up for reelection in 2020," Tiger said.