Ex-Philly ADAs now prosecute Krasner's old clients at AG's office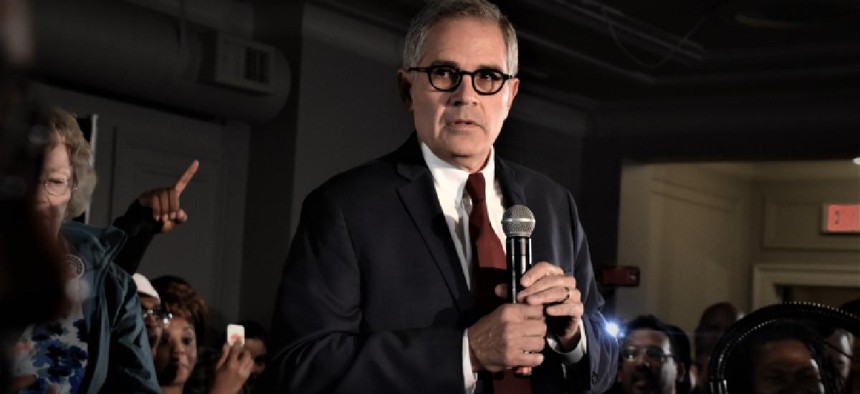 When Larry Krasner clinched a longshot victory in last year's race to become Philadelphia District Attorney, the longtime defense lawyer was left with some loose ends to tie up – including a number of active cases in which he had served as counsel to criminal defendants.
These cases presented a conflict when Krasner became the city's top prosecutor: As the new DA, he would essentially be charged with overseeing the prosecution of his former clients. In response, eight such cases were summarily handed over to PA Attorney General Josh Shapiro's office to finish the job started by local assistant district attorneys. 
Just this week, Krasner referred another case after the fatal officer-involved shooting of Jeffrey Dennis to Shapiro – the victim was also one of his former clients. To experts, these sorts of referrals are routine in the legal community, as attorneys often change jobs or come into contact with old associates. So, case closed, right? 
Maybe, maybe not.
Court records show that several of Krasner's old cases have been assigned to deputy attorney generals who previously served at the Philadelphia DA, including one prosecutor who was forced out with other attorneys by Krasner during his first week in office. Another case went to a former city prosecutor who resigned shortly before Krasner's inauguration. These cases were all assigned by a new unit chief at the regional AG's office who also left the Philly DA shortly before Krasner's dismissed dozens of her former colleagues.
The District Attorney's Office declined to comment on cases in which Krasner had a conflict. But his supporters, like Sean Damon, a legal worker and activist at the progressive Amistad Law Project, were generally critical of Shapiro's decision to hire a string of former ADAs that left or were forced out by the progressive DA, often over philosophical differences. 
Damon said that these former staffers should not be trying Krasner's former clients in the first place.
"You have the AG assigning people who have reason to be vindictive toward Krasner and could take that out on his former clients," Damon said. "It's worth asking: Krasner is being ethical (by referring these cases), but is that being reciprocated by Shapiro by hiring people that Krasner let go?"
However, Damon said his concerns went beyond cases involving Krasner's former clients. He said the AG's choice to hire attorneys that left the DAO over conflicts with the new DA had reflected Shapiro's political desire "to appear tough on crime." The result, he said, was an AG office that handles Philly cases but was out of step with Krasner's reform agenda. 
"If you were doing a comparison of their politics, Shapiro is absolutely more conservative," he said.
Joe Grace, a spokesperson for Shapiro, denied that the assignments presented a problem.
"Our prosecutors are not vindictive and are fairly and impartially handling cases, which were referred to us by District Attorney Krasner. We categorically reject the charge by Mr. Damon," he said. "Cases are assigned by the section chief based on availability and ability, not at the request of individual deputy attorneys general."
But it is worth noting that the section chief for criminal prosecutions in the Attorney General's Eastern Regional Office, which includes Philadelphia, is Kirsten Heine. She was one of several former DAO staffers who migrated to Shapiro's office just prior to Krasner's swearing-in.
In her new position, Heine assigned her former co-worker at the Philadelphia DAO, Andrew Notaristefano, to handle two cases involving past clients of Krasner's. A veteran homicide prosecutor, Notaristefano was forced out by Krasner during his first week – a dismissal that made headlines as Notaristefano publicly criticized the DA over his dismissal and continued to appear in court galleries with family members of a slain teenager.
Now a deputy AG in the Philadelphia regional office, Notaristefano recently secured a four-year probation sentence against one of Krasner's former clients over a burglary charge. He is also currently prosecuting a separate case involving an assault charge.
Like Heine, Ron Eisenberg resigned his post at the DAO shortly before Krasner's inauguration – he was the head of the office's Law Department – and was hired by the AG. The attorney has ideological differences with Krasner: He is listed as a contributor for the conservative Federalist Society's blog and has written essays casting doubt on the efficacy of death penalty moratoriums, a key issue for Krasner. 
After his hiring by Shapiro, Eisenberg was assigned to a post-conviction relief effort involving another client of Krasner's initially accused of attempted murder. He was later removed over another, unrelated conflict.
Grace reiterated that the attorney general's office had acted impartially and at Krasner's request, and that none of the aforementioned attorneys had acted improperly in their handling of the aforementioned cases.
Experts, like attorney Sam Stretton, said the assignments only presented a legal issue if there was clear evidence AG staff had acted out of vindictiveness.
"If someone said, 'I'm going to get Larry by hurting his clients,' that would be one thing. But I don't suspect they think that way. They're interested in justice for the defendants," he said.
"And no one's ever going to say that."
Stretton added that historically, it was not uncommon for the DA and AG to swap staff, given overlapping jurisdictions and casework. But few district attorneys in the past have been quite as polarizing as Krasner, who has attracted wide-ranging public criticism from former prosecutors.
Mark Gilson, a homicide prosecutor who was forced out in Krasner's first week, was thrilled to hear his former colleagues were involved in these cases. He accused Krasner of being too lenient and seeking to a cut plea deal in a difficult murder case he had worked on in the past.
"I hope some of them were my old (cases)," he wrote in an email. "They're better off in (Notaristefano) and (Eisenberg's) hands. At least they're competent and experienced prosecutors."
Thanks to his history as a defense attorney with three decades' experience and many former clients, handovers from Krasner to the AG appear to be an ongoing issue. Krasner campaigned on police accountability, but his office announced earlier this week he would refer a suit over the officer-involved shooting of Jeffrey Dennis to the AG.
Krasner represented Dennis in a 2015 drug case. On Monday, Dennis was shot and killed by plainclothes narcotics officers during warrant service. But his family has said he was unarmed and the incident has already triggered a departmental review over the use of force. 
On Wednesday, the AG accepted the case's referral from the DAO. Grace said it was too early to say which staff attorney would be assigned to handle the case.