Elections
Justin Diberardinis inches toward a Philly City Council run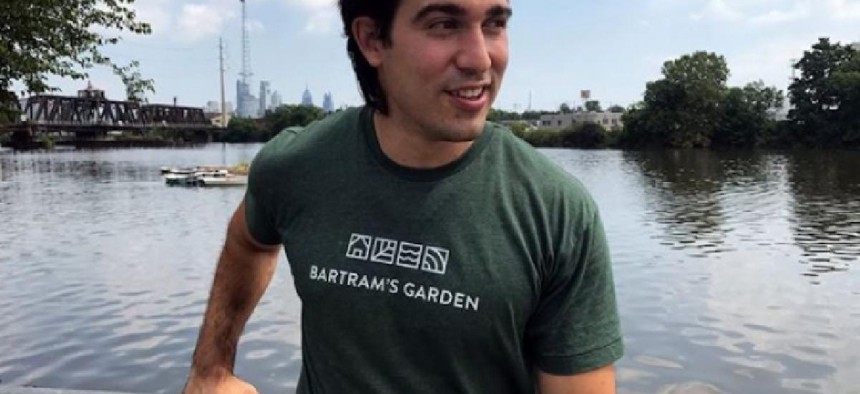 Sources have told City & State PA that Justin Diberardinis, a former staffer to Councilwoman María Quiñones-Sánchez and the son of Philadelphia Managing Director Michael Diberardinis, will likely announce a bid for an at-large seat on City Council before year's end.
"I'm seriously considering a run for Council at-large," he said. "I'm working hard to make it a reality. I have been raising funds and having conversations with Philadelphians for over a year."
For now, Diberardinis, who currently works as director of programs at Philadelphia's historic Bartram's Garden, is in the same category as former City Controller staffer Isaiah Thomas: a candidate in all but name. Much like Thomas, Diberardinis has raised money and hosted at least 20 events over the past year, usually referring to himself as a "prospective" candidate for City Council.
At one recent event, he spoke to neighbors and promoted restored street cleaning services and using economic gains experienced by downtown neighborhoods to alleviate poverty in other sections of the city.
While he was careful to underscore that he's still in the exploratory phase of running for office, Diberardinis outlined his interest in similar progressive causes.
"I believe we need to spend the next 50 years building the most economically equitable, environmentally sustainable and just city in America," he said. "Those conversations have been about the future of the city – moving past the decades of decline, and talking about how we will define and set the terms for prosperity that's coming."
A Germantown resident, during his time in Councilwoman Sánchez's office, Diberardinis was involved in efforts like capturing more business tax linked to companies doing business in the city but with headquartered outside of Philadelphia. In more recent years, he has focused on projects at Bartram's aimed at better connecting the centuries-old landmark with the surrounding community in Southwest Philadelphia. 
He is also involved with the leftist group Reclaim, which has scored a string of local political victories over the past two years. 
Diberardinis' family is well known in PA politics: His father, Michael Diberardinis, served as a former Secretary of the Pennsylvania Department of Conservation and Natural Resources, a top deputy to former Mayor Michael Nutter and ran the city's Department of Parks & Recreation for years. He was appointed managing director, reporting directly to the mayor, shortly after Jim Kenney moved to the second floor of City Hall in 2016.
Diberardinis said his father has no role in his current political activities.
"I've learned a great deal from my father; he has shown me how to navigate government and politics with integrity, and a commitment to progressive values," he said. "But this effort is my own. I have a 15-year resume serving the citizens of Philadelphia. I stand on my own two feet."
City & State PA has been running an ongoing series of profiles on prospective 2019 Council candidates and the early field is dominated by Democratic contenders eying the five at-large seats reserved for the majority party, all elected through a citywide vote. Several Democrats are expected to retire in the coming year, intensifying interest in potentially open Council seats.
The former staffer said that his hesitancy to officially declare is related to that still-evolving field.
"I know it's going to be a crowded field. I know that many other qualified progressive candidates are considering a run," Diberardinis said. "I'm testing support for my message and platform, watching how the field develops, and I plan to make a decision on my candidacy by the end of the year."