Elections
Wagner, Wolf engage in battle of the bootstraps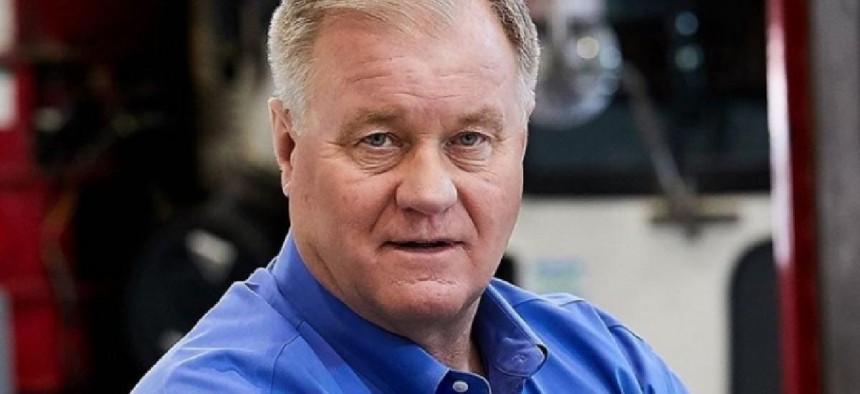 When he contrasts himself with Gov. Tom Wolf on the campaign trail, GOP gubernatorial candidate Scott Wagner often likes to talk up the rags-to-riches origin story of his multimillion-dollar waste management empire while comparing its origins to that of the Democratic incumbent's business.
"He didn't start from scratch...He was a sixth-generation business owner," he says, of Wolf's family cabinetry operation.
Wagner has frequently repeated the "from scratch" description of his entrepreneurial rise at numerous campaign stops. His campaign ads describe him as "a businessman who started with nothing" as a way to differentiate himself from Wolf and even other monied Republicans, like President Donald Trump.
But Wolf's allies are starting hitting back, including PA Democratic Party spokesperson Mike Mikus, who accused Wagner of lying outright. 
Critics like Mikus contend that Wagner would never have found success with York Waste, his first foray into the trash collecting business, without the help of a wealthy uncle who served as an early investor and business partner.
"Wagner likes to tell people he pulled himself up by his bootstraps, but he purposefully leaves out the fact that his rich uncle paid for the boots and the straps," he said. "He has been lying about his own record throughout this campaign. He is lying about how he got his start in business."
It's true that in 1985, Wagner started York Waste with help from his uncle Robert Kinsley, an established construction magnate whose companies are still some of the biggest employers in the county – a third founding partner was later bought out by Wagner and Kinsley – and who co-signed for part of the company's starting capital.
The Wagner campaign was quick to shoot back that before York Waste, he invested in real estate, bought and sold real estate, worked as a bail bondsman and started a ski shop in Gaithersburg, Maryland.
"York Waste was not Scott's first business venture," said campaign spokesperson Andrew Romeo. "Scott is as self-made as it gets."
However, when Wagner has expounded on his humble beginnings to voters, it's clear he's not talking about a ski shop, miles from the nearest slopes, which he sold before starting his trash hauling company. 
Wagner specifically references the early days of York Waste, a business that would eventually make him millions.
"I started with two trucks. I was the driver, I was the mechanic, and I was the sales rep," he said at a campaign event, referring to the origins of York Waste.
Romeo said Kinsley didn't simply hand Wagner startup money, contrasting the trash man with Wolf and running mate John Fetterman, who also hails from a well-to-do York family.
Wagner and Kinsley "had to take out bank loans, like anyone who starts a business from scratch," he said. "It's understandable that the Democrats are upset that it will be tough to win by running two trust-fund babies who don't know the value of a hard-earned dollar."
Like Wagner, Wolf has at times sought to play up his early struggles, noting that he started at Wolf Home Products as a forklift driver. But if launching a business with an established uncle teed up as an investor counts as starting from "nothing," it's also worth pointing out that Wolf bought his ailing family business outright from his relatives and turned around its dwindling fortunes. 
To their shared hometown paper – and perhaps to voters – the debate is immaterial. Both men found success in business. Both men also happen to be directly connected to some of the wealthiest families in the region.
"Maybe Sen. Wagner feels like he needs to out-"regular-guy" the guy who campaigned for his first term in an old Jeep," reads a York Daily Record editorial from January. "But it's a bit disingenuous. These are both good, hard-working Yorkers. Our political advice: Draw the distinctions based on ideas and issues rather than 'personal stories."