Campaigns & Elections
House report sets stage for election law overhaul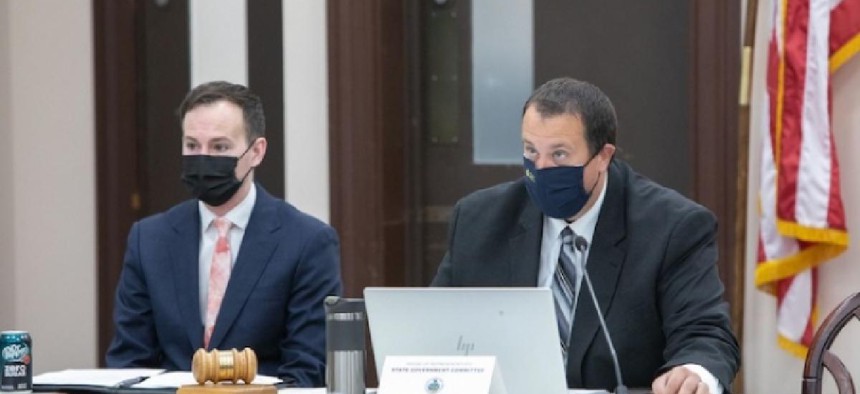 After holding a series of ten extensive oversight hearings on election law and administration in Pennsylvania, House State Government Committee Chairman Seth Grove has released a 98-page report that will likely kick-start conversations on how to overhaul the state's hotly-debated Election Code.

Pennsylvania's election laws have been in the national spotlight since last year, when they were the subject of a barrage of criticisms and legal challenges from Republican officials seeking to aid then-President Donald Trump's bid for reelection. But Grove has long contested that the hearings — and the ensuing report — were not designed to relitigate the 2020 presidential election, but rather to build off of the challenges revealed in the last year and strengthen the state's Election Code.

The report lays out an array of potential suggestions for lawmakers to consider, including moving voter registration and mail ballot applications further away from the election to give counties more time to process applications; eliminating the permanent mail-in voter list to reduce voter confusion; restrict the use of third-party mail ballot applications; clear up language in the Election Code to reduce the need for Department of State guidance; and implement voter ID requirements, among other changes. 
The report also features recaps of each of the committee's ten oversight hearings, which included testimony from local election officials, election security experts, members of the legislature and other stakeholders. 
The goal of revamping the state's election laws comes as other GOP-led states have implemented laws that have imposed new restrictions on certain voting processes. 
Grove, speaking to City & State on Tuesday, said nearly any election-related proposal is on the table, from voter ID requirements coveted by Republicans to same-day voter registration options sought by Democrats. But the York County lawmaker said the end result will require some give-and-take from both sides of the negotiation.
"It's a give and get, so if you have a Democratic governor, you've got to work with him and his administration on getting election reforms done," Grove said. "We have never said "no" to any of his ideas to date, so we're here willing to work with him. It just depends if they have an actual interest in doing something, if they actually have a willingness to sit down and have a conversation about stuff."

But Grove said those conversations are currently at a standstill, after he met with Gov. Tom Wolf's chief of staff Mike Brunelle to talk about potential changes to the Election Code. Grove said that after he brought up the topic of voter ID requirements, he and Brunelle have not discussed election reforms further.

A spokesperson for Wolf's office did not immediately respond to a request for comment, but Brunelle told the AP last week that the possibility of including voter ID requirements in negotiations was a non-starter. "When voter ID was put on the table, it made it clear that it was not a serious discussion," Brunelle said. 
Still, Grove said he hopes to work with the Wolf Administration to iron out kinks in the Election Code before the end of June. 
"I'm still willing to have conversations," Grove said. He added that the hearings underscored a need to develop a "comprehensive" update to the state's Election Code, and not just one, singular fix. Lawmakers amended the law in 2019 to give all Pennsylvanians the option to vote by mail for the first time, though the change has already come under fire from some Republicans who want to repeal the mail-in option in its entirety. 
"To me, it is a comprehensive fix we need to do. We need to do a far better job of increasing accessibility, we need to do a far better job of timeline, we do a far better job of, you know, integrity, provisions. It is a comprehensive look and that's the direction we need to go in. There's just not one fix or one or two fixes to really help our election process. It is a comprehensive view that we have to take and we have to get it right."