Economic Development
New legislation targets federal COVID unemployment aid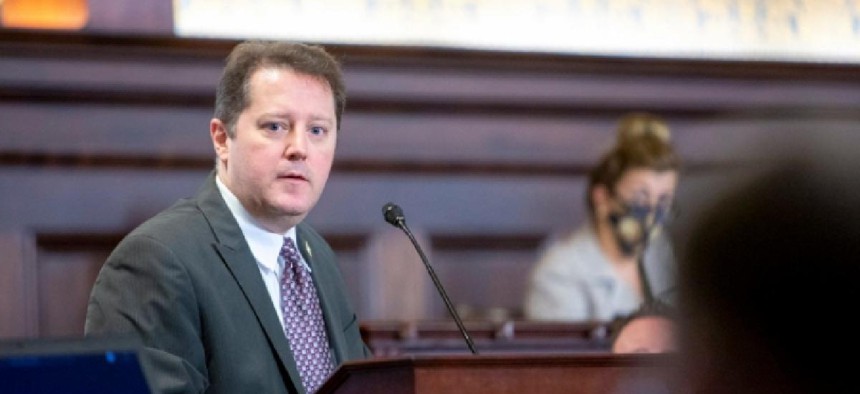 That old adage, "there's no substitute for hard work" rings true for one state legislator who wants to end Pennsylvania's participation in federal unemployment programs that he claims are putting the brakes on the state's economic recovery.
State Rep. Jim Cox, a Republican from Berks and Lancaster counties, has introduced legislation targeting the three main unemployment programs provided by the CARES Act – Federal Pandemic Unemployment Compensation, Pandemic Unemployment Assistance and Pandemic Emergency Unemployment Compensation – commonly known as PUC, PUA and PEUC.
If passed, Cox's bill would end each program on a staggered schedule, giving several weeks' notice to recipients the programs are ending. It would also reinstate work search requirements. Cox's proposal aims to motivate former unemployment claimants by offering them a "Back-to-Work Bonus" program, which rewards them with $300 for four consecutive weeks of work.
"Between borrowed federal stimulus payments with no strings attached and enhanced unemployment benefits that pay people not to work, federal policy has been encouraging unemployment claimants to stay home," Cox wrote in his legislative memo. 
"It may have made some sense to send that message for a few months at the beginning of the pandemic, but a lot has changed since last spring. As more and more Pennsylvanians are vaccinated… There are far fewer restrictions on economic activity, and it is high time to get Pennsylvanians back to work. The message now should be: Go find a job!"
As more people are vaccinated and COVID-19 cases continue to decline across the state, restrictions are being lifted and more businesses are reopening, but employers are having a hard time finding workers, many offering all kinds of incentives to attract potential new hires. A building products company posted a $1,500 sign-on bonus for an assistant operator of extrusion equipment in Scranton. A Taco Bell in Easton "urgently" looking to hire offered an instant sign-on bonus, and a home care nurse job in Philadelphia was advertised with a $15,000 sign-on bonus at Trinity Health Care.
Michael Alleruzzo teaches graduate and undergraduate courses in management at St. Joseph's University in Philadelphia. As a business consultant, he said he's seen how many are disincentivized to return to the workforce when cash is coming in from Uncle Sam.
"I think the government needs to end the business of the stimulus relief checks. The old expression: 'The road to hell was paved with good intensions' – I think that's what happened with the government," he said.
"The government needs to back off and say, 'Go back to work.' As we move toward herd immunity, I think the government is going to very quickly cut this off and say, 'We're done with this.' The government stimulus checks are a fine Band-Aid, but they're not a purpose, and purpose is what really drives us."
Others think it's too soon to yank away what many have come to rely on as a financial lifeline.
State Rep. Robert Freeman, a Democrat from Northampton County, is opposed to the idea of pulling out of the federal programs just yet.
"I think we're still going through a transition period in terms of coming out of the lockdown of the pandemic. For many working families who live on bare wage, that additional worker's comp is giving them a bridge in a post-pandemic period," he said.
"Many, because they're being paid minimum-wage jobs, have a tough time putting together their household income to address real family needs. If anything, the importance of the additional $300 benefit had brought home the need for us to increase the minimum wage. Because many families are living paycheck to paycheck and barely able to meet the basic needs of their household, that $300 additional funding has helped them through this period of unemployment."