Congress
In Philly, Joe Biden pushes back against '21st century Jim Crow'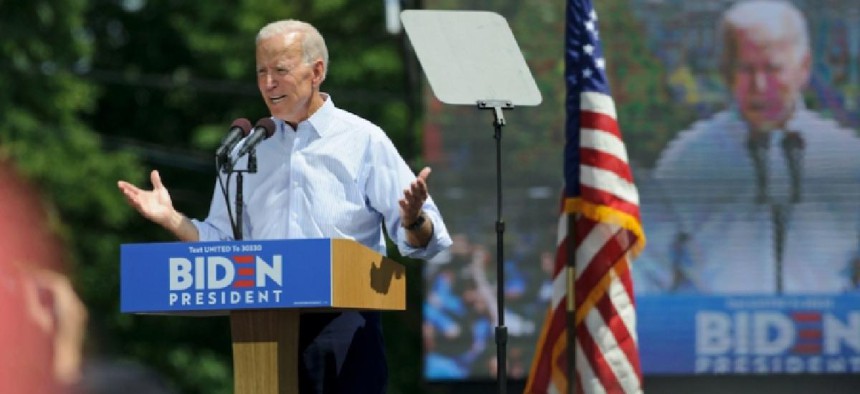 President Joe Biden wants Americans to rally around voting rights and prepare for "another test in 2022," he said during his speech at the National Constitution Center in Philadelphia Tuesday.
Biden called on Congress to pass the For the People Act, or H.R. 1, which looks to expand voting rights, limit partisan gerrymandering and create new ethics and campaign finance rules. The bill is Democrats' counter to efforts by Republican-majority state legislatures to restrict voting access in the name of election security. 
"This year alone, 17 states have enacted 28 new laws to make it harder for Americans to vote," Biden said. "The 21st century Jim Crow assault is real."
Many GOP-controlled states have passed laws that either restrict voting or change election rules in response to then-President Donald Trump's baseless claims that voter fraud prevented him from winning the 2020 presidential election.
The Republican-led Pennsylvania legislature passed similar election reforms in House Bill 1300, which Gov. Tom Wolf promptly vetoed. HB 1300 would have enacted stricter voter identification rules, created ballot drop box limits and required signature verification for mail ballots. It passed along party lines in Harrisburg, with many Democrats saying the legislation contained some good provisions, but a lot that would disenfranchise voters.
Two of those elements were changes requested by county election officials during the public hearing process earlier this year. They include the ability to process and count mail ballots several days before Election Day, and moving registration and mail ballot application deadlines. It looks unlikely that counties will get those in time for the November election. 
Republicans said the omnibus bill would have improved election security while also making voting more accessible through the creation of in-person early voting centers and curbside voting for those who are disabled. They cite a Franklin and Marshall poll that shows a majority of Pennsylvanians support signature matching for mail-in ballots and voter ID requirements.
"Over the course of the last two legislative sessions, the Pennsylvania House Republican Caucus has led the charge to protect and expand voting rights through accessibility, modernization and security," Pennsylvania House Republican Caucus spokesperson Jason Gottesman said in a statement. "Instead of working with the legislature on this shared goal, President Biden's top Pennsylvania ally – Gov. Tom Wolf – has been AWOL, only engaging with lawmakers on election reform issues to play partisan politics with his veto pen."
Wolf, who joined Biden Tuesday alongside Philadelphia Mayor Jim Kenney, Rep. Brendan Boyle and several other lawmakers, has said he was willing to find common ground, but refused to negotiate any legislation involving stricter voter ID.
Republicans are now looking to circumvent Wolf's desk by pushing voter ID requirements through the constitutional amendment process. To get the amendment through, it would have to be passed during two consecutive legislative sessions before making it to the ballot, meaning the earliest voters would decide on the issue would be 2023. 
In addition, state Sen. Doug Mastriano, a Republican who continues to question the election results, has pressed his colleagues to conduct an election audit similar to the one done in Arizona.
After the hotly contested presidential election in 2020, voting rights and reforms will remain a controversial issue for years to come. Biden used his platform Tuesday to call for a coalition of Americans from all backgrounds and parties to stand up for their "sacred right to vote." 
"We're going to face another test in 2022, a new wave of unprecedented voter suppression, and raw and sustained election subversion," Biden said. "The power must always be with the people. That is why, just like we did in 2020, we have to prepare in 2022. We will engage in an all-out effort to engage voters about the changing laws, register them to vote, then get the vote out."