Health Care
Did Wolf have the power to mandate school masks? GOP seeks answers.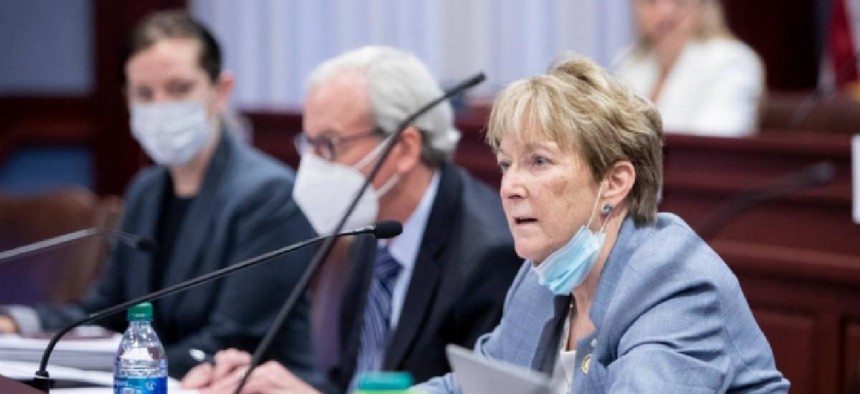 As tensions build over a statewide mask mandate for students and faculty at K-12 schools, a Republican-led House committee is seeking a determination on whether or not Gov. Tom Wolf's administration had the authority to implement the requirement to begin with.

The House Health Committee on Tuesday voted along party lines to send a letter to the Commonwealth Joint Committee on Documents seeking a judgment on whether the masking order needs to move through the regulatory review process before taking effect.

Republican lawmakers on the committee questioned the administration's ability to issue the mandate without an active emergency declaration in place. State Rep. Kathy Rapp, the committee's majority chair, suggested that the Wolf administration lacks the authority to issue the requirement. "We have the authority to make laws, not secretaries of agencies," she said.
"It is my strong belief that the secretary does not have the authority to proclaim this order," Rapp added. "Because it is being interpreted as law, it would be no different than the secretary of agriculture sending out an order that all children in a school district should drink a half a pint of milk for lunch every day."
Democrats likened the committee vote to political theater and said the regulatory process could impede the state's ability to protect public health if the masking order gets subjected to the regulatory process, which can take months, if not years.

State Rep. Dan Frankel, the minority chair of the committee, defended the use of masks to prevent the spread of COVID-19. Frankel said that without mask requirements, schools will likely see COVID-19 outbreaks, forcing schools to shut down in-person learning. 
"Masks work to prevent transmission so children can go to school much more safely. The data clearly shows that," Frankel said. "There is no such thing as in-person learning without mitigation policies. We either allow outbreaks that force school closures and children to quarantine or we act responsibly by continuing science-based policies that protect our children in the classroom."
The letter to the Commonwealth Joint Committee on Documents was ultimately approved despite objections from Democrats. 
The Wolf administration announced the indoor mask mandate for students, staff and volunteers at K-12 schools after previously pledging to leave the decision to local officials. Wolf said the change of heart was necessary to stem the spread of COVID-19 and keep schools open for in-person learning. 

Lyndsay Kensinger, a spokesperson for Wolf, said a regulation already exists that grants the administration the power to issue health-related orders.

"A regulation for this already exists. A separate regulation is not needed. This is again a perfect example of Republicans in the legislature wasting time and being unhelpful," Kensinger said. "It would be far more productive for these members to join their bipartisan colleagues in the General Assembly who choose to save lives and stop COVID-19 by encouraging everyone 12 and older to be vaccinated."