Ethics
Pandemic business waiver program created a quandary for businesses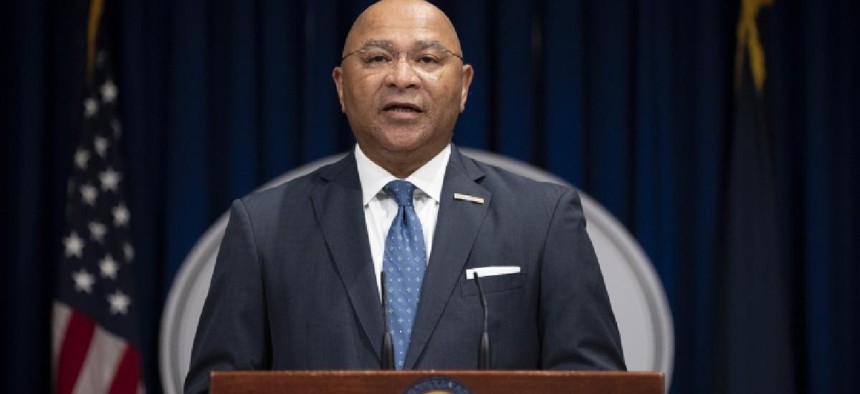 Auditor General Timothy DeFoor's performance audit of the Wolf administration's business waiver process during the COVID-19 pandemic confirmed what many businesses said months ago: The program's changing guidance and inconsistent responses kept business owners confused. 
The waiver program, created for life-sustaining businesses to apply to remain open during the COVID shutdown, faced harsh criticism from the business community and state officials for the rushed and ever-changing implementation by the Department of Community and Economic Development (DCED). DeFoor held a press conference Tuesday morning revealing his findings.
"This audit revealed a flawed process that provided inconsistent answers to business owners and caused confusion," DeFoor said. "While the pandemic certainly presented some unique challenges, the process was hastily assembled on the fly, unevenly administered and should be reformed before anything like it is ever used again."
DeFoor noted that about one-third of the 42,380 waiver requests DCED received were from businesses that were already considered life-sustaining and did not need to apply, which is proof the guidance was confusing for many. The business closure order, waiver application, and Frequently Asked Questions document for the program all changed several times throughout the first few months of the pandemic. DeFoor said while the changes are understandable given the evolving nature of the health crisis, the inconsistencies "certainly contributed" to the statewide confusion. 
Republicans statewide spoke out against Wolf's shutdown orders and the inconsistencies in the waiver program. This report, some said, came as no surprise.
"Today's report confirms what we knew from the moment Gov. Wolf's business shutdown order was issued: Pennsylvania families, employees, and job creators deserved better," Jason Gottesman, House Republican spokesperson, said in a statement. "With Pennsylvania voters approving a requirement for more cooperative government in times of emergency, people subject to these types of unilateral orders can be assured of a stronger system of checks and balances that keeps their interests in mind going forward."
The development of the program led to many of its shortcomings, but the administration of it also raised questions. DeFoor said outside influences may have had a role in how quickly some waivers were processed and that key phrases such as "serving health care providers" or "not serving customers in person" could have helped some businesses receive favorable responses. 
Response times for waivers averaged around six days. After an application was submitted, decisions were reached anywhere between one and 28 days. Of the 150 individual applications the audit reviewed, DeFoor said, 103 received reasonable decisions and 47 received questionable responses, including two businesses that did not receive a response at all. 
"These questionable decisions had real-life negative consequences to businesses that should have been able to operate but instead were told they had to close," DeFoor said. 
The performance audit finalized five findings and 22 recommendations should the commonwealth need to develop a similar program in the future. The five findings included that: 
The closure order was more restrictive than the federal guidelines and resulted in more business closings;
The guidance available to businesses and used by DCED to determine whether or not businesses are life-sustaining continued to evolve;
There were deficiencies in the development of the waiver program which resulted in a lack of accountability and transparency;
Questionable decisions by DCED for certain waiver requests resulted in detrimental effects for businesses and an unnecessarily increased risk to public health; and
Responses to businesses within the same industry were inconsistent 
DCED said it found the recommendations to be "very constructive."
"The Wolf Administration prides itself on transparency and this audit reinforces what we have said time and time again – this situation was unprecedented and DCED is proud of the work accomplished by our team in an incredibly short time period," the statement said. "The waiver program began accepting requests on March 20, 2020. By the time the program closed on April 3, 2020, it had received a total of 42,380 waiver requests, an average of 2,800 requests per day."
The audit began with former Auditor General Eugene DePasquale, who also criticized the program during its early months. DeFoor said nothing about the audit was changed once he took over the role.