Harrisburg
GOP senators look to scale back powers of cabinet officials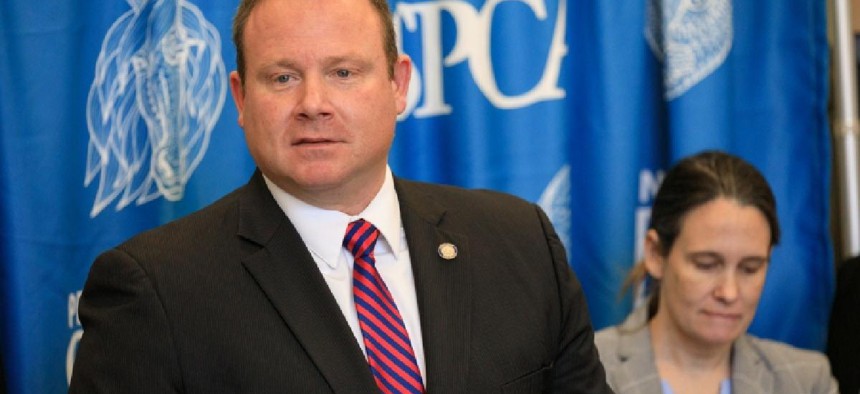 Republican senators in the General Assembly are once again looking to curtail the power of Pennsylvania's executive branch, but rather than further restrict Gov. Tom Wolf's authority, this time they have a new target in their sights: cabinet secretaries. 
A new proposal unveiled on Monday by four GOP senators would amend the state constitution to prohibit cabinet secretaries from issuing mandates, orders, guidance or directives without an active emergency declaration in place. 
The move comes in direct response to the Wolf administration's new indoor mask mandate, which requires all students, staff and volunteers to wear a face covering when inside public and private school facilities. The universal masking order for Pennsylvania schools was made under the state's Disease Prevention and Control Law, which grants the state health secretary to take "appropriate control measures" to limit the spread of a disease.

Sens. Scott Martin, Judy Ward, Pat Stefano and Kristin Phillips-Hill, the prime sponsors of the proposed amendment, wrote in a co-sponsorship memo that the Wolf administration's mask mandate was made in a way that bypassed "the very checks and balances the citizens of Pennsylvania voted to amend our Constitution with."
"If this sounds like a legally tenuous and overly stretched interpretation of statute and/or a great departure from the will of the citizens of Pennsylvania with their approval of this May's Constitutional Amendment, it's because it is," they wrote.
A majority of voters approved a set of constitutional amendments earlier this year that limit gubernatorial emergency powers, allowing lawmakers to terminate a gubernatorial emergency declaration at will. The changes also limit emergency declarations to 21 days and require any extensions to be approved by members of the General Assembly. 
The constitutional changes were advanced as a result of Wolf's response to the COVID-19 pandemic, as Wolf frequently used broad authority granted to him under the state's Emergency Management Services Code to implement COVID-19 mitigation measures. Using his sweeping emergency powers, Wolf issued stay-at-home orders, closed businesses and directed schools to shift to remote learning. 
The GOP lawmakers sponsoring the proposal say that the Wolf administration is looking to mimic those early mitigation measures, even without an active emergency declaration.
 
"Despite this, members of the Administration have argued that they still can in fact issue emergency mandates, even without the Governor declaring an emergency," they wrote. "They claim that their emergency powers do not stem from the very statute meant to govern emergencies."
Lyndsay Kensinger, a spokesperson for Wolf, said instead of looking to curtail the administration's ability to respond to the pandemic, lawmakers should work hand-in-hand with the administration to encourage Pennsylvanians to get vaccinated against COVID-19.

"Yet again, certain Republicans continue to go out of their way to be unhelpful in ending the pandemic," Kensinger said. "It would be far more productive for these senators to join their bipartisan colleagues in the General Assembly who chose to save lives and stop COVID-19 by encouraging everyone 12 and older to be vaccinated."
"We look forward to soon providing legislative district-specific vaccination rates so that the General Assembly and public can better understand how well each member's district is performing so we can work together to stop the spread of COVID-19," Kensinger added. 

Because the proposal is being introduced as a constitutional amendment, it would not need to be signed by Wolf in order to take effect.

Instead, the measure will need to be approved by lawmakers in two consecutive legislation sessions, which would then trigger a ballot referendum where voters would ultimately approve or reject it.