General Assembly
Envoy Sage president says 'facts' will guide state's election probe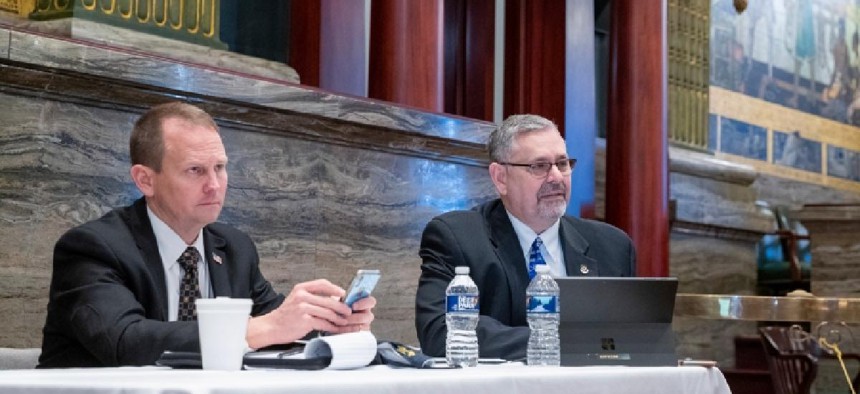 The head of an Iowa-based firm hired to help state Senate Republicans investigate the state's 2020 and 2021 elections vowed Tuesday to conduct an impartial review – as Democrats continue to frame the effort as a partisan probe. 
Steve Lahr, the president of Envoy Sage, LLC, the firm selected to assist with the review, touted his experience conducting research and handling sensitive information while in the military and private sector and said his firm will lead a fact-based investigation designed to help lawmakers craft election-related legislation. 
"Our function here is to provide the committee with clarity, facts and analysis. We have no preconceived notions of what we will or will not find. The facts, as they are gathered, both digital and physical, will drive our investigative services," Lahr said during a call with reporters. "We will handle all concerns, data or information presented by the citizens of the Commonwealth through the website, or to us by the committee, with fidelity, due diligence and the utmost discretion."
Senate Republicans announced last week that Envoy Sage was granted a six-month contract which will cost taxpayers roughly $270,000. The contract will cover document analysis, consultation and a review of affidavits submitted to the Senate Intergovernmental Operations Committee, which is leading the investigation.
"Our role is to provide investigative expertise, tools and analysis that are not organic to the Senate," Lahr added. 
Lahr didn't say whether Envoy Sage has experience investigating elections or election administration specifically, but added that most of Envoy Sage's work "is confidential and classified at the highest levels for the U.S. government and the Department of Defense."
The Senate Intergovernmental Operations Committee voted along party lines in September to subpoena the personal information of more than 9 million voters registered in November 2020 as part of its investigation. The information sought by the committee includes the names, addresses, driver's license numbers and partial social security numbers of all registered voters as of November 2020, but the request is currently tied up in court after Senate Democrats sued to block the subpoenas. 

The probe comes amid claims from former President Donald Trump that the 2020 presidential election was stolen from him and marred by widespread voter fraud, claims that have been refuted by courts, election officials and Trump's own Department of Justice. 
State Sen. Cris Dush, chair of the Senate Intergovernmental Operations Committee, has maintained that the election review is not an effort to relitigate the 2020 presidential election results, but instead to craft legislation to improve the state's elections. 
"As elected officials representing the people of our commonwealth, it is our responsibility to ensure that people can have trust in our elections and its process, and we must earn their trust," Dush said during Tuesday's call. "To accomplish that, we must find out where the weaknesses and strengths are in our system and make appropriate changes to address those weaknesses, so we can ensure election integrity."
According to Federal Election Commission records, Lahr has made political contributions to Republican causes throughout the last two decades, including $250 to U.S. Sen. Lindsey Graham in 2020 and $500 to the National Republican Congressional Committee in 2007. However, Lahr said he doesn't believe past contributions will impact Envoy Sage's ability to conduct a fair investigation.
"I have supported candidates that are Democrats and candidates that are Republicans and I have worked professionally for both administrations, Democrat and Republican," Lahr said, adding that he's "been able to put a firewall between my personal and professional business dealings." 
"I see myself as very bipartisan, fair, and will conduct myself as such," he said.
State Sen. Anthony Williams, the minority chairman of the Senate Intergovernmental Operations Committee, told City & State he doesn't have an issue with Lahr making political contributions. However, Williams was critical of how the election investigation has been conducted this far, noting that Democrats did not play a role in the selection of Envoy Sage. That, Williams said, is more troubling than any political donations that have been made.

"The ones selecting [the vendor] are only Republicans. There's no way you can tell me you're gonna be impartial," Williams said. "I don't care who he gave his money to. Let's just talk about the process. The process was partisan. It was protested. And it's not supported by us. So there's no way that he can ever claim to be anything but partisan."

This story has been updated.