Health Care
Bill aimed to stop vaccine mandates for kids seems it's going nowhere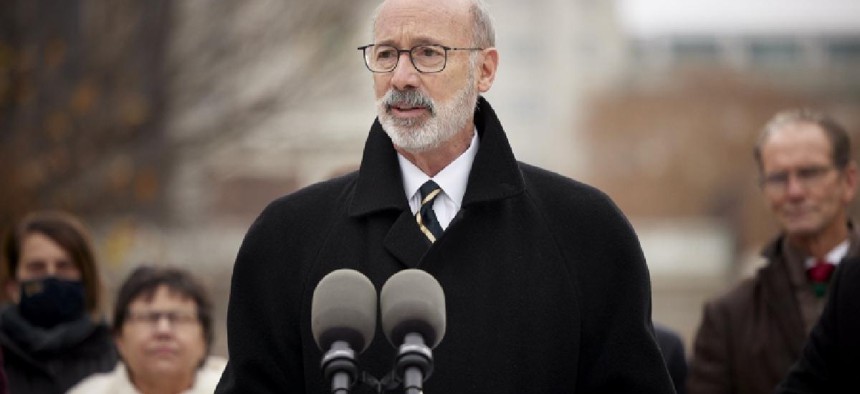 Lawmakers hoping to stop schools from requiring students to get vaccinated for COVID-19 shouldn't hold their breath. 
After the state Senate approved legislation that would prohibit the commonwealth from implementing COVID-19 vaccination requirements in order to attend school, Gov. Tom Wolf's administration has come out against the bill, calling it "a waste of time and taxpayer money."
---
---
Elizabeth Rementer, a spokesperson for Wolf, said the administration opposes the legislation and will continue to encourage eligible Pennsylvanians to get the COVID-19 vaccine. She added that the administration does not plan on implementing a state-level vaccination requirement for Pennsylvania students. 
"The administration has no plans to mandate vaccines for K-12 schools, so this is nothing more than a waste of time and taxpayer money and is a distraction from the real issues Pennsylvanians are facing that Republicans should be addressing; namely, ending the pandemic by encouraging their constituents to get vaccinated, supporting our workforce and growing our economy," Rementer wrote in an email. 
Senate Bill 937, which was approved with a 28-21 vote on Monday, would prohibit mandates that require students to receive a COVID-19 vaccine in order to attend a K-12 school. Pennsylvania students are already required to receive a range of vaccinations under state law, including for diphtheria, tetanus, pertussis, polio, measles and other diseases.
Proponents of the legislation, however, questioned whether the COVID-19 vaccines should be mandated at all, given that they were originally made available under Emergency Use Authorizations from the Food and Drug Administration. 

In August, the Pfizer-BioNTech COVID-19 vaccine received full FDA approval. The FDA also authorized the same vaccine for emergency use in children ages 5 to 11 in late October. The Moderna and Johnson & Johnson vaccines are still awaiting FDA approval. 
State Sen. Michele Brooks, who sponsored the bill, said decisions about whether children get vaccinated should be left up to parents. "This legislation is not about the vaccine itself. It is about parental options. In fact, I have spoken to many, many vaccinated parents who just want to be given back their parental rights in responding to COVID," Brooks said.
Democrats expressed confusion, and even outrage, that the bill was being considered. 

State Sen. Anthony H. Williams said he didn't understand why a bill preempting mandates was being considered when there was no school vaccination mandate in place. "What is curious about this is that we don't have a mandate," he said. "So we're passing a bill to prevent a mandate that we don't have. I don't understand that."
State Sen. Vincent Hughes said the bill, and a lack of COVID-19 vaccinations, could jeopardize public health. 
"I got grandchildren, and I want my grandchildren to be safe in any and all situations," he said. "I would expect that when the science that we have right now – that has concluded that the vaccination of our children protects their own individual health, and the health of the other children around them – that we would accept that science in the context of a virus that is extremely contagious."
With its approval in the Senate, the legislation now heads to the state House, where it will need to be considered in committee before receiving a floor vote. Jason Gottesman, a spokesperson for House Republicans, said the House Republican Caucus will review the legislation.