COVID-19
Reconvene the COVID-19 Task Force: Message from the state's GOP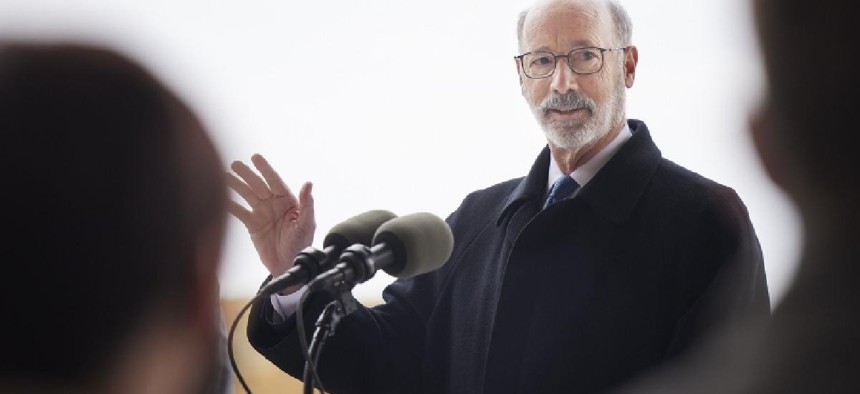 A spike in COVID-19 cases and mounting fears over the state's hospital capacity has Republican leaders calling for increased collaboration between members of the General Assembly and Gov. Tom Wolf.
GOP leaders in both chambers of the General Assembly asked Wolf to reconvene the state's COVID-19 Joint Task Force, which helped develop a vaccine distribution plan earlier this year. Wolf, however, said the panel was never dissolved and is continuing to meet as COVID-19 cases rise. 
"As the number of COVID-19 cases and number of hospitalized patients in every county of the Commonwealth continue to rise, we are hearing from many hospitals, health systems and constituents who are concerned," Senate President Pro Tempore Jake Corman, Senate Majority Leader Kim Ward, House Speaker Bryan Cutler and House Majority Leader Kerry Benninghoff said in a Dec. 9 letter to Wolf. 
The legislative leaders said as a result of the task force, the state's COVID-19 response "experienced improvements in many areas," including vaccine distribution. "We remain confident that the Task Force will prove to be successful once again," they added.
Wolf, in a response to the request, said that the task force, which includes members of all four legislative caucuses, met a little more than two weeks ago. The governor promised to work in a collaborative manner with state lawmakers as the COVID-19 pandemic continues to evolve.
"Rest assured, I have no plans to dissolve the task force anytime soon," Wolf wrote to lawmakers. "In addition, in an attempt to further increase information sharing, my administration, through the department of health, has held monthly briefings for you and oversight chairs on key pandemic-related matters. We do plan to continue these efforts, hoping that the information is appreciated by those who attend."
Wolf also said his administration has been meeting with hospital systems and emergency medical service providers to stay up-to-date on challenges they are experiencing.
Earlier this week, The Associated Press reported that Geisinger Health System has run out of beds due to a marked increase in COVID-19 hospitalizations and is running at 110% capacity at its nine hospitals. 
The Morning Call also reported that St. Luke's University Health Network is restricting the number of visitors able to see patients due to a surge in COVID-19 patients. The health system also said 80% of its COVID-19 inpatients are unvaccinated. 
Wolf, in his letter to lawmakers, stressed that unvaccinated Pennsylvanian's are driving the strain on the state's health care systems and that lawmakers should encourage vaccinations. 
"The fact is, unvaccinated individuals continue to drive this surge upon our health systems, and continuing to encourage Pennsylvanians to get vaccinated will reduce this pressure," Wolf said. "The number one thing that the members can do right now to help our hospitals is to urge all eligible constituents to get vaccinated."