News & Politics
Tom Wolf's New Year's Eve wish for the General Assembly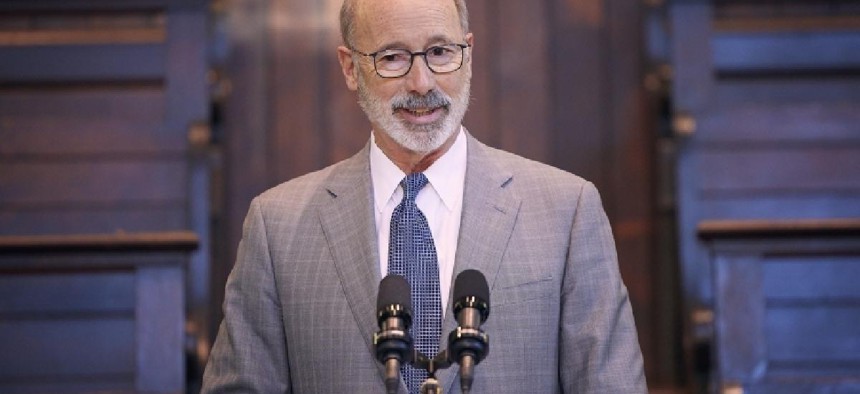 Gov. Tom Wolf is ending the calendar year the only way he knows how – with a mix of praise, criticism and one last ask of state lawmakers before the year ends. 
Wolf signed a flurry of bills on Wednesday, including one that could expand access to broadband internet throughout the state. He vetoed a controversial transparency measure which drew condemnation from the GOP. And he asked lawmakers to think long and hard about taking up a particular measure that would provide legal relief to childhood sexual abuse victims. 
---
---
Here's a breakdown of Wolf's final actions of the 2021 calendar year.
Wolf signs 9 bills 
The Democratic governor signed a number of bills this week, which addressed everything from pharmaceutical assistance to nurse aide training to the ability of licensing boards and commissions to conduct virtual public meetings. 
But perhaps the most significant bill Wolf signed into law was House Bill 2071, sponsored by state Rep. Marty Causer, which will establish the Pennsylvania Broadband Development Authority. The authority is designed to be the single point of contact for broadband development in the state.
The new law comes as Pennsylvania is slated to receive $100 million in federal funds for high-speed internet projects. Wolf called the new law "a victory for Pennsylvania" and said the act "represents a generational change for many rural communities that lack internet access, and for communities that do not have reliable access."

"With this investment and planning, we will close the digital divide, improve the cost, and bring new opportunities to communities that broadband provides," he said in a statement following the bill's passage in the Senate.
Wolf vetoes a school transparency bill
Last week, Republican lawmakers advanced a controversial measure through the General Assembly that would require schools in the state to post curriculum materials – such as textbooks, course syllabi and academic standards – to their publicly accessible website. The list of course materials would have had to be updated each time course materials are updated or changed.
Wolf vetoed the measure this week, claiming that it would further "politicize" what is being taught in the classroom as the topic of "critical race theory" has become a contentious point of disagreement in almost every level of politics. 

Wolf also said state regulations already require schools to provide parents and guardians with information about curriculum materials upon request, which he said makes the legislation "not only duplicative, but overly burdensome."

"This legislation is a thinly veiled attempt to restrict truthful instruction and censor content reflecting various cultures, identities, and experiences," Wolf said in a statement. "My Administration is committed to creating a safe learning environment for all students, and we will not take part in this dangerous and harmful imposition."

The bill's prime sponsor, state Rep. Andrew Lewis, blasted Wolf over the veto in a statement, calling it "infuriating" and saying it would make parents "jump through hoops" to access information about their child's curriculum. 

"Tom Wolf pledged to be 'the education governor' but instead takes actions that cater to special interests while hiding information from parents," Lewis said. "This governor's veto is without any logical justification, which, sadly, does not surprise me. This was a necessary and reasonable bill to provide transparency in the educational process."
Wolf asks lawmakers to act on legal window for sexual abuse survivors
Before the year officially ends, Wolf took a moment to ask Senate lawmakers to reconsider legislation that would give childhood sexual abuse survivors for whom the statute of limitations has expired another chance to sue their abusers. 
The legislation acts on a recommendation from the 40th Statewide Investigating Grand Jury, which uncovered widespread child sex abuse across six Pennsylvania dioceses. Lawmakers originally approved a proposed amendment to the state constitution that would have provided a two-year window for victims to sue their alleged abusers, but the amendment was derailed after the Pennsylvania Department of State failed to publicly advertise the amendment as constitutionally required. 
Since that time, House lawmakers have approved House Bill 951, which would create a two-year statutory window, instead of a constitutional window. That measure has stalled in the Senate, however, with Senate Majority Leader Kim Ward believing that a statutory fix is not constitutional. 
Wolf, in a letter to Senate Republican leaders this week, urged the Senate to take up HB 951 when the chamber returns for session in January.
"Victims and survivors have fought for justice for far too long – I implore you to take up that mantle and act on their behalf," Wolf wrote in a letter to lawmakers.