News & Politics
Wolf slams draft congressional map, calling process 'disgraceful'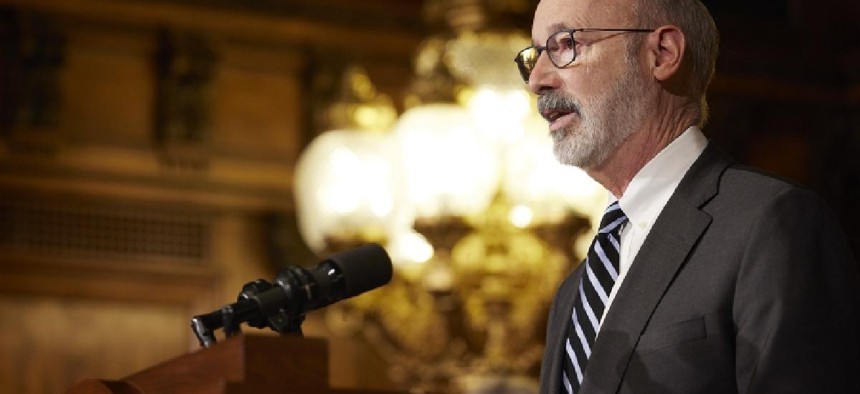 Gov. Tom Wolf has offered his first public thoughts about a new draft map of the state's congressional districts, raising concerns about the preliminary map and calling the process used to draft the plan "disgraceful."
In a letter sent to Republican leaders in the state House on Tuesday, Wolf outlined a range of concerns he has with the proposed map, which was advanced by Republicans in the General Assembly earlier this month. 
Wolf said the map, which originally mirrored a submission from former Lehigh County Commissioner Amanda Holt and was later altered by the House State Government Committee, contains congressional districts that vary greatly in population. He said population counts between the largest and smallest districts in the proposed map differ by about 9,000 people, which he said could allow the map to be "successfully challenged as unconstitutional." 
Wolf also said the map splits certain communities of interest, which are areas that share social, cultural, racial or other backgrounds that are relevant to a community's representation. The Democratic governor suggested that the splits "do not appear to be motivated by compelling legal principles, but rather by a desire to make districts more favorable to Republican candidates." 
Wolf added that he believes that map would provide a "structural advantage" to Republican candidates.

"[T]he people of Pennsylvania are looking for a fair election map drawn in an open and honest way," Wolf wrote. "They neither want nor deserve a map drawn by self-serving politicians looking to feather their own nests along with those of their political friends. They deserve better and so does our democracy."
Wolf also criticized the process by which the maps were advanced, noting that the House State Government Committee changed up the map submitted by Holt. He argued that Democrats and Republicans alike were not as involved with the development of the map as they should have been. 
State Rep. Seth Grove, chair of the House State Government Committee, countered by inviting Wolf to a public meeting on Jan. 6 to discuss reservations he has about the map. 
"From the start of the redistricting process, the committee has strived to keep the public informed throughout the open and transparent process," Grove said in a statement. "As such, I am hopeful the governor accepts this invitation to meet and talk about the map in an open forum."
Grove added that if Jan. 6 doesn't work for the governor, he would be "more than happy to rearrange" his schedule in a way that works for Wolf. "I believe the governor and I share the ideology that an open and transparent government works best for all Pennsylvanians," Grove said. "It is my hope the governor is able to meet and discuss a topic as important as our federal representation in Congress."
Veronica Degraffenreid, Pennsylvania's acting secretary of state, has said a congressional map should be finalized by Jan. 24, 2022, in order to give counties and the Department of State enough time before nomination petitions are circulated by candidates seeking public office.