News & Politics
Following Wolf's veto, PA's congressional map is headed to the courts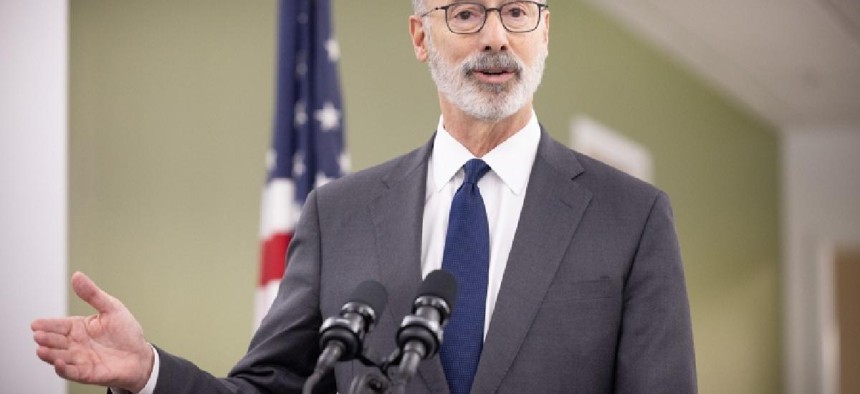 The fate of Pennsylvania's congressional redistricting plan is now in the hands of the state courts after Gov. Tom Wolf vetoed a plan sent to him this week by Republican state lawmakers.
Wolf, in a veto message, said the plan sent to him by state lawmakers in House Bill 2146 "fails the test of fundamental fairness" and "does not deliver on the Pennsylvania Constitution's guarantee of free and equal elections."
"Instead, HB 2146 adopts a map selected by politicians to take advantage of the process and choose their own voters," Wolf wrote in the message, adding that the proposed map splits multiple communities of interest in Luzerne, Dauphin, Philadelphia and Chester counties, which he said was designed to benefit Republicans. 
---
---
Wolf also said the map gives a "structural advantage to Republican candidates" and that Republicans cut Democrats out of the mapmaking process. 
The map outlined in HB 2146 was based on a submission from redistricting advocate and former GOP county commissioner Amanda Holt. Holt's submission was later modified by the House State Government Committee, despite objections from Democrats. 
State Rep. Seth Grove, who chairs the House State Government Committee, criticized Wolf's veto and accused Wolf of failing to work with Republicans to draft a congressional redistricting plan. 
"Once again, Wolf has shown his failed leadership through his unwillingness to work across the aisle with Republicans in the legislature on a constitutionally mandated requirement," Grove said. "Instead, Wolf has picked political brinkmanship and unnecessarily requiring the courts to address congressional redistricting instead of joining the General Assembly in adopting the first ever citizen-drawn map which did not use partisan data in the development of the map."
Grove went on to call Wolf's veto message "hypocritical, nonsensical ramble." 
Wolf had previously expressed his opposition to the redistricting plan advanced by Grove's committee. With his veto, the fate of the state's next congressional map will likely be decided by the state's appellate courts, with the Commonwealth Court already beginning evidentiary hearings on Thursday. 
In a December order, the Commonwealth Court consolidated two separate lawsuits asking state courts to choose a congressional map. The court then said in a follow-up order that if Wolf and state lawmakers failed to reach an agreement on a congressional redistricting plan by Jan. 30, it would choose one of several maps submitted to the court. 
During the first of two Commonwealth Court hearings, attorneys for Republican lawmakers argued that the map advanced in House Bill 2146 meets all necessary constitutional requirements. 
"The evidence that has been submitted to this court, and it will be further submitted at this hearing, demonstrates unequivocally that the plan passed by the General Assembly adheres to traditional redistricting criteria," said Robert Tucker, an attorney with BakerHostetler representing House Republicans. 
The ultimate decision of the Commonwealth Court could then be appealed to the state Supreme Court, which has typically ruled in a way that benefits Democrats.