News & Politics
PA Dems file FEC complaints against Dr. Oz, David McCormick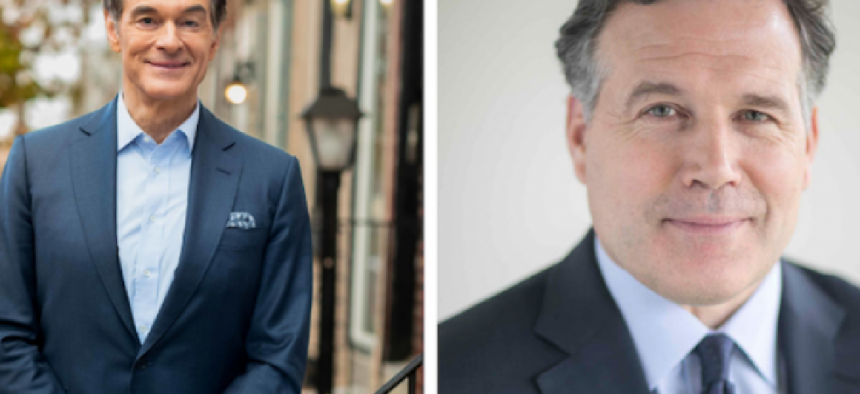 The Pennsylvania Democratic Party is asking the Federal Election Commission to investigate two newcomers to the state's 2022 U.S. Senate race – celebrity physician Dr. Mehmet Oz and former hedge fund executive David McCormick – accusing the candidates of violating separate provisions of federal election law. 

The party submitted two separate complaints to the FEC on Friday morning, including one that alleges that Oz, a celebrity talk show host, is "capitalizing" off of his commercial resources by using a version of his TV show logo, his show's web domain and his business social media accounts for campaign purposes.
---
---
In the complaint, which was reviewed by City & State, the party suggests that "corporate entities affiliated with Dr. Oz (including Oz Media, LLC) may have made impermissible in-kind contributions to Doctor Oz for Senate by lending these and potentially other resources to the campaign. Federal law also prohibits a corporation from using its name or marks to facilitate the making of contributions to a federal candidate."
The Democratic Party goes on to say that Oz "is overtly capitalizing off commercial brands and resources to obtain an unfair advantage."

The complaint asks the FEC to investigate whether Oz violated campaign finance law by accepting and making corporate in-kind contributions, and whether Oz Media, LLC has used its "names and/or marks" to benefit Oz's campaign. His campaign did not immediately respond to a request for comment. 

The other complaint against McCormick questions whether the former Bridgewater Associates CEO should be required to formally register as a candidate since he has spent more than $2 million on TV advertisements in his exploratory bid for U.S. Senate. 
According to the FEC, individuals are considered candidates when they spend more than $5,000 in an attempt to influence an election. However, a "testing the waters" exemption allows those still determining whether or not to run for office to exceed that $5,000 threshold. 
In the complaint, the state Democratic Party notes that "McCormick's advertisements carefully avoid calling him a candidate for the U.S. Senate seat in Pennsylvania," but suggests that the ads "clearly intend to boost Mr. McCormick's name recognition to advance his candidacy." 
Jack Doyle, a Pennsylvania Democratic Party spokesperson, criticized both Oz and McCormick and said both need to abide by federal election requirements.
"Mehmet Oz and David McCormick might think the rules don't apply to them because they are rich, but no one is above the law," Doyle said. "Pennsylvania deserves a Senator who will work hard for the Commonwealth, not a quack doctor from New Jersey or a Connecticut hedge fund manager who shipped Pennsylvania jobs overseas." 
While Oz is a relatively new entrant into the race and McCormick continues to weigh a formal bid, the two would likely end up facing off against other candidates in the GOP primary. 
Montgomery County real estate developer Jeff Bartos, former U.S. ambassador to Denmark Carla Sands, conservative commentator Kathy Barnette and whistleblower Everett Stern are all seeking the Republican nomination as well, with the primary election date set for May 17.