Campaigns & Elections
Barletta, Mastriano lead in early GOP polls for governor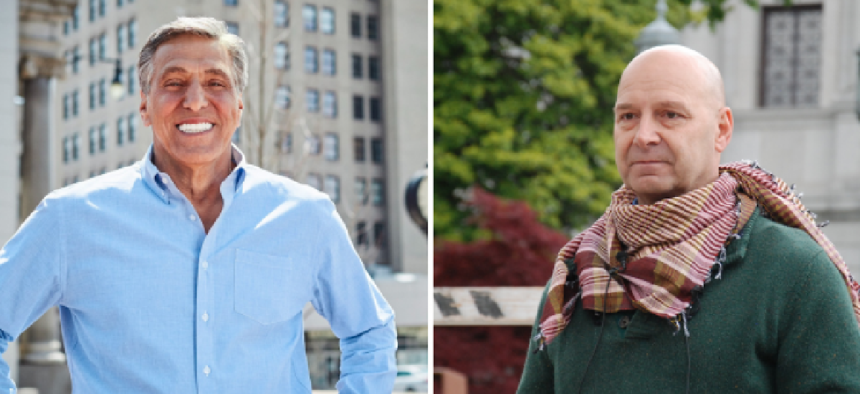 There are still months until voters head to the polls to cast their ballot in Pennsylvania's 2022 gubernatorial primary elections, but if early polls are any indication, some GOP candidates may be heading into the May 17 primary with a clear advantage. 
With Gov. Tom Wolf term-limited, the governor's race is largely a wide open affair. Attorney General Josh Shapiro is viewed as the presumptive Democratic nominee, while a long list of Republican candidates are looking to return the governor's office to Republican control. 
Two candidates – former U.S. Rep. Lou Barletta and state Sen. Doug Mastriano – have found the most success in early polls, with Barletta leading in at least three polls conducted on the race so far. Mastriano, the conservative firebrand who has echoed claims that the 2020 presidential election was ridden with election fraud, led a field of GOP candidates in a November 2020 poll from the Democratic Governors Association. 
---
---
Barletta most recently topped a field of GOP hopefuls in a poll from The Trafalgar Group, which was released this month and has Barletta leading a pack of Republican candidates with 24.1%. 
Mastriano was close behind Barletta, with 19.9% of the survey's 1,070 respondents saying that they would vote for Mastriano in this year's Republican primary. State Senate President Jake Corman came in third, with 5.1%, while former U.S. Attorney Bill McSwain and state Sen. Scott Martin (who dropped out of the race last week) received 4.4% and 4%, respectively.
Notably, 29% of voters said they were either undecided or would not vote in the Republican primary. Another 13.6% said they would support another candidate in the race. More than 82% of voters surveyed in the poll are 45 or older and 87.6% of the respondents were white. The poll had a 2.99% margin of error. 
It's the latest in a series of polling victories for Barletta, who emerged as the top choice among prospective GOP voters in multiple polls from Susquehanna Polling and Research. An October 2021 poll from SP&R found that 27% of respondents favored Barletta, who held a 21-point lead over the next-closest candidate. 
Similarly, a March 2021 poll from SP&R found that Barletta had the support of 20% of Republicans, while Mastriano had the second-highest number of votes, with support from 11% of respondents. The same poll found that 60% of GOP voters were undecided at the time. 
Jeremy Sheftel, Barletta's campaign manager, told City & State that the Trafalgar poll reinforces the support Barletta has among Republican voters. "This reflects what we see and shows the success of Lou's massive grassroots campaign. We are still working hard to earn every vote," he said.
The November 2021 DGA poll also showed that GOP voters were largely undecided, as much as 56%. Mastriano topped a pack of eight candidates in that poll, with the support of 18% of likely Republican voters. Barletta came in second, with 14%.
The March SP&R poll suggested that Barletta and Mastriano had an advantage heading into 2022. According to the survey results, both Barletta and Mastriano had the best name recognition among a field of five candidates. Barletta was known by 67% of respondents, while Mastriano was second with 66%. 
While Barletta and Mastriano have found success in public polling conducted on the race, other candidates have excelled in other facets of their respective campaigns. Delaware County businessman Dave White has won multiple non-binding Pennsylvania Republican Party straw polls, which are voted on by GOP committee members. 
McSwain, meanwhile, earned a major endorsement from the Commonwealth Partners Chamber of Entrepreneurs, which is one of the largest donors to Republican causes in the state.