News & Politics
State Supreme Court decides on new congressional map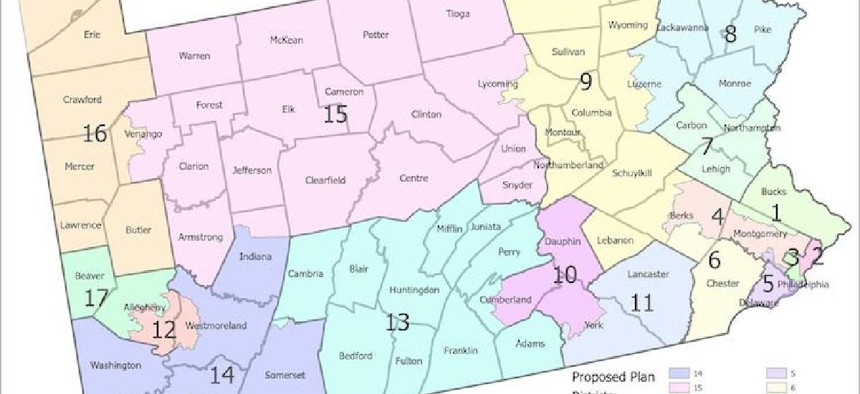 Pennsylvania's finally got a new map on tap. 
The state Supreme Court picked the Carter plan as the commonwealth's new congressional district map Wednesday, ending the partisan stalemate between state Democrats and Republicans that caused the map-drawing process to wind up in court. 
The Democratic-majority Supreme Court voted 4-3 in favor of the congressional map submitted by the National Redistricting Action Fund, a group aligned with Democrats who were among those who brought forth a lawsuit last year to get the court involved. 
As one of the seven states losing a congressional seat due to the 2020 census results, Pennsylvania's new map contains 17 districts – one less district than the 2010 version. The map largely sticks to current lines and is expected to provide for eight Republican-leaning districts, six Democratic-leaning districts and three districts that could be considered tossups, according to FiveThirtyEight. 
The map also pits incumbent U.S. Reps. Fred Keller and Glenn Thompson against each other in central Pennsylvania. 
The decision ultimately went to the courts after the map passed by the Republican-controlled legislature was vetoed by Gov. Tom Wolf, who said it failed "the test of fundamental fairness." Republicans in Harrisburg subsequently pushed back against Wolf, claiming that he failed to negotiate with legislators. 
"The process for creating district lines is clearly defined, and even if the governor refused to follow the process, it does not allow the courts to just pick and choose when or when not to follow the law," House Republican leaders Bryan Cutler and Kerry Benninghoff said in a statement following the court's decision. "Sadly, candidates and voters must now submit to a unilateral court that sees itself above every person in our Commonwealth."
Wolf said he was pleased by the court's decision. "With today's decision, we could again send to Washington members of Congress elected in districts that are fairly drawn without favor to one party or the other," he said in a statement on the decision. 
State Rep. Seth Grove, chair of the House State Government Committee, interpreted the result differently, calling the decision "shamefully partisan."
"With the swipe of their pens, four Democrat justices from Pittsburgh and Philadelphia eviscerated the months of work the General Assembly and the citizens of Pennsylvania put into developing a fair and constitutional congressional map," the York County Republican said in a statement. "Obviously, the message was clear by the courts: it doesn't matter what process the General Assembly or the people use, we care more about the opinions of partisan national groups."
With the prolonged finalization process, the court decided to adjust the petition-gathering schedule but keep the May 17 primary date in place. Congressional and statewide petitions will run from Feb. 25 through March 15.