News & Politics
Your 2022 Pennsylvania U.S. Senate race campaign finance cheat sheet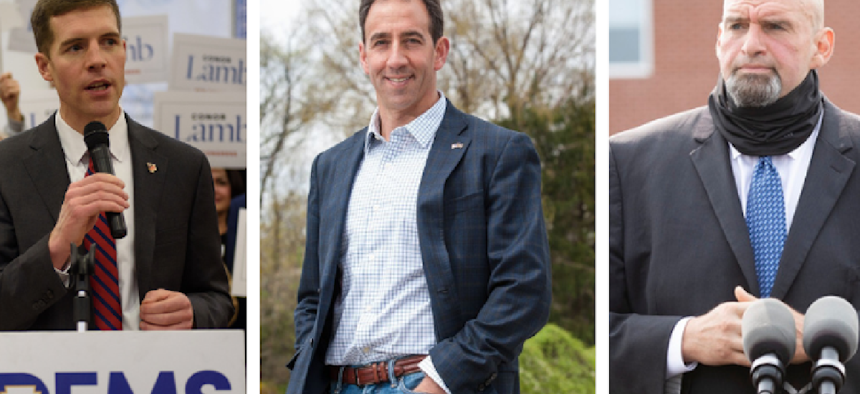 Pennsylvania's 2022 U.S. Senate primaries are creeping closer, and with new campaign finance reports finally out, candidates and election-watchers alike can now catch a glimpse of who had the most cash heading into 2022. 
A fuller picture will be revealed when the next set of reports are filed in April, given that two GOP candidates – former hedge fund executive Dave McCormick and Philadelphia attorney George Bochetto – joined the race just last month and weren't required to file reports yet. But the new campaign finance filings, which cover the full 2021 calendar year, still provide a glimpse of which candidates were successful fundraisers last year and which candidates floundered. 
---
---
Below, City & State outlines key statistics of the top five fundraisers in the state's U.S. Senate race from each political party, based on full-year campaign finance data through the end of 2021 from the Federal Election Commission. 
Republicans
Jeff Bartos
Total contributions: $2,065,189.78
Personal loans: $1,240,000
Operating expenditures: $819,548.15
Cash on hand: $2,480,109
Montgomery County real estate developer Jeff Bartos may not be putting in the fundraising numbers that high-profile Democrats are, but he was still one of the better fundraisers in the GOP race in 2021. He has also found success in multiple GOP caucus straw polls, and it will be intriguing to see if Bartos can overcome the massive amount of personal cash that his other primary opponents are putting into the race.
Carla Sands
Total contributions: $619,529.13
Personal Loans: $3,600,000
Operating expenditures: $2,689,364.48
Cash on hand: $1,520,014.65
Carla Sands, a former U.S. ambassador to Denmark, is another candidate whose candidacy has been marked by disappointing fundraising numbers and a few staff shake ups, but she has something other candidates don't: personal wealth – and a lot of it. Sands made up for her lack of contributions by loaning herself more than $3.5 million in 2021, which gives her the ability to stay in the race despite some less-than-ideal fundraising figures.
Mehmet Oz
Total contributions: $668,520
Personal loans: $5,205,915.56
Operating expenditures: $4,828,696.59
Cash on hand: $1,029,238.97
Celebrity physician Dr. Mehmet Oz was one of the later entrants into the Republican primary for U.S. Senate, and while he has faced criticism for recently moving back to Pennsylvania from his home state of New Jersey, his presence – and his money – is already being felt in the race. Oz has loaned his campaign more than $5 million from personal piggy bank, and has flooded the airwaves with TV ads supporting his candidacy. 
Kathy Barnette
Total contributions: $1,211,719.59
Personal loans: $0
Operating expenditures: $808,254.07
Cash on hand: $565,660.34
Conservative commentator Kathy Barnette has been struggling in the fundraising department compared to some of her other opponents in the race, but she still entered 2022 with about a half million dollars in the bank. She'll likely need that sum – and more – as candidates such as Dr. Mehmet Oz and Dave McCormick blanket TV screens across the state with ads promoting their own vision for Pennsylvania.
Martin Rosenfeld
Total contributions: $12,929.40
Personal loans: $0
Operating expenditures: $3,250.48
Cash on hand: $9,678.92
With the absence of McCormick and Bochetto's campaign finance reports, Martin Rosenfeld, a former law enforcement officer with experience in accounting and tax preparation, entered 2022 with the fifth-most cash on hand. Rosenfeld likely faces an uphill climb to getting more name recognition in the GOP primary, and still lacks the financial resources of other candidates, but right now he's still faring better financially than a number of other Republican candidates. 
Democrats
John Fetterman
Total contributions: $11,900,844.61 
Personal loans: $0
Operating expenditures: $6,619,585.76
Cash on hand: $5,324,810.37
Lt. Gov. John Fetterman is considered a frontrunner in the Democratic primary race for a reason – and it's largely because of his ability to raise large swaths of cash. In the fourth quarter of 2021 alone, Fetterman raised $2.7 million, meaning Fetterman raised just under $12 million for the entire calendar year, which dwarfs fundraising numbers of candidates on both sides of the aisle. The large sum will certainly benefit Fetterman as the Democratic primary intensifies. 
Conor Lamb
Total contributions: $4,058,190.77
Personal loans: $0
Operating expenditures: $1,892,504.10
Cash on hand: $3,018,484.98
U.S. Rep. Conor Lamb hasn't raised money like Fetterman, though he entered the race months laters and was still sitting on a comfortable next egg heading into 2022. Lamb still had about $3 million on hand in the beginning of this year, putting him toward the top of the Democratic field with a fairly hefty war chest. Will his spending intensify as the primary nears? We shall see. 
Val Arkoosh***
Total contributions: $2,184,036.74
Personal loans: $500,000
Operating expenditures: $1,454,091.38
Cash on hand: $1,223,829.86
Montgomery County Commissioners Chair Dr. Val Arkoosh didn't raise funds like Lt. Gov. John Fetterman or U.S. Rep. Conor Lamb last year – a factor that likely led to the suspension of her campaign on Feb. 4. However, Arkoosh still had $1.2 million in her campaign war chest heading into the year. In a video announcement, Arkoosh said she would "commit to doing whatever I can to help ensure we flip this Senate seat in November." It will be worth watching to see whether Arkoosh puts any of her remaining money behind a Democratic candidate as November gets closer.
Malcolm Kenyatta
Total contributions: $1,535,123.67
Personal loans: $0
Operating expenditures: $1,248,630.42
Cash on hand: $285,103.82
What state Rep. Malcolm Kenyatta lacked in fundraising in 2021, he seemed to make up for in endorsements. Kenyatta entered the year with just over $285,000 on hand – a much lower figure than other high-profile candidates in the Democratic primary. But Kenyatta has also picked up a range of endorsements from state and local officials, labor unions and political groups, some of whom could throw some resources – or even political clout – his way as the primary inches closer.
Kevin Baumlin
Total contributions: $646,662.85
Personal loans: $0
Operating expenditures: $535,150.09
Cash on hand: $111,291.62 
Dr. Kevin Baumlin is one of the lesser-known names in the state's Democratic primary for U.S. Senate, but the former chair of emergency medicine at Pennsylvania Hospital raked in more than $640,000 in contributions last year and spent more than $500,000 of it. Baumlin also faces a steep climb to improving his name recognition, but he has raised more money than some other candidates in the race, putting him in the top five among Democrats.

***Dr. Val Arkoosh suspended her campaign in the state's U.S. Senate race on Feb. 4, 2022.