Analysis
With midterms nearing, Republicans look to keep Pennsylvania in the GOP's hands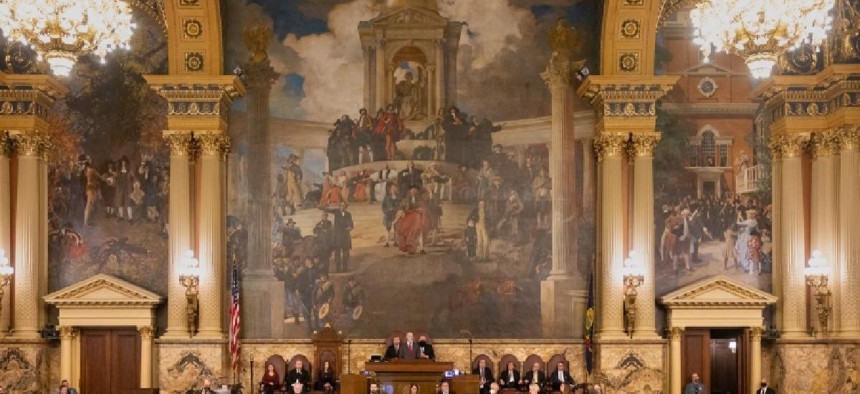 With Pennsylvania's races for governor and U.S. Senate taking up much of the oxygen in this year's midterm election cycle, a national organization dedicated to electing Republicans in down-ballot races is making sure Pennsylvania's state legislative races remain a top priority for the GOP in 2022. 
The Republican State Leadership Committee unveiled a list of states it's targeting this year as the Republican Party looks to defend its majorities in state legislatures across the country. The RSLC identified nine states – including Pennsylvania – where it will work to maintain the Republican Party's control of state legislative chambers. 
"Pennsylvanians are rejecting the D.C. Democrats' radical agenda that has saddled them with record high gas prices and the highest inflation in 40 years. While Democrats in the legislature continue to stand by Joe Biden, the people of Pennsylvania want strong legislators who will counteract the president's disastrous policies and will vote for more Republicans in November," said Mason Di Palma, a deputy communications director with the RSLC.
---
---
The RSLC is looking to capitalize on a political climate that allowed the party to flip the Virginia House of Delegates in 2021 and pick up seven seats in the New Jersey state legislature. The committee has listed Arizona, Michigan and Pennsylvania as three key targets, noting that Republicans have a thin margin across those three states. 
In Pennsylvania, Republicans hold a nine-seat majority in the state Senate and a 24-seat advantage in the state Senate, when factoring in the chamber's lone independent who caucuses with Republicans. 
According to a recent poll from Franklin & Marshall College, more voters in the state self-identify as Republicans than Democrats, with 50% identifying themselves as Republicans and 39% saying they think of themselves as Democrats. 
The Franklin & Marshall College survey also suggested that voter dissatisfaction with President Joe Biden's administration could prove troubling for Democrats in 2022. 
"Voters in Pennsylvania seem deeply frustrated, particularly about economic issues, and
are mostly dissatisfied with the job President Biden is doing as president," the poll's summary report reads. "These judgments will play an important role in Pennsylvanians' voting behaviors in the 2022 mid-term elections and they suggest the electoral current is running pretty strongly in favor of the Republican Party at the moment."
The RSLC is also looking to defend Republican majorities in Florida, Georgia, New Hampshire, North Carolina, Texas and Wisconsin, according to a memo written by RSLC President Dee Duncan. 
The organization also identified two states where they see an opportunity to flip state legislatures to Republican control: Colorado and Minnesota. Duncan said two RSLC surveys found that Republicans hold a one-point advantage in Colorado and a four-point advantage in Minnesota on a generic ballot. 
"However, our early data suggests that Democrat-controlled chambers in two states are increasingly vulnerable," Duncan wrote in the RSLC memo. "While Republicans already hold a slim one seat advantage in the Minnesota Senate, we believe that both chambers in Minnesota and Colorado could end up in Republican hands come November if everything breaks our way."
A similar survey of Pennsylvania voters found that Republicans hold a six-point advantage on the generic ballot in the Keystone State. 
The RSLC also hopes to make "meaningful gains" in states with Democratic majorities, such as Illinois, Maine, Nevada, New Mexico, New York, Oregon and Washington. 
"This year's election presents a unique crossroads for state Republicans," wrote Duncan. "We can go backwards and hand our state capitols over to Joe Biden and the radical left, or we can hold our ground, fight for more, and have our most successful election cycle since 2013-2014."