News & Politics
Philly-area Advaite is sending supplies to Ukraine after receiving a plea from the war-torn country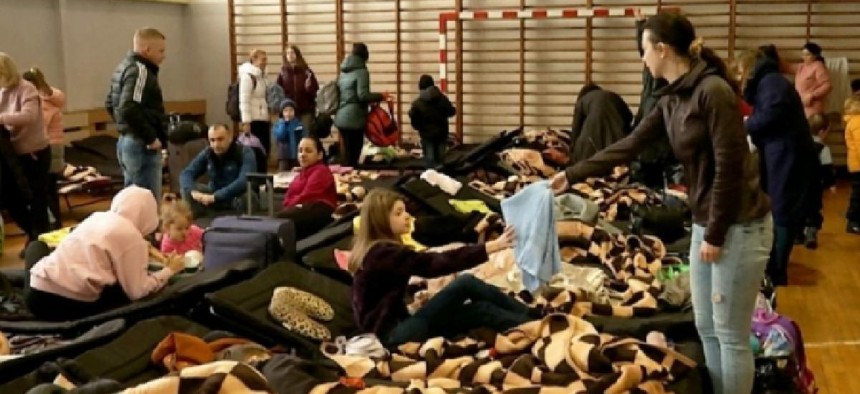 Good things are happening in Philadelphia. 
Many southeast Pennsylvania residents and local organizations are leveraging their resources to help support Ukraine during its time of need. 
Among them is Advaite, which donated six pallets of alcohol packets, totaling more than 1 million sterile alcohol wipes that can be used in the field or a hospital setting. Karthik Musunuri, founder and CEO of Advaite, a biotechnology company based in Malvern, said he couldn't ignore the request he received from the Ukrainian Ministry of Health. 
"I have colleagues and employees who are directly impacted and still have family in Ukraine. We get the perspective from on the ground and what they need," Musunuri said. "It doesn't matter what industry you're in, this has global implications … it's not something anyone can ignore." 
Musunuri is also a board member of the Ark Institute, a consortium of health and business professionals that came together during the COVID-19 pandemic to help protect public health from future threats. He said Advaite already had some of the requested supplies stored with Frontida, a pharmaceutical manufacturing company based in Philadelphia, so they were able to answer the call right away. 
The pallets were reportedly received by the Ukrainian Medical Association of North America, known as the UMANA Foundation, on March 5. 
"We (give) thanks for all friends and partners from dozens of countries and international organizations for their readiness to provide humanitarian aid and assistance with medical personnel," Oleksii Iarrmenko, deputy minister for European Integration, Ministry of Health of Ukraine, said in a letter. "Russian military forces (are) in violation of all UN norms and conventions in bombarding the civil population. Ukrainians are doing everything possible to defend their homeland in this bloody battle." 
Philadelphia's historic attractions are also displaying support for Ukraine. On March 19, various Philadelphia historic district organizations are partnering with UNICEF USA to donate 100% of their proceeds from admissions to delivery aid efforts to Ukraine. Participating attractions include the African American Museum of Philadelphia, Betsy Ross House, Carpenters' Hall, Franklin Square, Independence Visitor Center, Museum of the American Revolution and the National Constitution Center. 
Inbox: Several Philadelphia attractions plan to donate 100% of their proceeds from this Saturday's (3/19) admissions to benefit Ukraine through UNICEF USA.

The effort is expected to raise about $50,000 in support of Ukraine.

— Harrison Cann (@harrisonlcann) March 16, 2022
"As the birthplace of American democracy, it is incumbent on us in Philadelphia to support the people of war-torn Ukraine, whose own democracy is at stake," former Gov. Ed Rendell said in a statement. "I am very grateful to our local historic attractions for stepping up in this time of need as well as to UNICEF USA for their help in ensuring the funds we raise in this initiative get to the Ukrainian people."
The effort is expected to raise about $50,000, based on current visitation estimates.