News & Politics
Wolf decries Russian invasion of Ukraine, calls for more state actions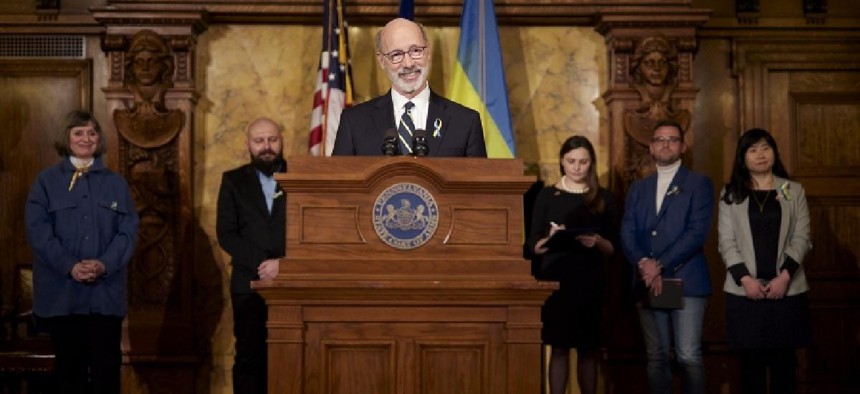 Gov. Tom Wolf once again condemned the Russian invasion of Ukraine during a press conference in the state Capitol on Monday, where he reiterated his desire to hold Russia accountable and his willingness to provide aid to Ukraine however possible. 
"It is abundantly clear that the people of Ukraine are strong, that they're united as a nation. But it is heartbreaking to see what they have been forced to do in this war – what they've been forced to endure," Wolf said. "The fact that a peaceful sovereign nation has been unjustly attacked and invaded by a geopolitical bully has rightly drawn the attention and the recrimination of the entire world."
---
---
To date, state officials have swiftly moved to divest the state of Russian investments, with the state's two largest pension funds and the state Treasury moving quickly to sell off Russian financial holdings. The Pennsylvania Liquor Control Board also quickly decided to remove Russian-sourced products from its shelves, but Wolf said Monday that he would be open to taking further actions in response to the Russian invasion. 
Wolf, a Democrat, said he supports legislation proposed by House Majority Leader Kerry Benninghoff that would require the state to divest from investments tied to the Russian government and its supporters. 
"I strongly support adding Russia to the list of countries we divest from under law and I would sign clean legislation to require divestment of all public funds from Russian assets," the governor said. 
Jason Gottesman, a spokesperson for Benninghoff, said the legislation will be a priority of House lawmakers when they return for session on March 21.

Wolf also called for state lawmakers to authorize $2 million in funding for refugee resettlement efforts. Democrats in the General Assembly, including state Sen. Lindsey Williams and state Reps. Rob Matzie and Kevin Boyle, have sponsored such legislation, and said that it will help connect Ukrainian refugees with essential, immediate needs. 
"The $2 million will get immediate aid flowing to these displaced families," Matzie said in a statement. "We will be able to help them with housing, food and clothing, and work with relief organizations to set up longer-term support."
Wolf said the funding is desperately needed. "That funding would allow us to support community-based resettlement agencies across the commonwealth as they provide services to Ukrainian refugees, providing faster and more flexible ways to get services to the people who need them," he said. "Ukrainian people need our help. They need it now."