Campaigns & Elections
Dave White calls for special prosecutor to combat crime at Harrisburg stop
White was endorsed by Dauphin County District Attorney Fran Chardo on Friday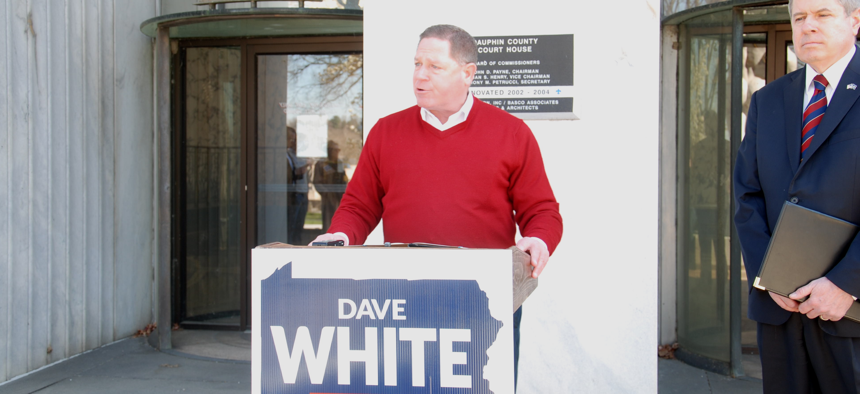 Republican gubernatorial hopeful Dave White made a stop in Harrisburg Friday, where he received an endorsement from Dauphin County District Attorney Fran Chardo and outlined his plan to combat crime in the commonwealth if elected. 
White, a businessman and former local official from Delaware County, said the state needs a special prosecutor to step in and hold criminals accountable when local district attorneys fail to do so. White said he would sign such legislation into law if elected governor. 
"We have a crisis in the state – a crisis of crime, growing crime throughout the state – and it has to stop. We need district attorneys like District Attorney Chardo that will go after our criminals, will prosecute our criminals. And if they don't prosecute our criminals, we need a special prosecutor law … that will allow the governor to go after those criminals," White said. 
Chardo, who has served as Dauphin County district attorney since 2018, said he endorsed White due to the candidate's emphasis on reducing crime. 
"Dave White will be a governor that law enforcement can count on," Chardo said, referencing White's time as a township commissioner and county councilman. "He has rightly earned a reputation as someone that law enforcement can count on. He is tough on crime, and he is smart on crime. Dave White is the leader who can deliver law and order to our communities." 
White said a recent spike in some violent crimes in Philadelphia warrants a special prosecutor at the state level. Yearly murders have steadily risen in the city since 2016, topping 560 in 2021. Homicides increased by 11.5% in 2021, while robberies and gun-related crimes increased by 28.4% that same year. Overall, violent crime dropped by 2.1% in 2021, according to data from the Philadelphia Police Department. 
Still, White said Philadelphia District Attorney Larry Krasner's progressive approach to prosecution underscores the need for a governor who will push back against Krasner's policies. 
"With a special prosecutor law, I will make sure that we go after those criminals and that we keep our streets safe and secure. That is what we need," White said. "The residents of Philadelphia and the residents in Pennsylvania want safe and secure streets. That should be one of the No. 1 goals of the governor. 
White has had strong showings in state Republican Party straw polls, and has ranked among the top four candidates preferred by Republican Party voters in polls from Fox News and Emerson College.
In an interview following Friday's press conference, White said he was motivated to run for governor after Gov. Tom Wolf closed businesses in 2020 as part of his COVID-19 mitigation measures. White listed job creation, energy production and expanding school choice as some of his key priorities if elected. He also vowed to push back against the teaching of critical race theory in schools and back policies that strengthen election security. 
"We need a lot of things to get done in Harrisburg that have been put off for years," White said, adding that the state needs "a results-oriented guy to go into Harrisburg, get things done and get things moving."
White told City & State that he believes highlighting his credentials as a Harrisburg outsider will help convince voters to support his campaign. 
"We've tried elected officials, we've tried prosecutors, we've tried attorneys and it hasn't worked. We need a business guy that has started a business from his kitchen table – put everything on the line to grow a business," he said. "I'm now putting everything on the line to help Pennsylvania and that's what I'm going to do as governor."