Criminal Justice
John Fetterman, Celeste Trusty outline initiative to digitize pardons process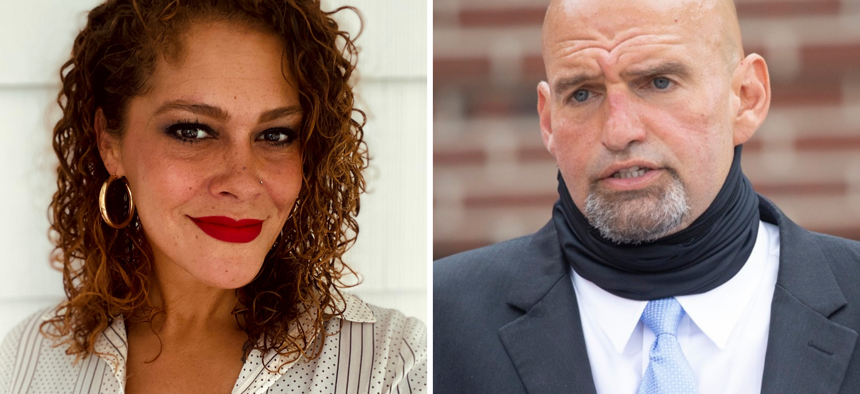 Pennsylvania Lt. Gov. John Fetterman may have his sights set on the state's open U.S. Senate seat, but that didn't stop him from unveiling a new initiative as part of his current role as chairman of the state Board of Pardons. 
Fetterman, who has made criminal justice reform a key priority of his tenure as lieutenant governor, announced a new modernization project designed to make it easier for those with a criminal record to apply for pardons. 
The initiative will allow Pennsylvanians to apply for a pardon online for the first time in state history, hastening the transition away from a paper-based application process that Fetterman and criminal justice reform advocates say has hampered the ability for many to apply for and receive pardons in a timely manner. 
"This has been a modernization of the pardons process that will make it more accessible, more democratic and more transparent and readily interfaced" for Pennsylvanians, Fetterman said. 
The new system, which will also include a mobile app, will also allow applicants to upload supporting documents online and offer them the opportunity to track the status of their application. Pennsylvanians will be able to access the application system through a smartphone, tablet or computer. 
Celeste Trusty, the secretary of the Pennsylvania Board of Pardons, said the initiative will increase "transparency, clarity and agency for people seeking clemency here in Pennsylvania."
"The modernized clemency system will also allow our small but extremely dedicated Board of Pardons office staff to spend less time responding to status requests and locating missing documents and more time accomplishing the goal of our agency – which is to help people who have been impacted by our overly punitive criminal legal system receive mercy and compassion and go on to live their best lives," Trusty said. 
The new application system is slated to be up and running close to the end of Fetterman's term, which will come to an end in January 2023. 
Since taking office, Fetterman has spearheaded multiple reforms to the pardons process, including the elimination of a $63 pardon application fee and the establishment of a streamlined pardons process for marijuana-related convictions.