News & Politics
Oz earns Trump endorsement in Pennsylvania's U.S. Senate race
Trump said Oz has the best chance to win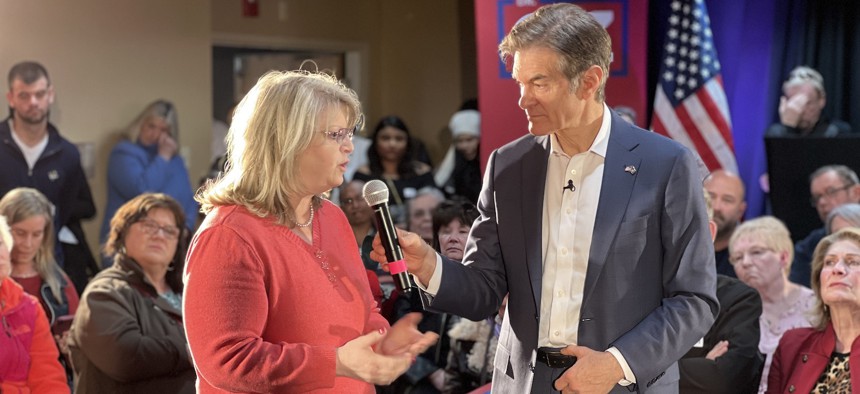 Dr. Mehmet Oz notched his biggest endorsement to date in his bid for U. S. Senate, earning the backing of former President Donald Trump, who touted Oz's conservative bonafides in a lengthy statement released Saturday night. 
The endorsement comes as Oz is embroiled in a contentious primary fight with former hedge fund executive Dave McCormick, who has looked to frame Oz as a liberal who also has close ties to China. 
In a release sent out on Saturday, Trump heralded Oz as a candidate who will be tough on crime, defend the Second Amendment and oppose access to abortions. 
Trump added that Oz will be "most able to win the General Election against a Radical Left Democrat looking to do unthinkable harm to our Country."
"This is all about winning elections in order to stop the Radical Left maniacs from destroying our Country," Trump said. "The Great Commonwealth of Pennsylvania has a tremendous opportunity to Save America by electing the brilliant and well-known Dr. Mehmet Oz for the United States Senate."
Oz, in a statement, said Trump endorsed him because he's "a Conservative who will stand up to Joe Biden and the woke Left."
"President Trump knows how critical it is to change the kinds of people we send to Washington. I'm ready to fight. I thank him for that, and I am proud to receive his endorsement," Oz added.
Jack Doyle, a spokesperson for the Pennsylvania Democratic Party, said Trump's endorsement will further intensify the GOP primary. 
"Trump's endorsement in the Pennsylvania GOP primary, which is already one of the nastiest and most expensive in the country, is only going to escalate this chaotic Republican-on-Republican brawl. In short, tonight Trump poured gasoline on the garbage fire that is this Republican intra-party fight."
Trump previously endorsed Republican Sean Parnell in the race, though Parnell dropped out of the race after losing a custody battle with his estranged wife.