Shapiro
Shapiro doubles down on support for Davis after clash with Sims over TV ad
The Democratic candidate for lieutenant governor's campaign says the ad is not misleading and shows his support for Shapiro.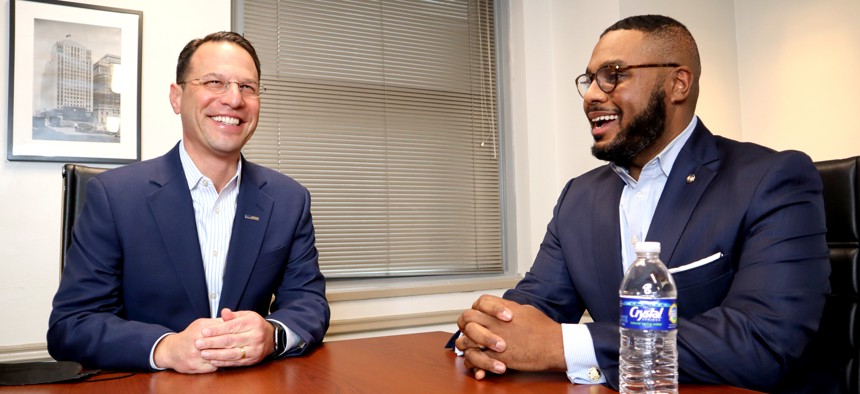 Pennsylvania Attorney General Josh Shapiro is reiterating his support for running mate Austin Davis in a new TV ad that comes amid a contentious back and forth between the campaigns of Shapiro and lieutenant governor candidate Brian Sims. 
Shapiro, the Democratic Party's presumptive nominee for governor, has made clear that he wants Davis, a Democratic state representative, to be his running mate on the party's ticket this fall. He's underscoring his own endorsement of Davis in a new ad that is expected to air statewide as the May 17 primary gets closer. 
In the ad, Shapiro stresses that he and Davis are running as a team – a move that follows an intra-party battle over another ad recently launched by Sims, a Philadelphia state representative who is also seeking the state's Democratic nomination for lieutenant governor. 
But a new TV ad from Sims recently prompted the Shapiro campaign to issue a cease-and-desist letter urging Sims to take the ad down. 
The 15-second ad features a narrator describing Sims as the only "progressive" candidate in the race and the "only Democrat who will take on Republicans and win." The ad then shifts to a picture of Sims accompanied by a banner that reads "Endorsed Josh Shapiro" – an image that Shapiro's campaign says is an effort to mislead voters into thinking that Shapiro has endorsed Sims for lieutenant governor, when he hasn't. 
The cease-and-desist letter, which was sent to the Sims campaign on April 15 by attorneys for the Shapiro campaign, said the ad is "misleading" and "creates the false impression that Attorney General Shapiro endorsed Mr. Sims for lieutenant governor."
Dana Fritz, Shapiro's campaign manager, echoed those claims in a statement. "Josh has been clear about his strong support for Austin, and the Sims campaign's blatant attempt to mislead Pennsylvania voters is wrong and unethical," Fritz said. "We call on Representative Sims to immediately take down this ad and cease his deceptive use of Attorney General Josh Shapiro's name and image."
Shapiro's campaign also sent similar letters to fuboTV and Pluto TV, two streaming services that were set to air the ads. A representative for fuboTV told the campaign that the company is working with their ad sales vendor to block the ad from appearing on fuboTV. The campaign has yet to receive a response from Pluto TV, per a Shapiro campaign spokesperson. 
A spokesperson for the Sims campaign said that, to the best of their knowledge, the fuboTV ad has not been blocked. "We've checked in on the digital campaign and our campaign has been bidding and winning ads on fubuTV's platform – we've seen no evidence that our ads are being blocked on any platform," the campaign said.
The Sims campaign responded by saying Shapiro previously asked Sims to endorse him, and that Sims has been promoting his own endorsement of Shapiro throughout his campaign. "Attorney General Shapiro's team reached out to Representative Brian Sims for his endorsement before the AG launched his campaign for Governor," the campaign said in a statement. "Rep. Sims was proud to endorse Shapiro then, and has continued to promote and endorse Shapiro for Governor while on the campaign trail. Rep. Sims looks forward to running together in the fall."
Additionally, in a response to the Shapiro campaign's letter, an attorney for Sims noted that the ad does not say Sims was endorsed "by" Shapiro, but that Sims "endorsed Josh Shapiro.""There is nothing false or misleading about Representative Sims's endorsement of Attorney General Shapiro," attorney Timothy J. Ford wrote, later adding that Sims "will not shy away from his support of Attorney General Shapiro." 
This isn't the first time that the campaigns of Davis and Sims have found themselves at odds. In March, the Davis campaign publicly circulated a letter from seven Democratic state legislative leaders urging Democrats to "stand with Representative Davis in his campaign." The leaders went on to accuse Sims of putting his "own self-interest above that of the party" adding that, "for that reason, he is unfit to help lead it."
"Too much is at stake for a long, drawn-out primary process for Lt. Governor that will cost millions of dollars that could be better spent on defeating Republicans and winning up and down the ballot," the leaders wrote. 
At a January meeting, the Pennsylvania Democratic Party voted to endorse both Shapiro and Davis in their respective campaigns. Davis has also been endorsed by a long list of Democratic Party officials at the state and local levels. 
Sims, meanwhile, has shown no indication of stepping away from the race. In addition to the TV ad that was launched this week, the Sims campaign announced that he has raised more than $1 million to date, a figure that includes donations from all 67 counties and all 50 U.S. states. 
Sims also announced an endorsement this week from the Liberty City LGBTQ Democratic Club, a Philadelphia-based organization devoted to organizing LGBTQ Democrats. 
Unlike presidential tickets, Pennsylvania gubernatorial tickets are decided by voters in two separate races. Voters choose candidates for governor and lieutenant governor in two separate primary elections, the results of which decide the ticket for the general election.