Campaigns & Elections
Tuesday's special elections provide 41 days of clarity
Three newcomers will join lawmakers in Harrisburg through November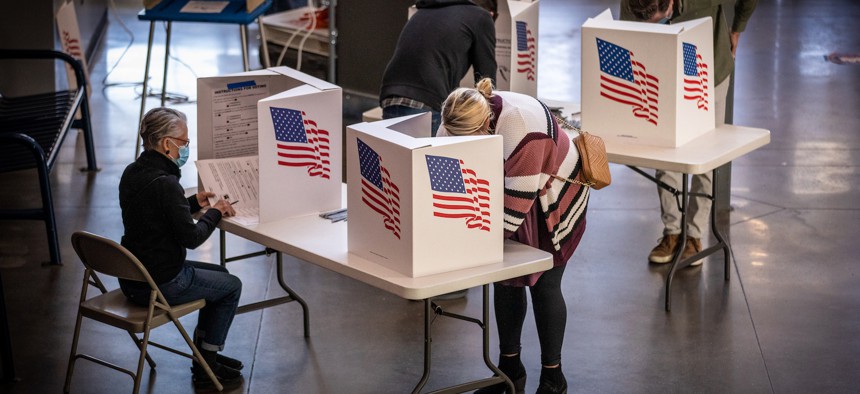 It's not Super Tuesday, but Special Election Tuesday still has a nice ring to it. 
Voters in Allegheny and Luzerne counties had the opportunity yesterday to cast their ballots in races for the state House. In the Pittsburgh area, two former legislators, Ed Gainey and Jake Wheatley, vacated seats after Gainey won the Pittsburgh mayoralty and chose Wheatley to lead his team. In another part of the state, Tarah Toohil left her seat to sit on the bench of the Court of Common Pleas. 
The winners of these seats may not be in Harrisburg long, however. These special elections will decide who finishes the current term this year under the current, or old, maps. Upcoming elections will determine who will serve the next full term in the new legislative districts from Jan. 2023 through 2025. 
Here is a look at the results from Tuesday's special election:
19th Legislative District
Aerion A. Abney ran unopposed and is set to fill the seat formerly held by Wheatley, now Chief of Staff to Gainey. A Philadelphia native, Abney moved to Pittsburgh when he was 18 years old and received a bachelor's degree in communications and a master's degree in social work from the University of Pittsburgh. He currently serves as the Pennsylvania Director of Special Projects for All Voting is Local, a national voting rights advocacy organization. 
24th Legislative District
Gainey's former seat was also up for grabs. Democrat Martell X. Covington, a legislative aide to state Sen. Jay Costa, easily beat out Republican Todd Elliott Koger. Koger has run as a Democrat in the district twice before, losing to Gainey in the primary both times. Covington, who is also vice president of the Young Democrats of Allegheny County, has received more than 94% of the votes cast as of Wednesday morning. 
116th Legislative District
There was one special election taking place in Luzerne County, where three candidates were vying for the seat vacated by Toohil. In the district, which includes the City of Hazelton, Democrat Amilcar Arroyo, Republican Robert Schnee and Libertarian Paul Cwalina had their sights set on the opening, with Schnee coming out on top. Arroyo, a native of Peru living in Butler Township, is the editor of El Mensajero magazine and serves on several local boards. Schnee, who lives in Sugarloaf Township, is a retired Hazelton City Authority meter reader and Luzerne County councilman. Cwalina, the owner of Salt & Light Transport, LLC, is also the past president of the Rotary Club of Mountaintop. As of Wednesday morning, Schnee has received more than 65% of the votes cast, with Arroyo receiving about 30% and Cwalina receiving just under 5%. 
What this means in May
The winners will now serve in Harrisburg through November. If they want to keep their seats, they'll have to be victorious again just 41 days from now in the May primary. 
In the 19th district, Abney faces a primary challenger in Rev. Glenn Grayson, pastor of Wesley Center A.M.E. Zion Church. No Republicans, including Koger, filed to run in the district. For Covington, the 24th district battle is just beginning. He will have to get through a crowded field of Democrats, including Will Anderson, Latasha Mayes, Randall Taylor and Pearlina Story. 
The 116th district is a different story, as Schnee and the other candidates live within the current district lines but not the new ones. The current district includes Hazelton and the area northwest of the city in Luzerne County, while the new 116th includes Hazelton and the area southwest of it in Schuylkill County. Candidates who have filed to run in the new 116h district include Democrat Yesenia Rodriguez and Republicans Dane Watro Jr., Nico Makuta, John Chura, Gary Perna Jr., Michael Larocca and Dyllan Ogurkis.