Campaigns & Elections
John Fetterman, Doug Mastriano find victory in statewide primaries
As of Tuesday night, the state's GOP U.S. Senate primary election still remained a close call between Dave McCormick and Mehmet Oz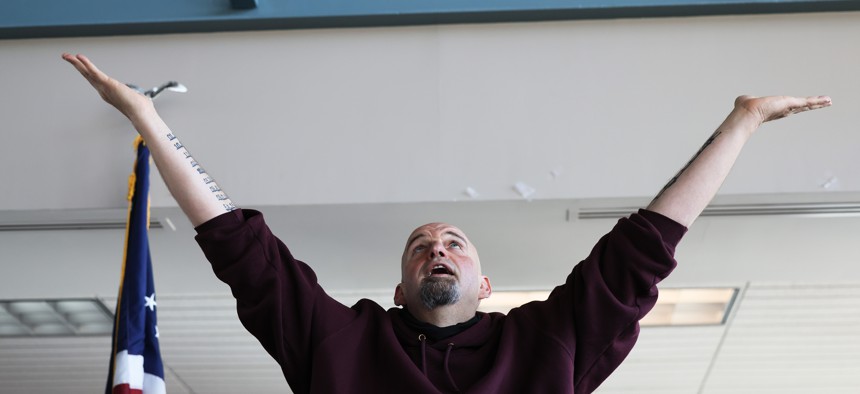 After months of polls, attack ads and speculation on who will win Pennsylvania's primary elections for governor, U.S. Senate, Congress and more, answers to the state's biggest political questions are beginning to come in. 
Within an hour of polls closing, The Associated Press called Lt. Gov. John Fetterman the winner of the state's Democratic primary for U.S. Senate. Not long after polls closed, it easily determined Attorney General Josh Shapiro was the winner of the Democratic gubernatorial race. He ran uncontested. 
State Sen. Doug Mastriano handedly won the GOP nomination for governor, beating out a crowded field of Republican candidates. 
The state's U.S. Senate race, however, has been competitive on both sides of the ballot, and races for Congress and the General Assembly are set to bring new faces to the halls of power in Washington and Harrisburg. Below is a brief recap of which candidates won their respective statewide primaries, and which candidates came up short in their journey for political success. 
According to the AP, Pennsylvania's Republican primary race for governor was won by state Sen. Doug Mastriano, who was endorsed by former President Donald Trump. Mastriano won despite a last-ditch effort from Republicans to prop up the campaign of former U.S. Rep. Lou Barletta.
Pennsylvania Attorney General Josh Shapiro easily secured the Democratic nomination for governor, as he faced no other Democratic opponents in the state's Democratic gubernatorial primary. 
Pennsylvania's Republican primary race for U.S. Senate has not yet been called.
Pennsylvania Democratic primary race for U.S. Senate went to Lt. Gov. John Fetterman, according to the AP.
Stay tuned for more coverage and analysis of Pennsylvania's primary elections from City & State. This story will be updated as results come in.