Campaigns & Elections
The latest congressional vote counts in the commonwealth
Candidates faced off in pivotal primary races across the state on Tuesday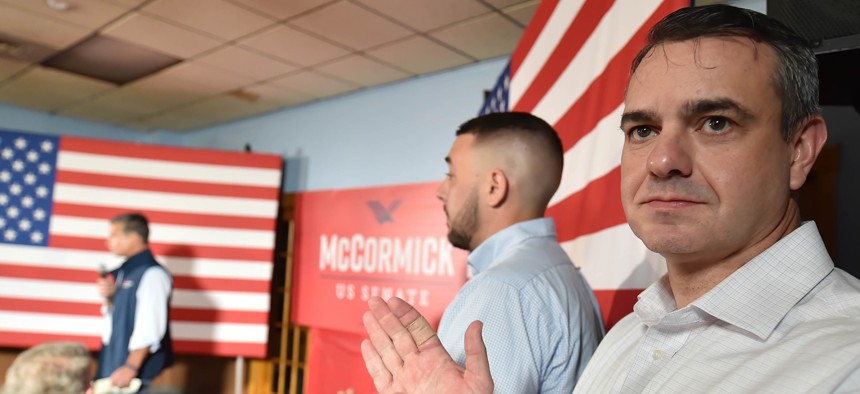 Although the nation's eyes are on the commonwealth's U.S. Senate and gubernatorial primary races on Tuesday, several congressional candidates were seeking to secure a spot on the ballot in November. 
The Democratic Party is hoping to hold onto its majority in Congress, making the handful of incumbent challengers and open seats in this primary even more hotly contested. As counties continue to count the remaining ballots, here's a collection of the commonwealth's congressional tallies, as of Wednesday afternoon. 
Congressional Races
1st Congressional District Republican Primary
In the 1st Congressional District, encompassing parts of Bucks and Montgomery counties, incumbent Brian Fitzpatrick beat challenger Alex Entin. Entin, a first-generation immigrant from Moldova, called out Fitzpatrick for not holding true conservative values. 
Fitzpatrick beat Entin handily, setting up a matchup with Ashley Ehasz, a Democrat who ran unopposed, in November.   
3rd Congressional District Democratic Primary
Another incumbent coasted to victory Tuesday night, this one in Philadelphia. Incumbent U.S. Rep. Dwight Evans defeated Alexandra Hunt and Michael Cogbill, garnering more than 76% of votes as of Wednesday afternoon. 
Hunt, a public health researcher from New York, made national news from the start of her campaign as she spoke publicly about her brief time as a stripper in college to help pay the bills. Cogbill is an experienced organizer who most recently served as organizing coordinator and acting political director for the Philadelphia AFL-CIO. Evans will likely run unopposed in November, as no Republican candidate appeared on the ballot.
4th Congressional District Republican Primary
In the race to see who will face off against incumbent Madeleine Dean, Christian Nascimento cruised to a win over Daniel Burton Jr. Nascimento, a Norristown native, is an executive with Comcast and has served as chair of the Lower Providence Republican Committee. He'll match up against Dean, who ran unopposed on the Democratic side, in the battle to represent parts of Montgomery and Berks counties. 
6th Congressional District Republican Primary
In the four-way race to see who will go up against Chrissy Houlahan, Guy Ciarrocchi is holding on against Stephen Fanelli, Ronald Vogel and Regina Mauro. Ciarrocchi, who lives in Paoli in Chester County, has served as the CEO of the Chester County Chamber of Commerce and Business since 2014. He briefly entered the gubernatorial primary race before opting to run for the 6th Congressional District seat instead. 
The Democratic incumbent Houlahan, who ran unopposed, helped Democrats regain control of the House in 2018. She'll hope to hold onto the seat against the Republican primary winner in November. With about 95% of the precincts reported, as of Wednesday afternoon, Ciarrocchi leads Fanelli by just over 3%. 
7th Congressional District Republican Primary
In another race that's still too close to call, Lisa Scheller leads Kevin Dellicker by less than 2,000 votes with 93% of precincts reported, as of Wednesday afternoon. If Scheller holds out, it means a rematch for her and U.S. Rep. Susan Wild in the Lehigh Valley. 
Scheller, who was endorsed by former President Donald Trump in 2020 but not during this election cycle, is a former Lehigh County commissioner and CEO of her family's manufacturing company. Wild defeated her in the 2020 general election with 51.9% of the vote. The newly drawn 7th Congressional District now includes more conservative parts of Carbon County, meaning it will be a tougher outing for Wild this time around. 
8th Congressional District Republican Primary
There's also deja vu in the North Central Pennsylvania district that encompasses the Scranton area, where two Republican candidates were vying for the spot to unseat Democratic incumbent Matt Cartwright. Jim Bognet, a former Trump appointee, received an endorsement from the former president. Marsicano, the former mayor of Hazleton, is a retired commercial pilot and currently the operator of a trucking and metal business. These familiar foes have gone head-to-head once before. Bognet took down Marsicano in the 2020 primary election before ultimately losing to Cartwright in the general election. 
The previous primary victory and Trump endorsement proved to be enough for Bognet, who pulled away from Marsicano early on Tuesday night. With largely similar platforms, the race could be a good measure of how much influence Trump still has over Republican voters in the commonwealth. Bognet and Cartwright will face off once again in November. Last time around, Cartwright defeated Bognet by just 3.6%, the lowest margin of victory during his five congressional elections. 
10th Congressional District Democratic Primary
In the Capital region, two Democrats are fighting for a spot to go up against U.S. Rep. Scott Perry in the general election. With about 94% of precincts reported, Harrisburg City Council member Shamaine Daniels is leading Carlisle-area school board member Rick Coplen by less than 5%. Perry, who has been subpoenaed by the Jan. 6 House Select Committee, defeated then-Auditor General Eugene DePasquale in 2020. 
12th Congressional District Democratic Primary
The Democratic primary in the Pittsburgh region is a prime example of progressive politics clashing with the Democratic establishment. With longtime U.S. Rep. Mike Doyle leaving office, state Rep. Summer Lee, Pittsburgh Attorney Steve Irwin and University of Pittsburgh law professor Jerry Dickinson have been exchanging blows in the race for the safe Democratic seat. 
The hotly contested race isn't over just yet, despite Lee all but declaring victory on Tuesday night. As of Wednesday afternoon, Lee holds a more than 4,000-vote lead over Irwin after earning a large portion of Election Day votes. But with 94% of precincts reported, Lee's lead is just 0.2%, so the race hasn't been officially called. 
Lee is a state representative and organizer who received support from national progressive names including Bernie Sanders. Irwin, a member of the Allegheny County Democratic Committee, earned the organization's endorsement as well as some media backlash after a pro-Israel PAC supporting him targeted Lee with attack ads. The winner will go up against Republican U.S. Rep. Mike Doyle, who shares the same name as the outgoing congressman in the heavily-Democratic district. 
16th Congressional District Democratic Primary
The remaining primary races in Western Pennsylvania weren't particularly close. Dan Pastore, co-founder and chair of FishUSA in Erie County, beat out Rick Telesz, a farmer from Lawrence County, for the Democratic nomination with about 70% of votes. While the two agreed on most issues, Pastore had backing from the likes of the state Fish and Game Commission, where he is District 1 commissioner. He will face off against incumbent Republican U.S. Rep. Mike Kelly of Butler County in November. 
17th Congressional District Democratic Primary
Just northwest of Pittsburgh, an open seat meant two significant primary races. On the Democratic ballot, voting rights attorney Chris Deluzio defeated Sean Meloy, a community leader who sought to become the state's first openly gay congressman. Deluzio picked up more than 63% of the vote as of Wednesday afternoon, earning his spot on the general election ballot against the Republican winner. 
17th Congressional District Republican Primary
And that Republican winner is Jeremy Shaffer. Shaffer, the former Ross Township Commissioner and Iraq War veteran, was victorious against national security expert Jason Killmeyer and former Bellevue councilperson Kathy Coder. In a slightly closer race, Shaffer picked up nearly 60% of votes as of Wednesday afternoon. Shaffer and Deluzio now begin the second leg of the campaign journey to Congress.