News & Politics
Trump endorses Mastriano in GOP gubernatorial primary
The former president said Mastriano is "a fighter like few others"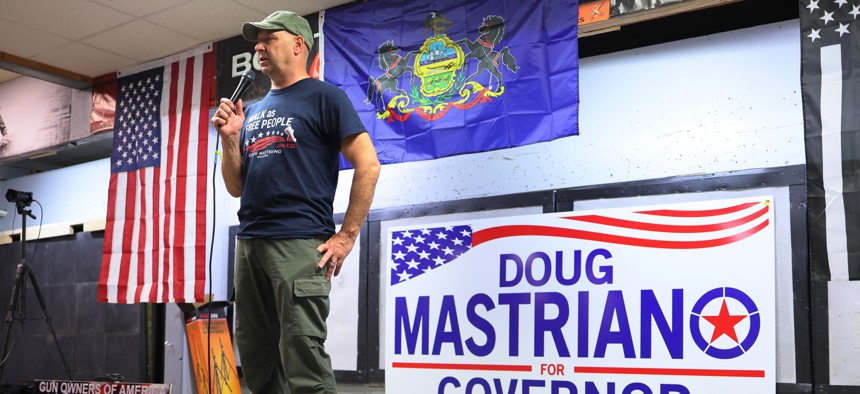 Former President Donald Trump has finally made his choice known in Pennsylvania's race for governor, endorsing controversial state Sen. Doug Mastriano – just three days before the May 17 primary. 
The pivotal endorsement comes as others within the Republican Party have teamed up to weaken Mastriano's momentum ahead of the primary election, with multiple candidates dropping out to support former U.S. Rep. Lou Barletta. 
Trump praised Mastriano for his support of policies to strengthen election security while also doubling down on debunked claims about the 2020 presidential election results. 
"There is no one in Pennsylvania who has done more, or fought harder, for Election Integrity than State Senator Doug Mastriano," Trump wrote in a statement. "He is a fighter like few others, and has been with me right from the beginning, and now I have an obligation to be with him."
Mastriano has emerged as a clear frontrunner in the state's Republican primary, with a recent Fox News poll showing him with a 12-point lead over Barletta, with Mastriano receiving support from 29% of Republican primary voters. Barletta came in second with 17%, and Delaware County businessman Dave White was third with 15%. In recent days, some Republicans chose to drop out of the race and back Barletta as concerns grew within the party about Mastriano's vulnerabilities in a general election. 
Mastriano has come under scrutiny for his efforts to dispute the results of the 2020 presidential election, and he has been subpoenaed by the January 6th Committee investigating the 2021 attack on the U.S. Capitol. Mastriano was present in Washington, D.C. on Jan. 6, 2021, but has maintained that he never entered the Capitol. 
He has also faced questions over his ties to the QAnon conspiracy movement. In April, Mastriano appeared at an event that promoted QAnon and other conspiracy theories, and he has previously sent more than 50 tweets with the QAnon hashtag, according to Media Matters. 
State Senate President Pro Tempore Jake Corman and former U.S. Rep Melissa Hart both dropped out of the race this week, with Corman saying that Barletta gives Republicans the best chance to beat the Democratic nominee in November and Hart saying that Barletta is the GOP candidate "who shares our values and shares our vision and who can win."
In a statement, Pennsylvania Democratic Party spokesperson Marisa Nahem said Mastriano is a dangerous candidate. "Doug Mastriano is the most extreme and dangerous Republican candidate for governor and everyone knows it – including Donald Trump, who was forced to bow to the fringes of his party once it became clear Mastriano would be their nominee," Nahem said. 
Some Republicans have cited a recent Osage Research poll that shows Mastriano trailing presumptive Democratic nominee Josh Shapiro in a hypothetical general election matchup as reason for the party to coalesce behind another candidate before Tuesday. 
But Trump's endorsement could complicate matters, with the former president throwing his full support behind Mastriano in the governor's race and celebrity physician Dr. Mehmet Oz in Pennsylvania's U.S. Senate race. 
"Doug Mastriano and Dr. Mehmet Oz will make an unbeatable team going into the most important Midterm Election in the history of our Country," Trump said in his announcement endorsing Mastriano. "They will Fight, they will Win, and they will Produce for the Commonwealth of Pennsylvania, and for the USA itself."
Mastriano, in a statement, said he was honored to receive Trump's endorsement. "I'm honored to receive the endorsement from President Trump," Mastriano said in a release. "But the honor is not for me. It's for the millions of hard-working Pennsylvanians who want their individual liberties restored, power returned to the people, and for their elected leaders to fulfill the America First – and Pennsylvania First – agenda."
Mastriano said he and Trump are "committed to ending the era of party bosses, dark money interest groups, and flawed elections."
To date, Trump has endorsed a multitude of other candidates in Pennsylvania, including U.S. Reps. Scott Perry, Mike Kelly, Guy Reschenthaler, Lloyd Smucker, John Joyce and congressional candidate Jim Bognet.