Campaigns & Elections
Trump visits Pennsylvania to back Oz in U.S. Senate primary
The former president said Dr. Mehmet Oz gives Republicans the best chance to win in November.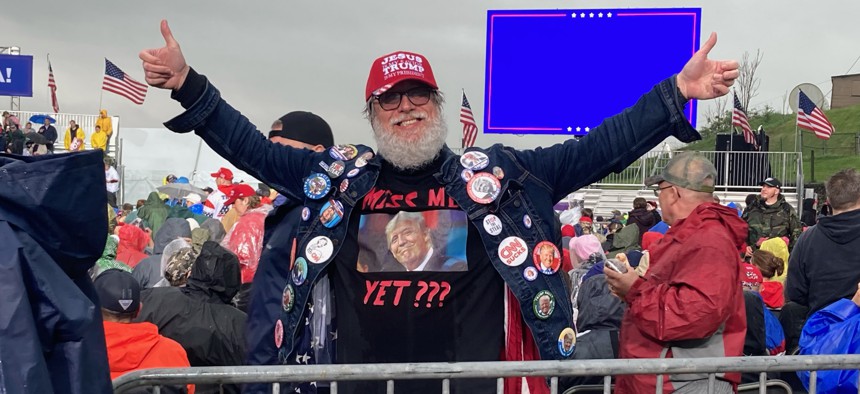 Looking to further cement his efforts to be seen as the GOP's kingmaker, former President Donald Trump visited Greensburg Friday night – less than two weeks from the state's primary election – to stump for his hand-picked candidate in the Republican primary for U.S. Senate, celebrity physician Dr. Mehmet Oz. 
Trump's "Save America" rally, which took place at the rain-soaked, muddy Westmoreland Fairgrounds on the Friday night of a weekend-long nor'easter, was the former president's first visit to Pennsylvania during the midterm election cycle. The event featured plenty of glowing endorsements for Oz, but also served as a forum for Trump to rehash his "greatest hits" from his presidency and lament the results of the 2020 presidential election to a crowd that appeared to be a fraction of the 20,000 attendees promised by organizers. 
Trump spent nearly an hour and 20 minutes touting his record on everything from the economy to foreign policy – and ripping into President Joe Biden in the process – and hinted at another presidential run in 2024. He also made clear that in his view, Oz represents the best chance for Republicans to hold on to one of Pennsylvania's two Senate seats in November. 
"Dr. Oz is a man who truly believes in Make America Great Again, or the MAGA movement. He believes it 100%," Trump said, noting that Oz has "by far the best chance to win Pennsylvania's U.S. Senate race this fall."
"As your senator, Oz will fight to end illegal immigration and sanctuary cities, and put dangerous criminals behind bars – that's what he wants to do. He's going to stop the Democrat socialists and communists and confront China like no senator in the history of our state," Trump said.
The sheer mention of Oz, at times, was greeted by a vocal smattering of boos from the crowd, with one attendee jeering Oz for his past support of red flag laws, a policy that allows guns to be removed from a person's possession if they are deemed to be a threat to themself or others. 
But speakers throughout the night looked to assuage concerns about Oz by underscoring his commitment to conservative ideals, from his support for the Second Amendment to his opposition to abortion. 
Oz himself looked to underscore his support for gun rights, his "pro-life" bona fides and his unwavering belief in capitalism. 
"This election is about wrestling (sic) control of our Senate back into our hands to make you in charge of what happens in Washington," he told the crowd. He then leaned on Trump's endorsement as he encouraged voters to support his campaign on May 17, saying, "He did his homework. He wrote that announcement himself because I am smart, because I'm tough as nails and I will never let you down."
Trump is hoping that his endorsement of Oz will follow the same pattern as that of "Hillbilly Elegy" author J.D. Vance, who won the GOP nomination for Ohio's open Senate seat this week.
Vance was in attendance in Greensburg on Friday, and said he supports Oz for his stance on China. "We have to stop being weak on China. We have to stop sending American jobs to people who hate us," Vance said, adding that voting for Trump-endorsed candidates is essential.
"Do we want a Republican Party that shifts American jobs overseas? No. Do we want a Republican Party that starts stupid wars that we have no business fighting? No. Do we want a Republican Party that refuses to do anything about critical race theory? About vaccine mandates? About all the problems we've seen the last couple of years? No, we do not," he said. "And what that means is that we need to support the candidates who are endorsed by Donald Trump."
Oz's primary opponent, former hedge fund executive Dave McCormick, found himself in Trump's crosshairs throughout the evening, despite McCormick receiving support from former officials from Trump's administration. Trump also compared McCormick to outgoing Sen. Pat Toomey, and suggested that McCormick doesn't believe in Trump's agenda.
"I don't know David well, and he may be a nice guy, but he's not MAGA. He's not MAGA. He's more Toomey than he is MAGA," he said. "I do know that he was with a company that managed money for communist China, and he is absolutely the candidate of special interests and globalists and the Washington establishment."
Trump's rally featured a who's who of the former president's so-called "MAGA movement," including conservative commentator Dinesh D'Souza, MyPillow founder and CEO Mike Lindell, U.S. Reps. Guy Reschenthaler, Mike Kelly and John Joyce, state Treasurer Stacy Garrity and 8th Congressional District candidate Jim Bognet – many of whom echoed Trump's claims of the 2020 presidential election being stolen throughout the night.
And while Trump focused heavily on 2020 throughout his remarks, he also kept an eye on 2024, much to the happiness of his supporters who braved the rain to hear him speak. "We may have to do it again," Trump said of a potential bid in 2024.