Campaigns & Elections
Bob Casey weighs in on state's U.S. Senate race, criticizes GOP
Casey said Democratic nominee John Fetterman understands 'real people'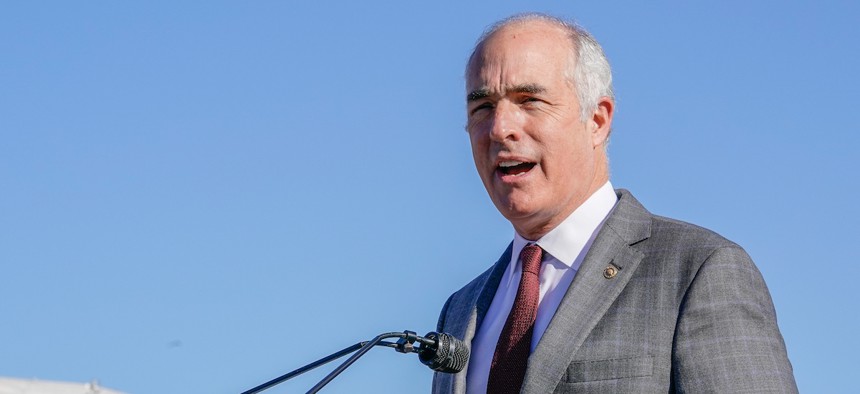 U.S. Sen. Bob Casey, who has two more years until he has to defend his own Senate seat, had plenty to say about the race to replace the outgoing junior senator from the state, U.S. Sen. Pat Toomey. 
Speaking to reporters on a Zoom call Thursday, Casey threw his full support behind Lt. Gov. John Fetterman, the Democratic Party's nominee, and offered a full-throated repudiation of both Republican candidates vying to face Fetterman in November. 
"I'm not sure I've seen a candidate in recent history who is better prepared to serve the people of our state as a United States senator from Pennsylvania," Casey said of Fetterman. "I have no doubt that he's going to serve the people of our state with distinction and will serve the people of this state in a manner that's consistent with what they hope their senator would do every day – representing them."
Fetterman, who won the state's Democratic primary race with nearly 60% of the vote, still doesn't know who his general election opponent will be. Former hedge fund executive Dave McCormick and celebrity physician Dr. Mehmet Oz were the two leading vote-getters in the GOP primary race, though the slim margin between the two triggered a statewide recount. 
Unofficial election results from the Pennsylvania Department of State showed Oz leading McCormick by 902 votes. The recount must be completed by noon on June 7, while the results must be submitted to the state by noon the next day. 
Casey, who has served in the Senate since 2007, said whichever Republican wins the primary will care more about appeasing former President Donald Trump than the priorities of voters. The GOP primary, Casey said, was "about genuflecting to the former president and to MAGA Republicans. "That's what it was about: twisting themselves in all kinds of ways to serve that one interest. That's not what we want in Pennsylvania. We don't elect United States senators to pay tribute to a politician or to an extreme part of the electorate," he said. "We elect people in our state to represent them in the United States House of Representatives and the United States Senate to represent them, to go to Washington and to fight on behalf of their values." 
Casey, who said Fetterman understands the needs of everyday Pennsylvanians, downplayed questions surrounding Fetterman's health after the Democratic lieutenant governor suffered a stroke just days before the primary. 
Casey also ripped into the Republican Party, accusing the GOP and its candidates of enabling conspiracy theorists and white supremacists. "They're right now the party of QAnon, the party that accommodates white supremacy, and they genuflect to this former president day and night," he said. "That's what MAGA Republicans are all about."