Campaigns & Elections
Dr. Oz draws a contrast with John Fetterman as he pivots to the general election
To a large audience, Oz promised to support conservative policies in Washington.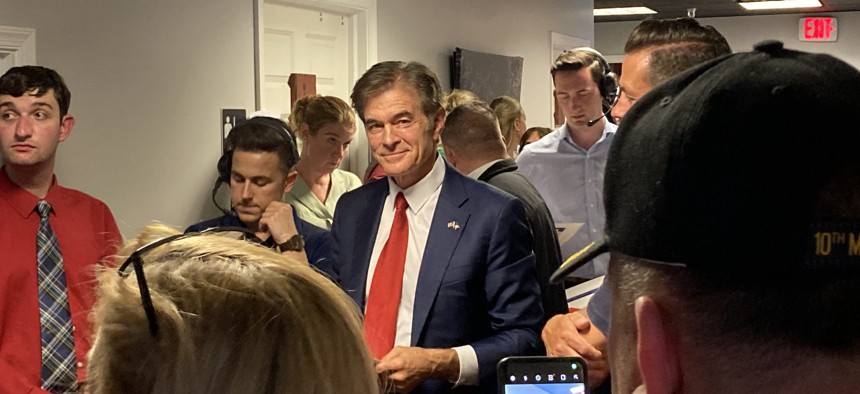 Dr. Mehmet Oz says he has a remedy for Pennsylvania, and it involves less government and more individualism. That was Oz's message to supporters Wednesday night, where he shifted his sights to the state's general election for U.S. Senate following a contentious Republican primary race that saw Oz edge out Dave McCormick for the GOP nomination. 
Oz supporters packed Ever Grain Brewing Company in Camp Hill, where the celebrity physician and former talk show host looked to draw a contrast between himself and Democratic nominee John Fetterman, and painted Fetterman as too extreme for Pennsylvania voters. 
"John Fetterman is not Joe Biden. He's further to the left of Joe Biden," Oz said, ripping into Democrats and accusing them of supporting policies that would worsen inflation. "We shouldn't spend trillions more on far-left social policies that I don't think pay dividends for our country. It's not what the American people want and it certainly drives up inflation."
Throughout the night, Oz blamed Democrats for inflation, violent crime and high energy prices, promising to support natural gas development in the state, rein in federal government spending and give parents more influence over their children's education. 
Oz was joined by current and former elected officials during the campaign stop, including Pennsylvania Treasurer Stacy Garrity, state Sen. Mike Regan and state Reps. Greg Rothman, Torren Ecker and Frank Ryan, among others. Former U.S. ambassador to Denmark Carla Sands – who challenged Oz in the GOP primary – also made an appearance, telling supporters that she is "so excited" to support Oz in the general election. 
Regan, who was one of the first public officials to back Oz's candidacy during the primary, told reporters that he was surprised by Oz's humility upon meeting him for the first time early on in the campaign. 
"I was expecting maybe a little bit of a diva because he's a real famous guy, very successful guy," Regan said. "He was just a really down to earth guy who spoke to me on a level where we just immediately became friends."
Regan downplayed concerns about Oz's residency and his time spent in New Jersey, saying Oz is "all in on Pennsylvania." Regan said he thinks Oz will connect well with voters as he makes his way around the state during the general election cycle. "I think the more he's around, the more he's talking to people – people get to know him, that they'll embrace him. He's an exceptional human being."
Fetterman, however, has looked to portray Oz as out of touch with everyday Pennsylvanians. In an op-ed in the Johnstown Tribune-Democrat this week, Fetterman targeted oil companies for raking in record profits despite high gas prices, adding that the country should "continue to use American oil – and produce and invest in more American energy."He also slipped in a few shots at Oz: "Mehmet Oz is not connected to the struggles that Pennsylvanians are facing every day," Fetterman wrote. "He's a millionaire television doctor who is a resident of New Jersey. While paying an extra $10, $20 or $30 for gas means nothing to him, it matters to the rest of us."
Garrity, who also supported Oz during the primary, took a shot at Fetterman in her speech, calling him "a pretty bad liberal" and "a biker without a Harley."
Polling released this week by Suffolk University showed Fetterman with a 9-point lead over Oz in the general election, but the numbers didn't appear to worry Oz's surrogates in attendance. Garrity called Oz "a real fighter" and a "true fighter for Pennsylvanians," adding that voters "have the opportunity to change things" in Washington, D.C. by electing Oz in the fall. 
And that's exactly the message that Oz wanted voters to take home with them Wednesday night. "I want the government in Washington to be all in on Pennsylvania," he said. "I want Washington all in on making Pennsylvania the strong tip of the spear so we can lead the rest of the country. Washington should be all in for all of us."