Opinion
Regardless of what happens in November, an overhaul of the Pennsylvania GOP is long overdue
If dozens of candidates can flood the primary and split the vote for the Senate and governor, what's the point of having a state Republican Party?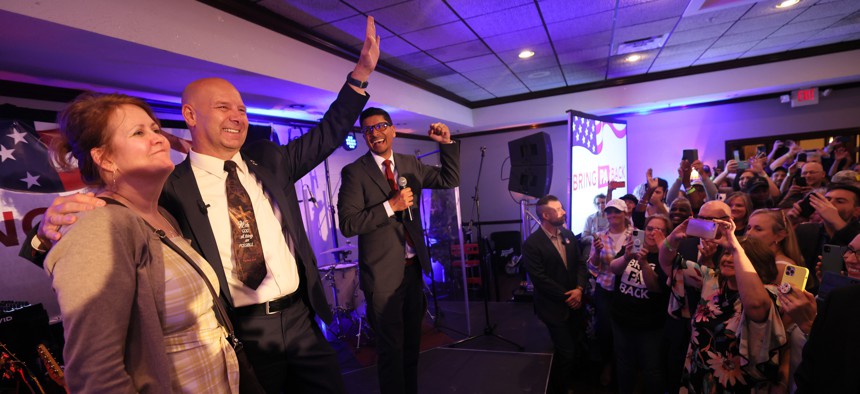 Despite a myriad of polling that suggests the biggest "red wave" of Republican midterm election victories in American history is coming, Pennsylvania Republicans may be borrowing a slogan commonly associated with the Philadelphia Eagles in November: "Snatching defeat from the jaws of victory." This is because the state GOP has failed to promote, support, select, and endorse a slate of candidates that can succeed in the general election against Josh Shapiro and John Fetterman.
This year's shocking primary victories of Dr. Mehmet Oz for Senate and state Sen. Doug Mastriano for governor have been attributed in no small part to the endorsements of former President Donald Trump. While some in the media have portrayed this as another example of the "Trump effect" on the Republican Party, this has more to do with an absence of coordination from within Pennsylvania that would have rallied the base in advance of a Trump endorsement.  
This year, "the Republican State Committee voted overwhelmingly not to endorse" candidates for governor or Senate, said Vonne Andring, a senior adviser for the Republican Party in a quote to POLITICO "to give the candidates and their consultants every opportunity to make their best case to the voters." This led to an unprecedented influx of candidates and outside influence in the 2022 Senate and gubernatorial primaries. 
The result? In the Senate race, a void in local GOP branding that was filled by big money and Trump – contributing to a contentious recount for Senate between Oz, the eventual victor – who openly admitted to residing in New Jersey – and Dave McCormick, who just moved back to Pittsburgh from Connecticut following a 17-year absence from the Commonwealth. Meanwhile, established candidates with local roots, like Jeff Bartos of Berks County and George Bochetto of Philadelphia have gone relatively unnoticed in the polls.
Of greater importance to the day-to-day lives of Pennsylvanians is the Pennsylvania GOP's failure to coalesce behind a candidate for governor and lieutenant governor. In the absence of a state party that coordinates with counties to vet candidates for an endorsement based on their platform, the state was notably absent from the process – leaving the candidates to coordinate with the counties themselves. From the start of the 2022 election year, the governor's race was a virtual "clown car" of candidates, many of whom had little chance of winning neither a primary nor general election – which diluted messaging and split votes for moderate candidates. 
Throughout the race, former Congressman and Hazleton Mayor Lou Barletta was in front, with state Senators Doug Mastriano and Jake Corman just behind him. Recently, however, Mastriano has seen a late bump in the polls, which put him ahead of Barletta. This led to a late Trump endorsement for Mastriano, despite Trump's endorsement for Barletta's 2018 Senate run. Trump's endorsement of "celebrity-doctor" Oz for Senate and of Mastriano only after the bump illustrated Trump seemingly less concerned with policy and outcome and more concerned with the preservation of his streak of successful endorsements. Even the Shapiro campaign seems to recognize how easily it could beat Mastriano over Barletta, as they sought to boost Mastriano's prospects of winning by running TV ads seemingly targeted at Mastriano's pro-Trump base. 
That said, the effort to unify the party may have come too late, as ballots were already printed; and the lack of a true Pennsylvania Republican brand was absent, and may have been replaced by the endorsement of Donald Trump.  As Pennsylvania is a true battleground state made up of many political moderates, pundits claim that the Oz's not being a Pennsylvanian and Mastriano's polarizing views will force most independent and suburban voters to cast their ballots for Shapiro in November, which means that the Pennsylvania state Republican Party will have squandered the national "red wave."
This is why Pennsylvania GOP Chair Lawrence Tabas is currently under fire for failing to rally his party to endorse a Senate or gubernatorial candidate sooner. "At this point, Lawrence needs to own it. He's the one in charge, so it's up to him to figure this out," said Jackie Kulback, the chair of the Cambria County Republican Party. "Honestly, as a state party we need to reevaluate our entire organization. We need to look at reorganization." Kulback's county party backed both former Rep. Lou Barletta and businessman Dave White. 
If Mastriano captures the nomination, "the PA GOP should be held accountable for this cataclysmic disaster, to put it mildly," concurred Val Biancaniello, a Pennsylvania-based Republican organizer and former Trump delegate who supports White.
Rob Gleason, a Pennsylvania GOP party chair, defended Tabas, by saying "He should not resign. I support him."
Gleason's defense of Tabas highlights the longstanding issues with the state's Republican apparatus. After all, Gleason was the PA GOP chair when Tom Wolf, the wealthy heir to his family's cabinet-making business who never held elected office, beat incumbent Republican Gov. Tom Corbett. He was succeeded by Val DiGiorgio who failed to financially support Beth Grossman's run against Larry Krasner for Philadelphia district attorney, despite her grassroots campaign receiving unprecedented support from unions and the Philadelphia Inquirer. The year after Krasner took office thanks to a gross funding advantage, DiGiorgio featured Krasner in his state fundraising efforts, after telling Grossman the state party wouldn't split fundraising with a myriad of small judicial races to fund her campaign. 
That same year, the state failed to properly weigh in on the 2018 governor's race, and backed state Sen. Scott Wagner – a bombastic man of the people – over military officer and health care executive Paul Mango. The 2018 election was similar to 2022, as the state party didn't vocally weigh in on the Wagner vs. Mango primary. Wagner won the primary, even though the state party was aware of gaffes and scandals plaguing him; which resulted in Wolf's reelection despite low poll numbers. In 2019, DiGiorgio resigned amid sexual harassment allegations from Philadelphia City Council candidate Irina Goldstien.   
This is why, regardless of whether Pennsylvania will rally behind Oz and Mastriano in November is of less importance than the need for a state with such vital importance on the national political landscape to have a viable Republican Party. With the global demands for energy that can be met with the Marcellus Shale, the crime and poverty crisis in Philadelphia, and a national culture of political polarization that makes "purple" battleground states like Pennsylvania a rare commodity; it is vital that our political voice be our own – and not serving the needs of Washington nor Mar-a-Lago.
A. Benjamin Mannes is a regular contributor for the Daily Wire and Broad + Liberty, and is an expert in public safety and criminal justice reform based on his own experiences on both sides of the criminal justice system. He has served as a federal and municipal law enforcement officer, was the former director, Office of Investigations with the American Board of Internal Medicine, and recently led candidate Lou Barletta's Public Safety Advisory Board.