Capitol Beat
House GOP jumpstarts proceedings to impeach Philadelphia DA Larry Krasner
Republicans in Harrisburg say crime goes "unchecked" under the city's progressive top prosecutor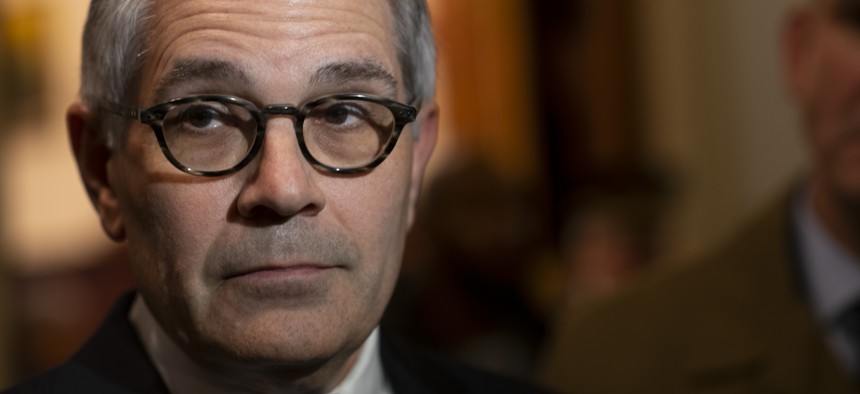 House Republicans held a press conference Monday morning to announce they will be starting proceedings to impeach Philadelphia District Attorney Larry Krasner.
Three state lawmakers, state Reps. Joshua Kail, Torren Ecker and Timothy O'Neal, have circulated a cosponsorship memo seeking support for Articles of Impeachment that they plan to file against Krasner. 
"We did not arrive at this decision lightly or easily. In fact, we are taking this action after we have taken significant steps to pass legislation that addresses violent crime in Philadelphia by ensuring our current laws are enforced," said Kail, a Republican from Beaver County. "We are starting this process now because the unchecked violent crime in Philadelphia has reached a breaking point due to the willful refusal by District Attorney Krasner to enforce existing laws."
This isn't the first time Republicans in Harrisburg have targeted the progressive district attorney. Senate President Pro Tempore Jake Corman, a Republican from Centre County, joined the Fraternal Order of Police earlier this year in calling for Krasner's impeachment during Corman's primary campaign for governor. At the time, Jane Roh, a spokesperson for Krasner, emphasized his electoral victories. 
If unchecked crime is keeping businesses and tourists from visiting and locating in Philadelphia, it impacts Pennsylvania as a whole.
State Rep. Timothy O'Neal
"As a reminder, DA Larry Krasner trounced his primary opponent 2 to 1 and spanked his Republican opponent 3 to 1. Larry swept precincts that see the highest rates of violent crime, because people who have been victimized by violence know that true justice means prevention and investment in their communities, not just punishment for Black and brown and poor people," Roh said in a statement in January. "Jake Corman and PA Republicans have created fewer sustainable jobs, deepened poverty, gutted public education, and destroyed social services. They've made Pennsylvania less productive, less economically attractive to workers and businesses, and less healthy and safe."
Krasner, in his second term as Philadelphia's district attorney, won the 2021 election with more than 69% of the vote. Like many other cities in and around Pennsylvania, Philadelphia has seen continued crime and gun violence throughout the pandemic and this year. Republicans at the press conference noted the mass shooting that took place on June 4 on South Street in Philadelphia, where three people were killed and 11 others were wounded. 
"Just last week, city businesses said they are thinking of relocating because of spikes in crime," O'Neal, a Republican from Washington County, said. "Philadelphia is Pennsylvania's major economic engine, a tourist attraction, and the birthplace of our freedoms. If unchecked crime is keeping businesses and tourists from visiting and locating in Philadelphia, it impacts Pennsylvania as a whole."
Meanwhile, Krasner and other Philadelphia officials have criticized the Republican-controlled General Assembly for limiting the city's ability to enact its own gun regulations. Currently, a state preemption keeps the gun control debate in Harrisburg, barring municipalities from creating local firearm rules. 
The future of a potential impeachment is still up in the air. Procedurally, once the Articles of Impeachment are introduced, they will then be referred to a committee. The committee would have to approve them before they could be considered by the full House of Representatives, and then, if passed, by the full Senate.