Budget
It's budget season in Pennsylvania. Here are five things to watch for.
Lawmakers and Gov. Tom Wolf have until midnight on June 30 to pass the 2022-23 state budget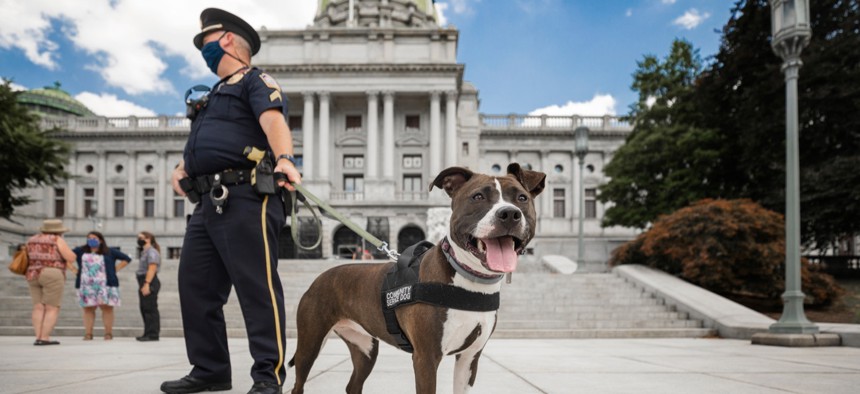 By Marley Parish and Cassie Miller
It's budget season in Harrisburg.
Lawmakers in Pennsylvania's Republican-controlled General Assembly and Democratic Gov. Tom Wolf have until midnight on June 30 to pass the 2022-23 state budget, which allocates tens of billions of state tax dollars to fund education, economic growth, community development, and human services.
This year marks Wolf's eighth and final budget before the term-limited governor leaves office in January 2023. It's also the last time House and Senate Appropriation committee chairpersons Rep. Stan Saylor, R-York, and Sen. Pat Browne, R-Lehigh, will play a role in the negotiation process after being defeated in the primary in their bid for reelection.
The governor has promoted a projected $6 billion to $7 billion budget surplus by the end of the current fiscal year, saying Pennsylvania should continue to fund relief plans such as the bipartisan health care and front-line worker initiative signed into law in January. Pennsylvania also has access to roughly $2.2 billion in federal pandemic funds allocated as part of the federal American Rescue Plan.
Wolf has proposed using the federal relief money to support residents and businesses impacted by the COVID-19 pandemic. That includes a $1.7 billion spending plan for property tax rebates, child care subsidies, small business aid, and conservation projects. Any federal spending would be on top of new programs established in the budget.
But Pennsylvania faces a murky fiscal future. Projections by the Independent Fiscal Office, a non-partisan research agency, anticipate that the commonwealth will face multi-billion dollar deficits again, beginning as soon as the next budget year.
Republicans, however, have cautioned against calls to spend the funds, citing an estimated $1.3 billion deficit, amounting to a $13 billion deficit by the 2026-27 fiscal year.
Here's a look at five issues we're watching this month as budget negotiations continue.
American Rescue Plan Funds
The debate on spending the federal relief funds is likely to continue this year. Pennsylvania must spend the ARP money before the end of 2024, or else the funds go back to Washington.
Education
Wolf campaigned on education and staked his legacy on increased appropriations for Pennsylvania public schools and higher education. This year, legislative Democrats and the state's chief executive are focused on increasing basic K-12 education funding.
Wolf's budget proposal calls for $1.55 billion in new education funding. Of that increase, $1.25 billion would go to the Fair Funding Formula, which decides school funding, $300 million for the Level Up initiative, which prioritizes Pennsylvania's poorest districts, and $200 million for special education.
The Nellie Bly Scholarship Program, first proposed by Wolf in 2020, initially called for diverting $200 million from a state subsidy for the horse-racing industry to establish a scholarship program for eligible students who attend Pennsylvania's state-owned universities. 
The industry, which has allies in the General Assembly, and opposes the scholarship plan, has asked the administration to look elsewhere for the money. 
The funding for this most recent attempt to establish the scholarship program comes from a combination of sources, including $88 million from the Race Horse Development Fund, and $112 million from federal American Rescue Plan money. 
In 2021, state Sen. Wayne Fontana, D-Allegheny, introduced legislation – SB 377 – to establish the scholarship program through legislative means. It's been sitting in the Senate Education Committee since last June and has yet to see a vote.
In April, state Rep. Jordan Harris, D-Philadelphia, introduced HB 2497, a bill that would similarly establish the Nellie Bly Scholarship Program.
Penn State and University of Pittsburgh funding
The University of Pittsburgh and Penn State University have faced criticism from some Republican lawmakers in the General Assembly in recent years, specifically over fetal tissue research.
In 2019, Republicans considered whether to add language that would cut Pitt's state funding if it participates in fetal tissue research.
Bureau of Dog Law Enforcement
The Bureau of Dog Law Enforcement, overseen by the Department of Agriculture, has struggled for years to meet minimum funding requirements to continue its operations.
Under Wolf's proposed budget, the bureau could receive $3 million in a departmental transfer from the Department of Agriculture's general fund to maintain minimum operations, which include inspecting kennels and breeders, returning lost dogs, and handling dangerous dogs. 
The transfer is a much-needed stop-gap measure, the department said, noting that they are still seeking a long-term legislative fix to prevent continued budget transfers. 
State Park Infrastructure Projects
With a current need of $1.4 billion in infrastructure repairs and maintenance projects across the commonwealth's state park system, the proposed budget allocates $638 million to the Pennsylvania Department of Conservation and Natural Resources for the budget year that starts July 1.
Wolf has proposed allocating $900,000 to state park infrastructure projects, as well as a $450 million infusion for recreation, conservation, and preservation programs to be paid for with federal relief money.