News & Politics
This week's headlines: Wolf sues over abortion measure and GOP leaders call for a tuition freeze
A roundup of the week's political news.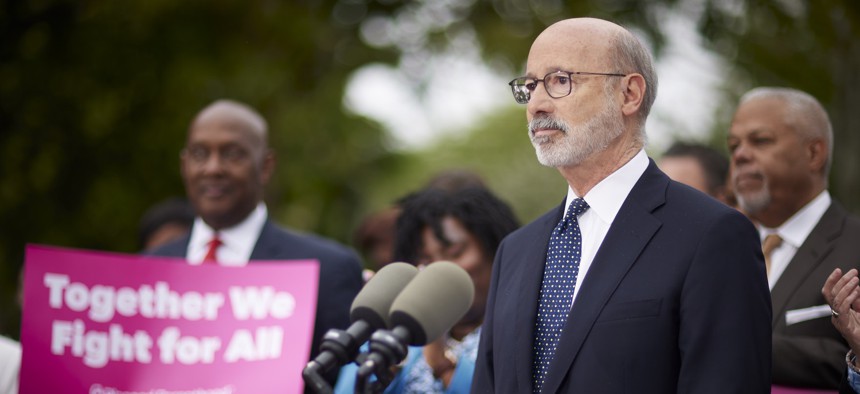 It was a week of lawsuits, letters and Little Steven – with Pennsylvania's political power players focused on everything from protecting abortion access to trolling political opponents. 
Education was also in the spotlight this week, with Republican officials pressuring university leaders to relent on plans to raise tuition costs as students and families alike struggle with inflation. For more of the week's top stories in Pennsylvania government and politics, keep reading. 
Tom Wolf sues over abortion measure
Gov. Tom Wolf's administration filed a lawsuit on Thursday asking the Pennsylvania Supreme Court to invalidate a set of proposed amendments to the state constitution that would establish universal voter ID, mandate post-election audits and declare that there is no right to an abortion in Pennsylvania. Wolf's administration makes a number of legal arguments in the filing, but stresses that the proposed amendment pertaining to abortion violates the state constitution's right to privacy. "The robust and sacrosanct rights enshrined in Article I, § 1 of the Pennsylvania Constitution include the indefeasible liberty right to control one's body and reproductive life and the right to decide whether to parent," the filing reads. Wolf is asking the court to use its King's Bench powers to take quick action on his suit. 
GOP leaders call for tuition freeze at state-related universities
Republican leaders in the General Assembly made their stance clear this week on recent tuition increases at state-related universities. After officials at Penn State University, the University of Pittsburgh and Temple University voted to raise tuition, citing inflation-related cost increases, leaders in the state House and state Senate urged university leaders to rethink the tuition increases at their respective schools. State Sen. Doug Mastriano was first, telling university leaders that "Pennsylvania's families simply cannot afford a tuition hike in addition to the rising costs in other parts of the economy." He noted that each state-related university received an increase in funding thanks to federal relief money. House GOP leaders followed suit: "We encourage each of you to freeze already-announced plans to increase tuition at your institutions or stop consideration of tuition increases," they wrote in a joint letter. 
Steven Van Zandt joins in on Senate race trolling
Steven Van Zandt, a musician and actor known for his work with Bruce Springsteen and The Sopranos, made a surprising video calling out Republican Senate candidate Dr. Mehmet Oz this week. In the video, which was promoted by Democrat John Fetterman's campaign, Van Zandt questioned why Oz was running in Pennsylvania, citing the celebrity doctor's New Jersey roots. "What are you doing in Pennsylvania?" Van Zandt asked. "Everybody knows you live in New Jersey and are just using your in-laws' address over there. You do not want to mess with John Fetterman, trust me. He's a little out of your league." Fetterman has received national attention for his frequent trolling of Oz on social media, and that strategy doesn't appear to be ending anytime soon. 
Report claims Doug Mastriano was "point person" in alternate electors plan
Pennsylvania GOP gubernatorial nominee Doug Mastriano is facing new questions over his role in an effort to appoint a slate of alternate, or fake, Electoral College electors after former President Donald Trump's 2020 presidential election defeat, with Mastriano reportedly serving as the Trump campaign's "point person" in Pennsylvania, according to a report this week from The New York Times. The report said that Mastriano allegedly needed convincing to go along with the plan, with a former employee of One America News Network saying that electors, including Mastriano, "want to be reassured" that the process was legal.