News & Politics
DeSantis says voters can 'make Pennsylvania free' this fall by electing Doug Mastriano
The Florida governor made a stop in Pittsburgh Friday night to stump for the GOP senator and tout his bid for governor.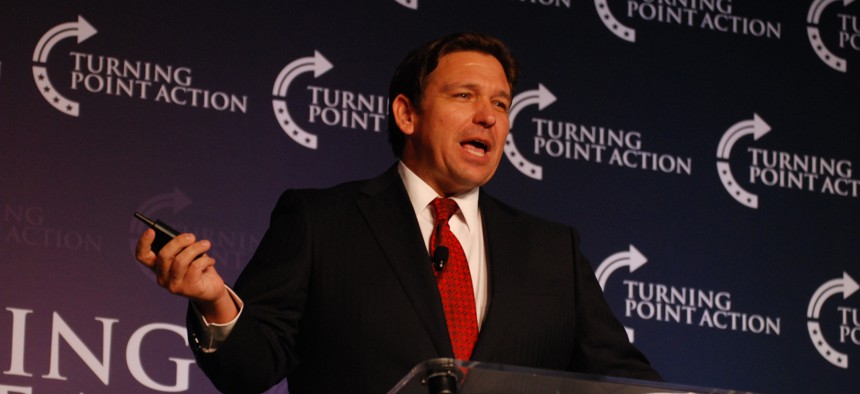 Florida Gov. Ron DeSantis, one of the Republican Party's rising stars, flew to Pittsburgh on Friday to throw his support behind GOP gubernatorial nominee Doug Mastriano and tell voters they have the opportunity to make Pennsylvania look a lot more like Florida in November. 
DeSantis spent much of his time in Pittsburgh running through the highlights of his own time in office, but also offered a resounding endorsement for Mastriano and his far-right vision for the state.
"I'm going to be working to keep the state of Florida free, and you guys have an opportunity to make Pennsylvania free," DeSantis told a crowd of hundreds at the Wyndham Grand Pittsburgh Downtown. "Let's get it done."
DeSantis, who has been mentioned as a potential 2024 presidential contender, walked through his accomplishments as Florida's chief executive, touting his record on election security, crime and the Sunshine State's COVID-19 response. 
"The free state of Florida has caused a lot of people who want to come visit" – and, he added, to live there. "I'll tell you, one of the things that has caused so many people to want to move into Florida the last few years is that we are, unabashedly, a law-and-order state."
DeSantis also touted the work of his state's Office of Election Crimes and Security, which announced 20 arrests for illegal voting earlier this week.
This year's gubernatorial election in Pennsylvania is a bitter battle between Mastriano and Democrat Josh Shapiro, the state's attorney general. Shapiro has frequently looked to frame Mastriano as an "extremist candidate," pointing to his efforts to push an alternate slate of electors in the state's 2020 presidential election, and highlighting Mastriano's ties to Gab, a controversial social media platform. 
Mastriano, meanwhile, has looked to use a similar line of attack against Shapiro, framing him and Democrats at large as being out of touch with Pennsylvanians. He has built a campaign centered around individual liberties and opposition to government mandates and has made strengthening election security a key tenet of his campaign. 
After being introduced by his wife, Rebbie Mastriano, who looked to frame the Republican Party as a party that supports women's rights, Mastriano railed against Democrats and promised to remove the state from the Regional Greenhouse Gas Initiative, a multi-state compact designed to regulate carbon emissions. He also said he would loosen energy-related regulations, declaring: "We will drill in Pennsylvania." 
Mastriano also focused on his desire to enact changes to the state's election laws, including banning mail-in voting and implementing universal voter ID requirements. "We will restore confidence and integrity to our elections," he said, echoing a common talking point among GOP candidates this election cycle. 
According to recent polls of the state's gubernatorial race, Shapiro holds a double-digit lead over Mastriano. A poll commissioned by Pittsburgh Works Together and conducted by Public Opinion Strategies showed Shapiro with a 15-point lead over Mastriano, with 15% of voters still undecided. A separate Fox News poll released in July showed Shapiro leading Mastriano 50% to 40%, with 8% of voters undecided on the race. 
Attendee Peggy McGuirk, a Johnstown resident, said she became aware of Mastriano after he hosted a controversial election-related hearing in Gettysburg in 2020, which included a phone call from then-President Donald Trump. McGuirk said strengthening the state's election security and ending "cancel culture" are two of the top issues she wants Mastriano to address if he's elected governor. "I just think that he's what we need," McGuirk said.
In the days leading up to the event, DeSantis' impending arrival was protested by faith leaders, as well as Democrats from Pennsylvania and Florida, who urged DeSantis not to associate himself with Mastriano. 
Faith leaders expressed worry about Mastriano's ties to antisemitism, as Mastriano paid $5,000 to Gab, a far-right social media platform that has become an online hotbed for antisemitic content. He has also come under fire for past comments about Islam and climate change, among other topics. 
Gab was used by Robert Bowers, a man who is accused of killing 11 people in a mass shooting that occured at the Tree of Life synagogue in Pittsburgh's Squirrel Hill neighborhood in October 2018. Prior to the shooting, Bowers posted on Gab, saying: "Screw your optics, I'm going in," according to a report from the Stanford Internet Observatory Cyber Policy Center. 
Jeffrey Letwin, a 62-year-long member of the Tree of Life synagogue, said online forums like Gab have allowed antisemitic content and hateful rhetoric to thrive, and that Mastriano's association with the platform and its founder could prove dangerous to Jewish worshippers. "This should have never happened. It may not have happened, but for these online havens that emboldened neo-Nazis and white supremacists and other hate groups," Letwin said during a press call earlier in the week. "But this is who Doug Mastriano has decided to affiliate with, even as a candidate for Pennsylvania's highest office."
"Make no mistake – these groups are a direct threat to the Jewish community, the communities of color and to all religious minorities. Mastriano's ties to gab are alarming, they're disgusting, they're terrifying, but they're not surprising," Letwin added. 
Florida Democrats also publicly discouraged DeSantis from traveling to Pennsylvania to back Mastriano. Eric Lynn, a congressional candidate in Florida's 13th Congressional District, told reporters this week that DeSantis's support of Mastriano "is disrespectful and shameful to the entire Florida Jewish community, and to all Floridians." 
But DeSantis appeared unmoved by criticisms from Democrats from his home state, offering a full-throated endorsement of Mastriano and his plans for the commonwealth. 
"We are going to elect Doug Mastriano," DeSantis said. "Pennsylvania needs somebody to stand up against violent crime – to stand up against mandates and restrictions. We need a governor who's willing to stand up to Biden's failed policies."
"This November, we are going to win in the state of Pennsylvania."