Campaigns & Elections
Dr. Mehmet Oz agrees to five U.S. Senate debates in the coming weeks
It is unclear whether Oz's opponent, John Fetterman, will face him on the debate stage.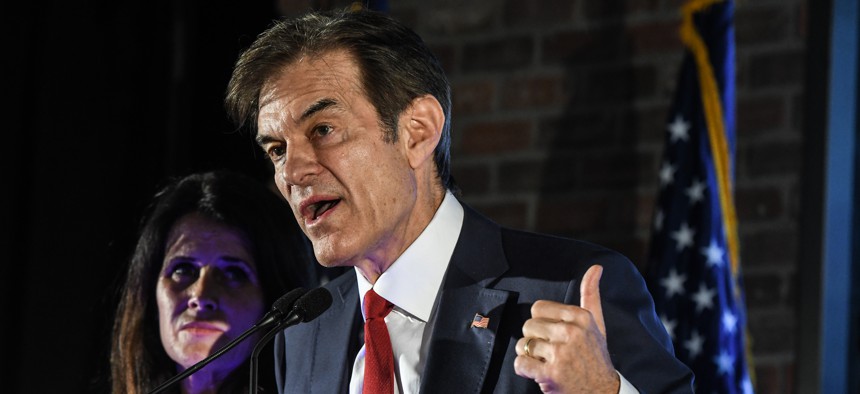 Republican Senate hopeful Dr. Mehmet Oz will appear in at least five scheduled debates in the leadup to the Nov. 8 general election, though it's unclear if his opponent, Pennsylvania Lt. Gov. John Fetterman, will join him at all five debates. 
In an announcement Friday morning, Oz's campaign said the celebrity physician will attend a Sept. 6 debate hosted by KDKA Pittsburgh, a Sept. 9 debate hosted by WFMZ and the Greater Lehigh Valley Chamber of Commerce and an Oct. 5 debate hosted by Nexstar. 
Oz will also appear at debates being put on by Fox 29 Philadelphia and WGAL, a central Pennsylvania NBC affiliate, though no dates were listed for those two. His campaign also said he "may consider" additional debates. 
According to the Oz campaign, the Fetterman campaign also received invitations to each of the five debates, but has not yet committed to them. A spokesperson for Fetterman did not respond to an email asking if he would be attending the debates.
Brittany Yanick, Oz's communications director, said Oz is eager to participate in each of the debates, adding that Oz "believes that debates are a crucial part of the democratic process." Yanick also attacked Fetterman for spending much of the summer off of the campaign trail as he recovered from a stroke he suffered back in May. 
"John Fetterman has hidden from reporters and the public for the last few months because he doesn't want to talk about his radical policy positions like releasing one-third of Pennsylvania's convicted criminals on our streets, signing a pledge to ban fracking and wanting to spend trillions more than Biden which would add more to inflation," Yanick said in a statement. 
"Now that Fetterman has returned to the campaign trail after a 90-day break, Pennsylvanians deserve to know whether he will engage in real debates or go back into hiding in his basement," Yanick added.
Fetterman has been increasing his public appearances this week, appearing at a Camp Hill fundraiser on Wednesday. He also is scheduled to hold a campaign rally in Erie on Friday night, his first public rally since he was sidelined with heart issues back in May.