John Fetterman
Here's what we know about John Fetterman's health
Fetterman said he 'almost died' as a result of ignoring health concerns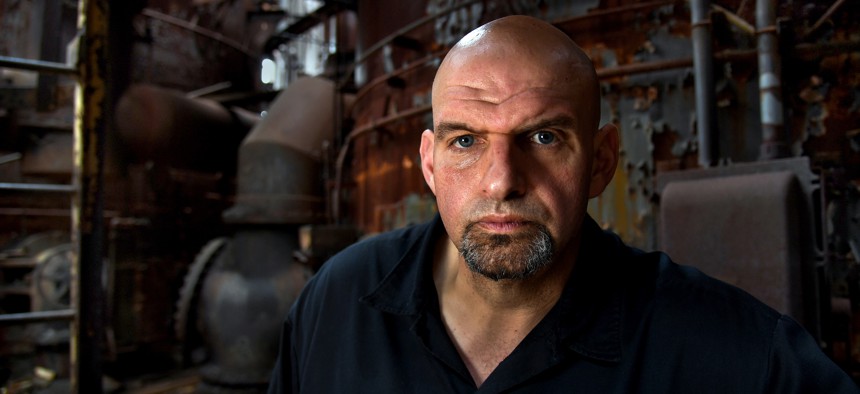 The health of Lt. Gov. John Fetterman, the Democratic nominee for U.S. Senate, has thrown an unexpected twist into Pennsylvania's already-unpredictable race for one of the most coveted Senate seats in the nation. 
Fetterman, a 52-year-old politician from Braddock, coasted to victory in a four-way race for the Democratic nomination, despite suffering a stroke just days before the May 17 primary. The health event did little to impact Fetterman's bid for his party's nomination, but additional details about his health that have since emerged are prompting new questions about the lieutenant governor's health as he recovers and prepares to take on celebrity physician Dr. Mehmet Oz, the state's apparent Republican nominee, in the November general election. 
Below, City & State takes a look at what we know about Fetterman's health as general election campaigning gets underway in the commonwealth. 
What's the latest on Fetterman's health?
Fetterman was hospitalized after suffering a stroke on Friday, May 13, which his campaign attributed to atrial fibrillation, an irregular rhythm that can lead to poor blood flow, clots and strokes, among other complications. At the time, Fetterman's campaign said he suffered no cognitive damage and that with rest, he'd be able to return to the campaign trail.
A few days later, Fetterman underwent a procedure to implant a pacemaker with a defibrillator and temporarily ceded his lieutenant governor duties to state Senate President Pro Tempore Jake Corman. 
Then, on June 3, Fetterman released a statement saying he should have taken his health "more seriously" prior to his stroke. He revealed that he first learned he had a heart condition in 2017 after visiting the hospital for swelling in his feet. In a letter posted on Fetterman's website, his cardiologist, Dr. Ramesh R. Chandra, said Fetterman was first diagnosed with atrial fibrillation in 2017 and was also diagnosed with a decreased heart pump at that time.
Chandra prescribed medications and improved diet and exercise for Fetterman, and asked Fetterman to come back for follow-up appointments. Chandra said Fetterman did not continue taking his prescribed medications and that he did not see a doctor about his condition again until his May hospitalization. 
Chandra added that Fetterman was also diagnosed with cardiomyopathy, a broad, catch-all term for a heart muscle disorder that weakens the heart's ability to pump blood effectively, according to the Centers for Disease Control and Prevention.  
In his own statement, Fetterman said that he should have kept a better eye on his health. "Back in 2017, I had swollen feet and went to the hospital to get checked out. That's when I learned I had a heart condition. Then, I didn't follow up. I thought losing weight and exercising would be enough. Of course, it wasn't."
Fetterman added that his decision to ignore the advice of his doctor almost proved fatal. "The stroke I suffered on May 13 didn't come out of nowhere," he said. "Like so many others, and so many men in particular, I avoided going to the doctor, even though I knew I didn't feel well. As a result, I almost died," Fetterman said. "I want to encourage others to not make the same mistake."
 Has Dr. Oz commented on Fetterman's health?
When news first broke of Fetterman's stroke, Oz, a heart surgeon and television personality, wished Fetterman a speedy recovery and touched on his own experience with patients suffering from atrial fibrillation. 
"I have cared for atrial fibrillation patients and witnessed the miracles of modern medicine in the treatment of strokes, so I am thankful that you received care so quickly," Oz said in a tweet. "My whole family is praying for your speedy recovery."
While Oz was quick to launch attack ads against his primary rival Dave McCormick, he has not made any negative comments or remarks about Fetterman's health, and instead has looked to paint Fetterman as a candidate who holds positions that are too far to the political left.  
Will Fetterman continue campaigning? 
While Fetterman has not yet offered a clear-cut timetable for when he will return to the campaign trail, he has said that he will continue to prioritize rest, healthy habits and his medications until he is able to resume campaigning. 
"Doctors have told me I need to continue to rest, eat healthy, exercise, and focus on my recovery – and that's exactly what I'm doing," Fetterman said in a statement that accompanied his physician's letter. "It will take some more time to get back on the campaign trail like I was in the lead-up to the primary. It's frustrating – all the more so because this is my own fault – but bear with me, I need a little more time. I'm not quite back to 100% yet, but I'm getting closer every day."
Chandra added that if Fetterman follows the guidance given to him, his ability to run and serve in the Senate won't be affected. "If he does what I've told him, and I do believe that he is taking his recovery and his health very seriously this time, he should be able to campaign and serve in the U.S. Senate without a problem."