News & Politics
Dem strategists: Fetterman's stroke should have minimal impact on the primary
The Democratic frontrunner said his campaign "isn't slowing down one bit."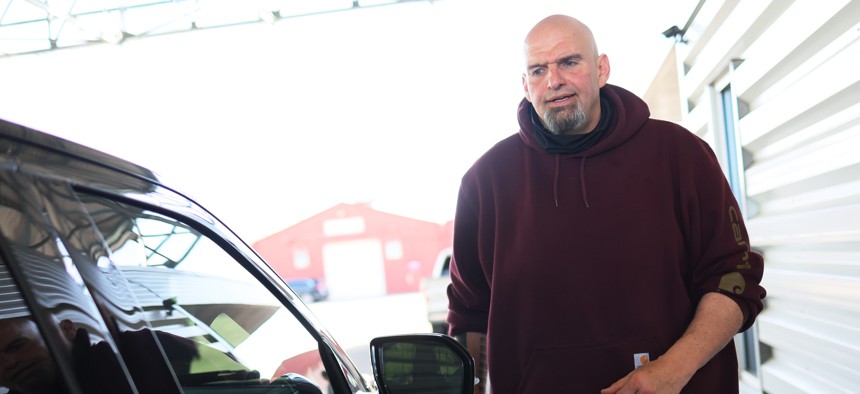 As shockwaves continued to reverberate in the wake of Lt. Gov. John Fetterman's announcement Sunday that he suffered a stroke on Friday after feeling unwell, the consensus among Democratic political strategists who spoke with City & State was that the Democratic U.S. Senate primary frontrunner's disclosure and recovery, combined with early voting, meant that there would likely be little fallout for his chances in Tuesday's primary.
"I think it's too late given the fact that Democrats disproportionately vote by mail," said Mike Mikus, a Democratic political consultant who is a principal at the Chartiers Group. "I think it'll have zero impact on the general election because I watched the video and yeah, it was clear that he's not 100%, but the one thing I saw was a guy that's most likely going to be 100% in the near future, so that's great for him." 
J.J. Balaban, a Democratic ad maker and strategist who is a partner at Technicolor Political, largely agreed with Mikus' analysis. 
"Given Fetterman's significant lead in everyone's polls, and the fact that a large chunk of Democratic voters have already cast their votes, I don't expect today's news will change the outcome of the primary," Balaban told City & State. "It probably will reduce his margin of victory, but that doesn't ultimately matter much."
On Sunday, Fetterman said the clot that caused the stroke was removed, and that he has not suffered any cognitive damage as a result of the stroke. The incident does not appear as if it will have a major impact on his candidacy, with Fetterman himself saying his campaign "isn't slowing down one bit."
"The good news is I'm feeling much better, and the doctors tell me I didn't suffer any cognitive damage. I'm well on my way to a full recovery. So I have a lot to be thankful for. They're keeping me here for now for observation, but I should be out of here sometime soon," Fetterman said in a statement. "The doctors have assured me that I'll be able to get back on the trail, but first I need to take a minute, get some rest, and recover. There's so much at stake in this race, and I'm going to be ready for the hard fight ahead."
Fetterman's primary opponents quickly sent well wishes his way. "My prayers are with him and his family as he recovers from this stroke," state Rep. Malcolm Kenyatta said in a statement. "I look forward to seeing him back on the campaign trail soon." U.S. Rep. Conor Lamb tweeted that he is "keeping John and his family in our prayers and wishing him a full and speedy recovery."
Fetterman's stroke, which his campaign said was caused by his heart being in A-fib rhythm too long due to a clot, comes just days before voters are set to head to the polls in Pennsylvania's U.S. Senate primary contests. 
Fetterman has long been considered the race's Democratic frontrunner, raking in large amounts of cash and leading in most public polls conducted on the race. A Franklin & Marshall College poll released this month had Fetterman leading the Democratic primary field by a wide margin: The poll found Fetterman in front of U.S. Rep. Conor Lamb by 39 points. A separate poll conducted in late March by The Hill and Emerson College also found Fetterman to have a significant lead, showing him in first place with support from 33% of voters. Lamb was second with 10%, while Dr. Kevin Baumlin, who has since dropped out, finished with 9%. Of those surveyed, 37% said at the time they were undecided. 
Al Schmidt, a former GOP Philadelphia city commissioner who now heads the Committee of Seventy, a Philadelphia-based government watchdog group, also said he doesn't think the development will have much of an effect on Tuesday's vote totals. 
"I've only had to campaign in one county, but it's a big county," he said. "Campaigning isn't healthy; it's stressful. It requires you to be relentless regardless of how you're feeling, regardless of what's going on in your life. But something this close to Election Day, I don't really think makes a dent."
Both of Pennsylvania's U.S. Senate primaries have attracted significant national attention in recent weeks, with former President Donald Trump visiting the state to stump for celebrity physician Dr. Mehmet Oz in the GOP primary and conservative commentator Kathy Barnette surging in the final weeks despite Trump's endorsement. 
But with the Republican primary currently in a state of flux, the prevailing belief seems to be that Fetterman's stroke won't impact his status as the race's frontrunner come Tuesday. 
"In the end, I just think something like this really doesn't shake up the race at this stage," Mikus said. "It'd be different if it were weeks ago."