Campaigns & Elections
PA farmers slam Dr. Oz for cashing in on a major tax credit designed for farm and forestland
Oz bought a $3.1 million farmhouse in Montgomery County weeks after launching his Senate campaign in 2021.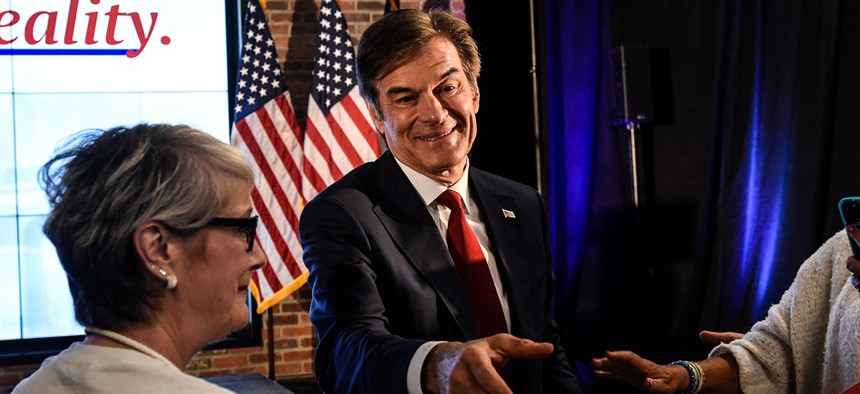 When Dr. Mehmet Oz purchased a farmhouse in Montgomery County last year, it raised more questions than it answered. As Oz, the Republican candidate for U.S. Senate, continues to have his residency questioned by critics, the land acquisition came with a $50,000-a-year tax break that has now added fuel to the fire for Democrats looking to label Oz as a carpetbagger that doesn't care about Pennsylvania – only a Senate seat.
The tax rebate Oz benefits from is designed to encourage the preservation of farm or forestland. However, the program has overwhelmingly benefited wealthy landowners like Oz, and with the Philadelphia Inquirer's report this week on Oz's participation in the program, many farmers are taking exception to him allegedly "abusing" the tax break. 
"That $50,000 is a transfer of tax liability from him to other members and real estate owners in the township that he lives in," said Dennis Wolff, former Department of Agriculture Secretary, during a Thursday morning press conference. "Many of them are not worth over $100 million like Dr. Oz. Many of them are living on a fixed income. Many of them go from Social Security check to Social Security check just to pay for their groceries and buy their prescription drugs." 
The Clean & Green Program, originally established under Act 319, the Farmland and Forestland Assessment Act of 1974, is a preferential tax assessment program that bases property taxes on use values rather than fair market value. These assessments are based on the quality of soil and correlate with the potential earnings from the land. In areas such as Montgomery County where development is swallowing up land and increasing property taxes, this program allows farmers to remain profitable and hold back land from development by ensuring them a more favorable property tax assessment. 
Lt. Gov. John Fetterman, the Democratic candidate for Senate, was quick to jump on the issue and criticize Oz. 
"Dr. Oz, who is worth hundreds of millions of dollars and owns 11 homes around the world … needs to explain to the people of Pennsylvania why he thinks he deserves a $50,000 tax credit that is meant for Pennsylvania's hard working farmers," Fetterman said in a statement.
Oz's campaign has stressed that the tax break is commonly utilized by qualifying landowners. Oz told the Inquirer it's an inherited property his family has been trying to purchase for a while, and that they plan to preserve the land. 
"Dr. Oz purchased the property in Bryn Athyn, where Lisa's family has lived for over 100 years, and inherited the tax credit as part of the purchase," Brittany Yanick, communications director for Oz, said in a statement. "This is quite the contrast from John Fetterman, who has a history of not paying taxes and has relied on his family to support him into his late 40s."
The 34-acre property in Lower Moreland Township was purchased for $3.1 million in 2021, just weeks after he launched his Senate campaign. The land has benefited from the Clean and Green program for more than 30 years under the qualification as a "forest reserve." 
When transferring the property to Oz, his family was able to enroll in the program under the promise that they would preserve the forestland. Oz's "forest reserve," as it's defined, is off limits to the public, unlike other Clean and Green agricultural properties which are publicly accessible.
Janet Lewis, a former Bradford County Commissioner who also owns farmland in the county, said Oz's actions are "a slap in the face to farmers."
"For him to have the audacity to take advantage of a tax relief program intended to help farmers with large acreage, it's disgusting. It shows that he has no concern nor any interest in Pennsylvania agriculture," Lewis said at the press conference. "This man could never relate to Pennsylvania agriculture and its community."
Harold Shaulis, a farmer from Somerset County, said he – "like most Pennsylvania farmers" – is a Republican, but that he's had to go to the "other side" quite often over the last few years because of untrustworthy candidates. 
"My Clean and Green taxation was just over a $1,000 less (than Oz's), and that was on 360 acres," Shaulis said. "When I look out the window any place in the house, and I see corn, I see oats, I see hay, I see soybeans. I do not see any mansions." 
Although the farmers emphasized the legality of Oz's purchase, they didn't downplay the message it portrayed to their community. 
"This is not necessarily a legal issue as much as it is an ethical issue," Wolff said. "It's very frustrating as a farmer to see someone with that kind of wealth, that kind of net worth and that kind of earning potential using a program designed to help farmers justify what they pay in property taxes." 
Dave Williams, a council member of the National Association of Farm Broadcasters, said this is more of a political hit than a tax controversy. He said the point of the Clean and Green Program is to preserve land but that it's not limited to just farmers. 
"The whole purpose of Clean and Green is to actually preserve open land. Whoever buys it has to understand they can't subdivide it, and if they do, then they have to pay the back taxes for seven years," Williams told City & State. "If a farmer has a problem (with the law), you need to go about it legislatively and change the system. That's what it is."