Education
Pennsylvania pols react to Biden's student loan cancellation plan
The Biden administration announced a plan to offer debt relief, drawing both praise and protest from many.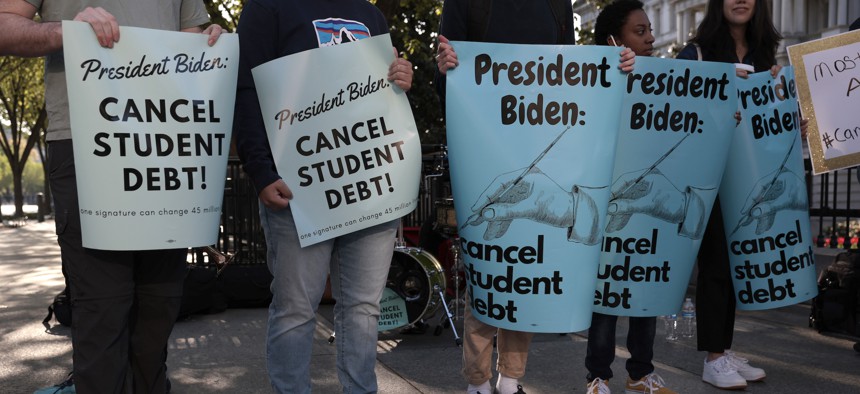 Forgiveness is on everyone's minds today. Well, almost everyone's. President Joe Biden's decision to cancel up to $20,000 in student loan debt for Pell Grant recipients and up to $10,000 for individuals making less than $125,000 a year has dominated the headlines and elicited mixed reactions from people on every side of the political spectrum. 
Student loan forgiveness has long been a campaign issue for Democrats, as many young voters were anxiously waiting for a decision from the Biden administration before the multi-year pause of loan payments ended on Aug. 31. Now, the pause has been extended one final time through the end of the year, and an estimated 20 million Americans could see their debt completely canceled. 
What follows are reactions from some of the commonwealth's most prominent politicians – and a few others – who offered a range of thoughts on student loan forgiveness and the potential impacts of Biden's plan. 
U.S. Sen. Bob Casey 
My statement on @POTUS's announcement to cancel $10,000 of student debt for people making less than $125,000 a year: https://t.co/wDbXQ3qAju pic.twitter.com/Wc9GlhzUZK

— Senator Bob Casey (@SenBobCasey) August 24, 2022
U.S. Sen. Pat Toomey
Taxpayers will foot the bill for this massive expenditure, including the vast majority of Americans who already paid off their loans, paid for tuition out of pocket, or do not even have post-secondary education nor enjoy the higher lifetime earnings associated with it.

— Senator Pat Toomey (@SenToomey) August 24, 2022
Republican candidate for U.S. Senate, Dr. Mehmet Oz
Canceling student loans costs billions and is unfair to those who rightly paid off their debt. Instead of funding solutions like CTE or low income education programs, Biden is caving to the radical left. Fetterman says he's for the working class but this hurts them the most.

— Dr. Mehmet Oz (@DrOz) August 24, 2022
U.S. Rep. Madeleine Dean
Hey! Guess what?

We ran a survey of 3K constituents on Monday asking if we should cancel all, some, or no student loan debt.

Check out the results:

36.7% — Cancel All
39.9% — Cancel Some
18.9% — Oppose Cancellation
4.5% — Unsure pic.twitter.com/Of6XMDZX7u

— Congresswoman Madeleine Dean (@RepDean) August 25, 2022
U.S. Rep. Dwight Evans
I have repeatedly urged @POTUS to provide significant student debt relief, and I welcome his announcement of relief that will help 43 million Americans who need it most, including many Philadelphians!

To learn more, visit https://t.co/D3oWPDGSaM pic.twitter.com/TwqTs2WR4Y

— Congressman Dwight Evans (@RepDwightEvans) August 24, 2022
U.S. Rep. Fred Keller
I didn't go to college. I couldn't afford it.

Instead, I went to the factory at 18 and paved a way for my family.

Joe Biden wants hardworking Americans who didn't take any student loans to pay for those that have.

That's not how America works.

— Congressman Fred Keller (@RepFredKeller) August 24, 2022
U.S. Rep. Mike Kelly
Let's be clear: any student loan forgiveness proposals should come through Congress, not through executive order. https://t.co/EmQM2ko96o

— Rep. Mike Kelly (@MikeKellyPA) August 24, 2022
U.S. Rep. Dan Meuser
Why pay off your self imposed debt if Biden Democrats can get a hard working American to do it for you?

Forgiving self induced student debt is a moral hazard for our country & will enhance inflation. Another out of touch and wasteful policy from Biden-Pelosi-Schumer Democrats.

— Congressman Dan Meuser (@RepMeuser) August 24, 2022
U.S. Rep. Scott Perry
Transferring debt from those who are responsible for it to those who are not isn't forgiveness, it's theft.

— RepScottPerry (@RepScottPerry) August 24, 2022
U.S. Rep. Guy Reschenthaler
The majority of student loan debt is held by people with graduate degrees.

Biden knows forgiving their debt will supercharge inflation and shortchange Americans who paid their way or don't have a degree entirely.

In his eyes, it's a small price to pay to appease his woke base.

— Rep. Guy Reschenthaler (@GReschenthaler) August 24, 2022
U.S. Rep. Mary Gay Scanlon
The student debt crisis is holding Pennsylvanians back from buying homes, building wealth, and starting businesses. And it is following millions of seniors into retirement.

.@POTUS's plan is an important step toward uplifting working families and increasing opportunity for all. pic.twitter.com/DQgqm9fhSM

— Congresswoman Mary Gay Scanlon (@RepMGS) August 24, 2022
U.S. Rep. Lloyd Smucker
This massive government giveaway is a slap in the face to those who worked hard and played by the rules to pay for their education. My statement on today's announcement: https://t.co/DJ9hY2oV6x

— Rep. Lloyd Smucker (@RepSmucker) August 24, 2022
U.S. Rep. Glenn Thompson
1/3 Since President Biden took office, more than $200 billion in student debt relief has been provided without Congressional approval. Today's move sets yet another bad precedent.

— Glenn "GT" Thompson (@CongressmanGT) August 24, 2022
Pennsylvania House Minority Leader, state Rep. Joanna McClinton
#Today 45 million Americans woke up w/ a dent in their #StudentDebt thanks to @Potus' #studentloanforgiveness! This is an excellent start! Thank you for working so hard for #WorkingFamilies across American and we can't wait until #CancelItAll! Info: https://t.co/PbtKanvWUH pic.twitter.com/ZIF2nMT4sz

— Joanna McClinton (@RepMcClinton) August 25, 2022
State Rep. Malcolm Kenyatta
If you supported the 2 trillion dollar Trump tax cuts for millionaires and billionaires we don't need your thoughts about fairness in the economy.

— Rep. Malcolm Kenyatta (@malcolmkenyatta) August 24, 2022
Philadelphia Mayor Jim Kenney
Providing student loan relief to working and middle class families will make a real impact in the lives of people across the country as they prepare to resume re-paying loans after the economic crisis brought on by the pandemic.

— Mayor Jim Kenney (@PhillyMayor) August 24, 2022
Pittsburgh Mayor Ed Gainey
Thank you President Biden for taking action today that will eliminate the burden of student loan debt for millions of Americans and tens of thousands of students here in @Pittsburgh who attend our world-class universities. https://t.co/aZ6Sa1zLjQ

— Ed Gainey (@gainey_ed) August 24, 2022