News & Politics
Shapiro, Philly officials blast Mastriano for Confederate uniform faculty photo
The GOP nominee for governor is getting hammered from all sides for a 2014 photo in which he wore a Confederate Army soldier's uniform.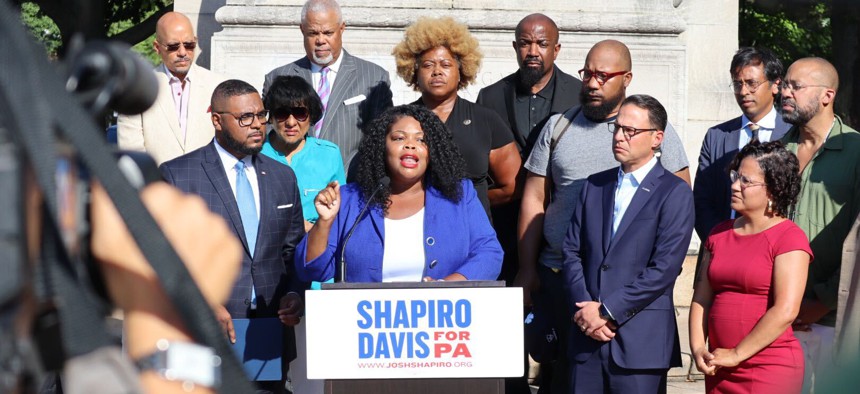 Republican gubernatorial candidate and state Sen. Doug Mastriano continues to receive backlash for a 2014 photo in which he wore a Confederate Army uniform at the Army War College in Carlisle. 
Standing in front of the Civil War Soldiers and Sailors Monument along the Benjamin Franklin Parkway in Philadelphia Wednesday, Attorney General Josh Shapiro – the Democratic gubernatorial candidate – was joined by elected officials and members of the clergy in calling out Mastriano. 
"I don't think any one of us is shocked that (Mastriano) wore the uniform of traders," Shapiro said. "This man is dangerous and doesn't reflect our values."  
The photo, first obtained by Reuters, shows Mastriano in a Confederate uniform alongside faculty of the Army War College's Department of Military Strategy, Plans and Operations. 
Mastriano served in the Army for three decades before ending his military career and joining the faculty of the military college in Cumberland County, where he worked from 2012 to 2017. 
The Army War College said in a statement that a team in 2020 had reviewed all art, text and images displayed at the Carlisle barracks for alignment with Army values and the college's educational philosophies, but it missed the faculty photo, which "has since been removed because it does not meet AWC values."
Mastriano and his supporters have defended his actions on social media by claiming that he was posing as a historical figure and that Mastriano would rather learn from history than erase it. 
The majority of the faculty in the photograph wore contemporary military uniforms or civilian clothes, while Mastriano wore the gray uniform of the Confederate Army. 
When asked if Civil War reenactments are appropriate, Shapiro and state Rep. Austin Davis – the Democratic candidate for lieutenant governor – said there is a time and place for proper historical reenactments but this instance wasn't one. 
"Let's be clear, this wasn't a Civil War reenactment. It was a faculty photo," Davis said at the press conference. "And the reality is he represents – as a state senator – Gettysburg, home of arguably the bloodiest battle of the Civil War." 
Among city officials in attendance was Philadelphia City Council member Katherine Gilmore-Richardson, who shared the phrase "when people show you who they are, you believe them and you believe them the first time."
I don't think any one of us is shocked that (Mastriano) wore the uniform of traders.
- Attorney General Josh Shapiro
"Contrary to popular belief in those tweets, this is not about dressing up the history … They want to dress up as Confederate soldiers who were literally fighting to preserve a system where my ancestors were not free," Gilmore-Richardson said. "Doug Mastriano has shown us time and time again who he really is."
Davis took the criticism further by calling out his opponent, Republican lieutenant governor candidate state Rep. Carrie Lewis DelRosso, and her silence on the issue. 
"This wasn't 30 years ago when (Mastriano) was a kid. This was 2014," Davis said. "His running mate, Carrie DelRosso, hasn't said a word. She should condemn him and speak clearly about what is right and wrong." 
The Mastriano campaign rarely interacts with reporters and DelRosso didn't immediately respond to City & State for comment.