This week's headlines
This week's headlines: The mail-in voting law is upheld and Doug Mastriano gets GOP endorsements
Here is a roundup of the week's hottest political news.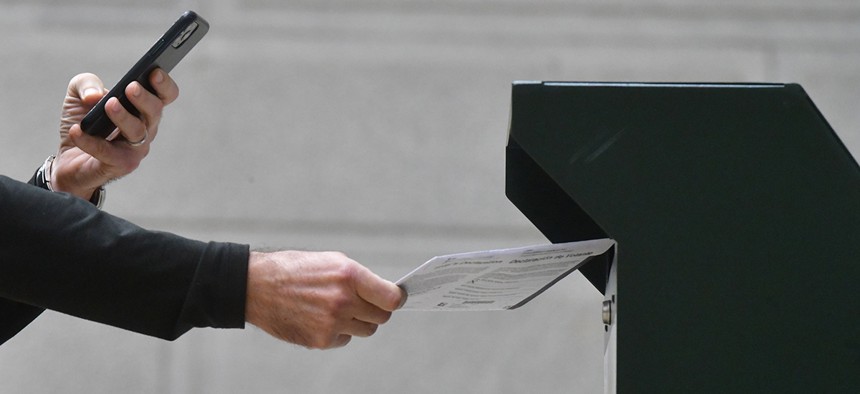 Pennsylvania's U.S. Senate race is getting personal, with Lt. Gov. John Fetterman and Dr. Mehmet Oz trading barbs over who is more – or less – genuine. PennDOT's bridge tolling plan appears to be gone for good. Outgoing U.S. Sen. Pat Toomey is making national headlines for his opposition to a veterans health care bill, with a caveat. And that doesn't even scratch the surface of this week's political news. For a refresher on what happened in the world of Pennsylvania politics this week, keep reading. 
Pennsylvania Supreme Court upholds mail-in voting law
Pennsylvania's 2019 law that ushered in universal mail-in voting, Act 77, has faced a barrage of legal challenges in the aftermath of the 2020 presidential election. However, the Pennsylvania Supreme Court dealt a devastating blow to efforts to throw out the law, ruling this week that the law does not violate the state constitution. In a majority opinion, Justice Christine Donohue writes that the state constitution "does not restrain the legislature from designing a method of voting in which votes can be delivered by mail." As a result of the ruling, mail-in voting will remain, though Republican lawmakers say the ruling highlights the need for further changes to the state's election laws.
Doug Mastriano endorsed by most of GOP congressional delegation
Nearly all of Pennsylvania's Republican members of Congress endorsed GOP gubernatorial nominee Doug Mastriano this week, showing that Mastriano has been able to garner support from establishment members of the Republican Party. In a statement, the GOP members of Congress – U.S. Reps. Glenn Thompson, Mike Kelly, Lloyd Smucker, John Joyce, Fred Keller, Dan Meuser, Scott Perry and Guy Reschenthaler – said Mastriano's "passion for life, freedom, and liberty make him the clear choice" in the state's race for governor. One notable exception was U.S. Rep. Brian Fitzpatrick, who did not endorse Mastriano, whose office said that a scheduling conflict prohibited Fitzpatrick from meeting with the GOP nominee. His office said the congressman hopes to meet with Mastriano before the fall election, but that a meeting has not yet been scheduled. 
Tom Wolf renews push for $2,000 checks
It may not have been included in this year's state budget, but Gov. Tom Wolf and Democratic lawmakers aren't giving up on a plan to send out $2,000 checks to households across the state. Wolf and state lawmakers announced this week that they are introducing a modified plan that would send the checks to households making $80,000 or less. But the plan faces some steep opposition in the General Assembly, as Republicans believe the plan is a political stunt that would only exacerbate the impacts that inflation is having on Pennsylvania consumers. The fact that the plan would now be paid for out of the state's General Fund likely makes it even more of a nonstarter.  
Former John Joyce aide dies in car crash
The news of a tragic car crash on Wednesday that killed Indiana U.S. Rep. Jackie Walorski and two of her staffers is reverberating across the commonwealth, as one of the congressional aides killed in the accident was Emma Thomson, a former aide to U.S. Rep. John Joyce of Pennsylvania. Thomson, who was 28 at the time of her death, was Joyce's campaign manager during his 2020 reelection bid, and also served two years as his communications director. In a statement, Joyce remembered Thomson for her "unparalleled" work ethic, and said there was "no greater champion for Johnstown and Cambria County" than Thomson. "Emma's intelligence, creativity, drive, determination and humor were second-to-none," Joyce wrote.