News & Politics
This week's headlines: Oz takes the offensive and Perry sues the DOJ
Here is a roundup of the week's hottest political news.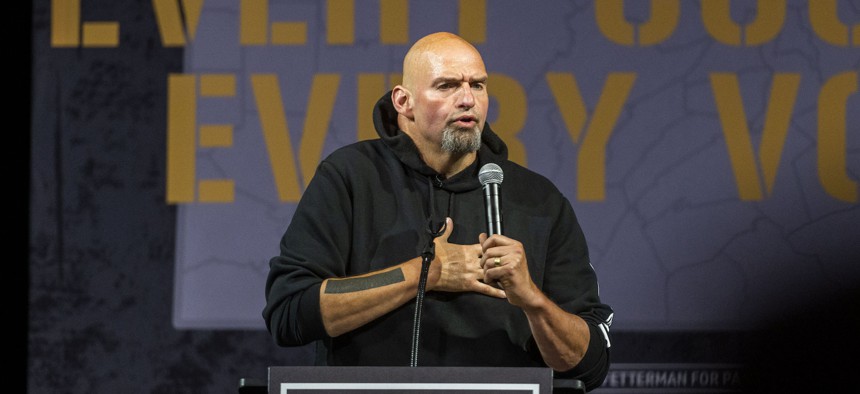 This past week in the commonwealth was one with debate discourse, feuds with the feds and regulatory rulings. 
With election season coming up quickly, politicians around Pennsylvania were at odds over hot-button issues from mail-in ballots to local officials' authority. Check out some of this week's biggest headlines, brought to you by City & State. 
Fetterman's health back in the conversation
Dr. Mehmet Oz, the Republican candidate for U.S. Senate, is on the offensive this week, bringing his opponent's health back to the forefront of the conversation. Earlier this week, Rachel Tripp, Oz's senior communications adviser, said in a statement: "If John Fetterman had ever eaten a vegetable in his life, then maybe he wouldn't have had a major stroke." That comment drew the ire of many and criticism from Fetterman, his Democratic opponent, who said  "I know politics can be nasty, but even then, I could never imagine ridiculing someone for their health challenges." On top of that, the Oz campaign pressed Fetterman to accept his debate invitations, questioning if he is "too sick to debate."
Election decisions
This week, the people of Pennsylvania got some mixed signals when it comes to election operations. A Republican judge ordered three Republican-controlled counties to add about 800 contested mail-in ballots to the results of the May primary election. The ruling provides another decision in favor of counting mail-in ballots that lack handwritten dates on their return envelopes. Election officials, on the other hand, have pushed back on an update to the commonwealth's voter registration form. The new form allows voters to simultaneously sign up for mail-in ballots. While the update was meant to make it easier for voters, county officials have said it came out of nowhere, creates new administrative challenges and could lead to more litigation. 
Perry sues DOJ over phone data
Just two weeks after the FBI took U.S. Rep. Scott Perry's cell phone, Perry is suing the Department of Justice in an attempt to prevent it from reviewing the contents of his phone. Perry's phone was seized by FBI agents on Aug. 9 as part of an investigation into former President Donald Trump's efforts to overturn the 2020 presidential election. The FBI agents reportedly created a "forensic image of it" and returned the physical phone to Perry, but Perry is objecting to the search, stating that information on the phone is protected by the Speech and Debate Clause, attorney-client privilege and marital privilege.  
Krasner refuses to comply with state-issued subpoena 
Philadelphia District Attorney Larry Krasner is at odds with the newly formed Select Committee on Restoring Law and Order created to investigate crime in the city. Krasner, a Democrat, said Tuesday that his office would not comply with a subpoena issued by the state legislative committee formed to look into crime in Philadelphia and Krasner's tenure. The Republican-controlled General Assembly passed a resolution in June to establish the committee following calls from several GOP lawmakers to impeach Krasner. The district attorney, who's faced constant criticism for violent crime rates in the city, has called the efforts of state lawmakers to investigate a local official "anti-democratic."