News & Politics
What is Gab? A look at the far-right social media platform backing Doug Mastriano
Gab has been called a haven for hate speech and white supremacists.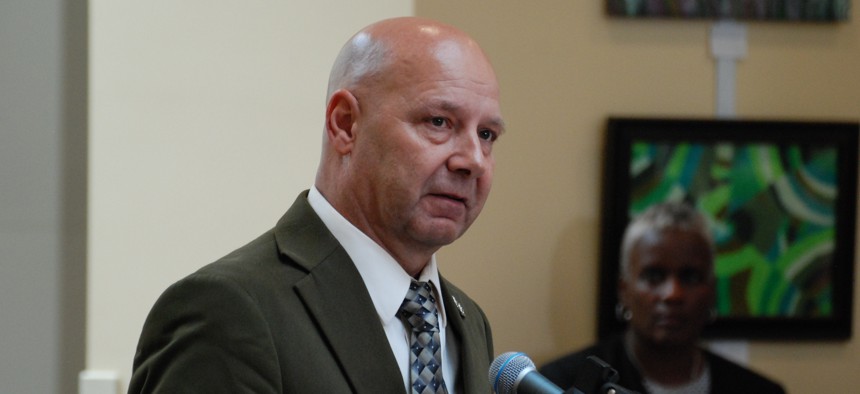 Editor's note: This story includes text and images that some readers may find offensive. City & State does not endorse or condone any of the viewpoints expressed in this article.
It's been referred to as a "haven" for white supremacists and neo-Nazis. It's been linked to Pennsylvania's Republican gubernatorial nominee, state Sen. Doug Mastriano, who has paid the platform for advertising. And it has been the focus of ire from state Attorney General Josh Shapiro, the state's Jewish Democratic nominee for governor, who has criticized his opponent for courting "antisemitic, racist, alt-right extremists" on the platform.
So what exactly is Gab, the conservative, Pennsylvania-based social media platform – and how does it factor into Pennsylvania's race for governor? Below, City & State walks through the history of the social media platform, the type of content that appears on the site and how the platform and its founder have become a topic of conversation in the state's midterm election for governor.
What is Gab? 
Gab is a far-right, Pennsylvania-based social media platform and technology company with components similar to Twitter, Facebook and other mainstream social media companies. Users can publish posts, initiate private chats, join groups, stream video and buy goods.
It was founded in 2016 by Andrew Torba, a self-described Christian nationalist and former tech worker who left Silicon Valley in 2016 after becoming "disillusioned" with Big Tech, according to a blog post. Gab touts itself as a platform that is "free from the control and influence of Silicon Valley and special interests" and allows "political speech that is protected by the First Amendment of the U.S. Constitution." 
Throughout its history, the platform has engendered controversy due to the conspiracy theories and antisemitic content that have proliferated on it.
Torba declined to answer questions for this article, telling City & State in an email that he only speaks to Christian news outlets. But in a Gab post outlining his background, Torba wrote that he formed Gab in August 2016 after witnessing "the rise of online censorship during the 2016 election."
Torba touts his creation as a home for free speech, but even a cursory review of Gab shows that the platform has a much darker side – one that experts on digital media and hate speech say is marked by antisemitic content, lies about election results and even ads that falsely claim that Ivermectin is a cure for cancer. 
"It was never much of a secret that there's a fair bit of toxic content on the platform. But it was a lot more discoverable than I had anticipated," said David Thiel, chief technical officer at the Stanford Internet Observatory. "You can come across some pretty horrible stuff pretty immediately."
What type of content is featured on Gab?
Torba has said any speech protected by the First Amendment is welcomed on the platform. "Gab is a First Amendment company which means we tolerate 'offensive' but legal speech," Torba wrote in a July 1, 2021 post. "We believe that a moderation policy which adheres to the First Amendment, thereby permitting offensive content to rise to the surface, is a valuable and necessary utility to society."
"Supporting the mission of freedom online means having the stomach to accept that people will say 'edgy and offensive' things," he added. 
As Torba has stated, Gab allows any content that is protected under the First Amendment, but the platform has been criticized as a refuge for conspiracy theories and antisemitic content. 
Political content on the platform is common, and comes in the form of posts, memes, videos and other mediums. The same can be said for antisemitic content. Content targeted at Jews ranges from the use of antisemitic slurs and memes to outright denial that Jews were killed during the Holocaust. Gab users have also promoted long-debunked racist tropes that Jews control the government, major corporations and mainstream media outlets. 
A report from researchers at the Stanford Internet Observatory found that Gab "lives up to its promise of having very little content moderation" – a development that has "predictably made it a haven for white supremacists."
Thiel, who co-authored the Stanford report, said that while mainstream social platforms can – and do – harbor white supremacist content and other extreme views, that content isn't as easy to find on platforms such as Facebook or Instagram as is it on Gab. 
"The content is diffused enough that it's not the kind of thing that will get recommended to you out of the blue" on mainstream social media sites, Thiel said, "whereas on Gab, that stuff just comes right at you out of the gate, essentially." 
Gab was most notoriously used by Robert Bowers, the man accused of killing 11 Jewish worshippers at the Tree of Life synagogue in Pittsburgh in 2018. 
In his Gab bio, Bowers described Jews as the "children of satan" and made other posts that use slurs directed at people of the Jewish faith, according to the Southern Poverty Law Center. 
Gab users have also directed antisemitic comments and attacks at Shapiro in the comments of posts published by Mastriano.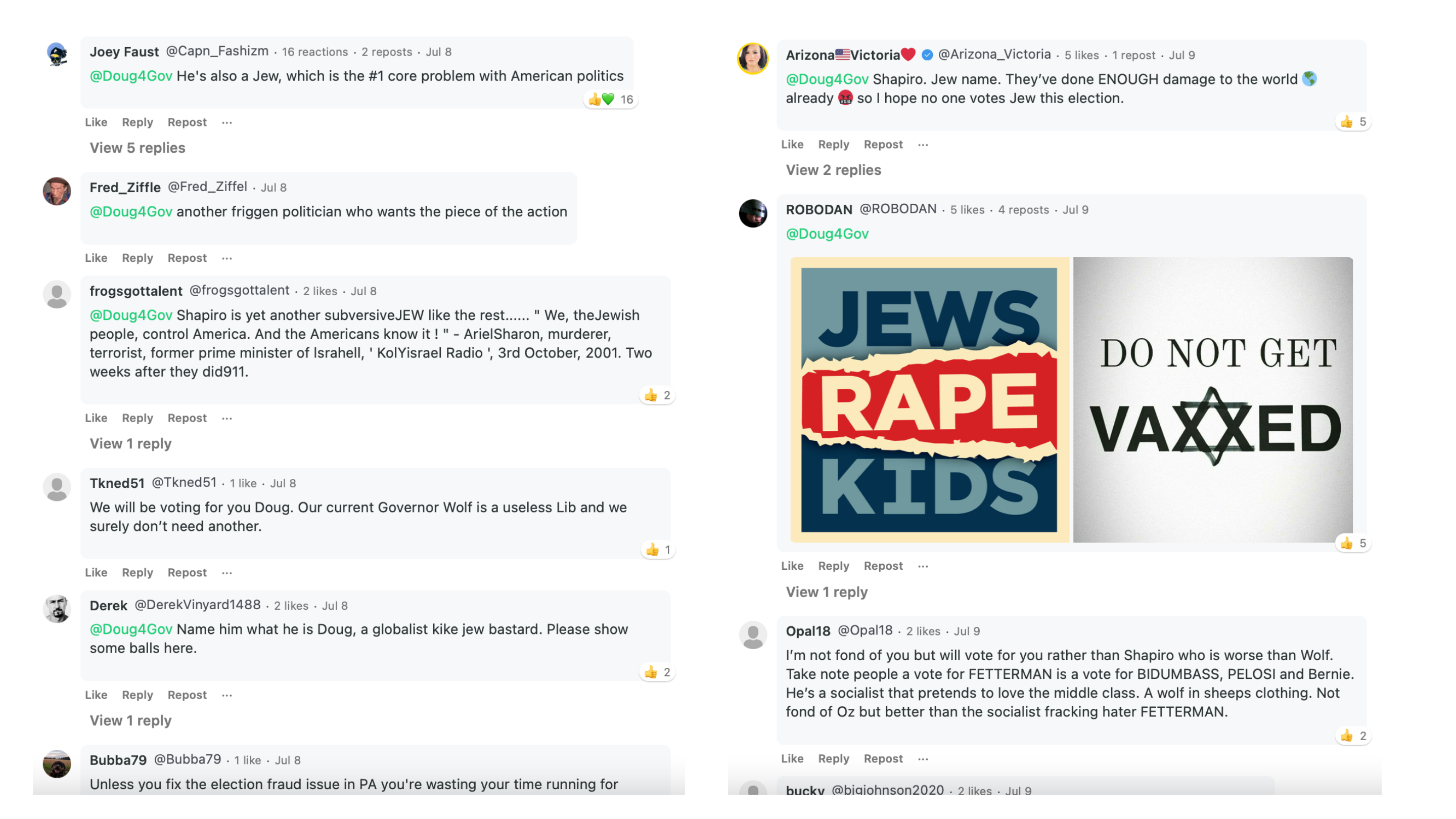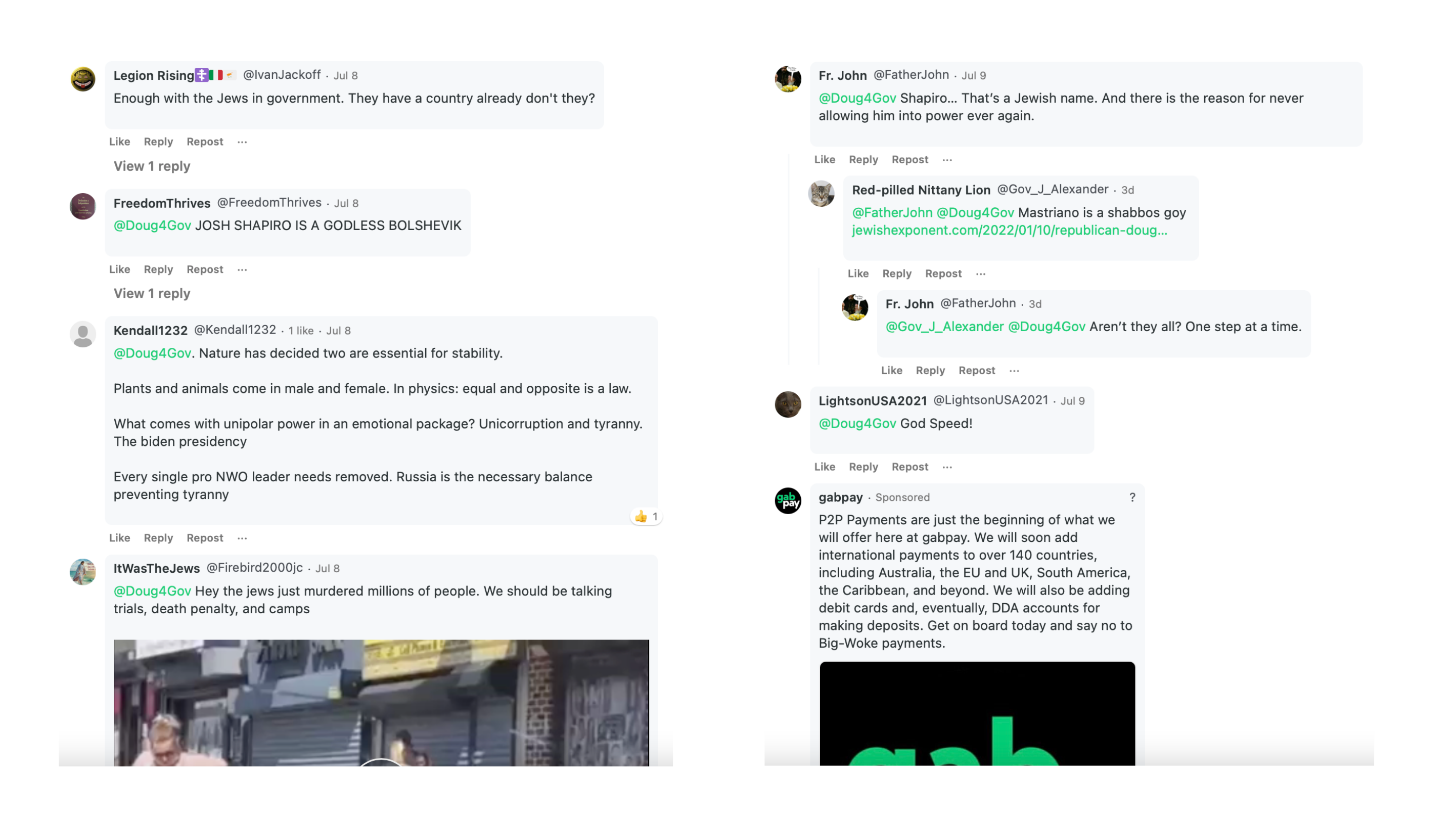 Mastriano has since deleted his Gab account, but the comments directed toward Shapiro, coupled with Mastriano's links to the platform, have drawn opprobrium from organizations like the Anti-Defamation League. 
Andrew Goretsky, the Anti-Defamation League's Philadelphia regional director, said Gab is "rife with white supremacist groups who seek to spread hate speech, misinformation and racist conspiracy theories," like the so-called Great Replacement Theory, a thoroughly debunked racist concoction that falsely claims white Americans are being replaced by nonwhite voters to further a political agenda being driven by Jews and other minority groups.
"This conspiracy theory has motivated terrorist attacks such as the ones committed in Pittsburgh, Buffalo, El Paso, and Christchurch," New Zealand, Goretsky said in an email to City & State. "Our research shows that white supremacists continue to use fringe sites like Gab as a forum to cultivate extremism, which can result in horrifying violence." 
How is Doug Mastriano connected to Gab?
Mastriano paid Gab $5,000 in April for consulting-related expenses, which Torba has said did not go toward any consulting services, but instead paid for ads on the platform. Torba has also endorsed Mastriano's campaign for governor, calling him "a strong Christian man to lead PA out of the pit of hell and into the glory of God." 
Mastriano used Gab to promote his campaign, posting about both his political priorities and Shapiro, his general election opponent. His association with the platform prompted backlash from Democrats, both Republican and Democratic Jewish organizations, and members of Mastriano's own political party. 
Beginning in mid-July, Shapiro's campaign routinely called on Mastriano to disavow the comments being posted on his Gab profile, with Shapiro calling Mastriano "dangerous" during a July appearance on MSNBC.
"He never speaks up and says those antisemitic or racist or outright extremist posts have no place in his campaign. Instead, he's embracing them. He's bringing them into his campaign," Shapiro said, adding that Mastriano is "dangerous" and "extreme."
Mastriano, who rarely responds to inquiries from traditional news outlets, did not respond to an inquiry about his payment to Gab. Mastriano has since denounced antisemitism and appeared to distance himself from Torba. In a statement released last week, Mastriano said he rejects antisemitism "in any form." He appeared to delete his Gab account shortly thereafter, and proceeded to frame Shapiro as an extremist, saying a Shapiro administration would lead to inflation, crime, lockdowns and mandates.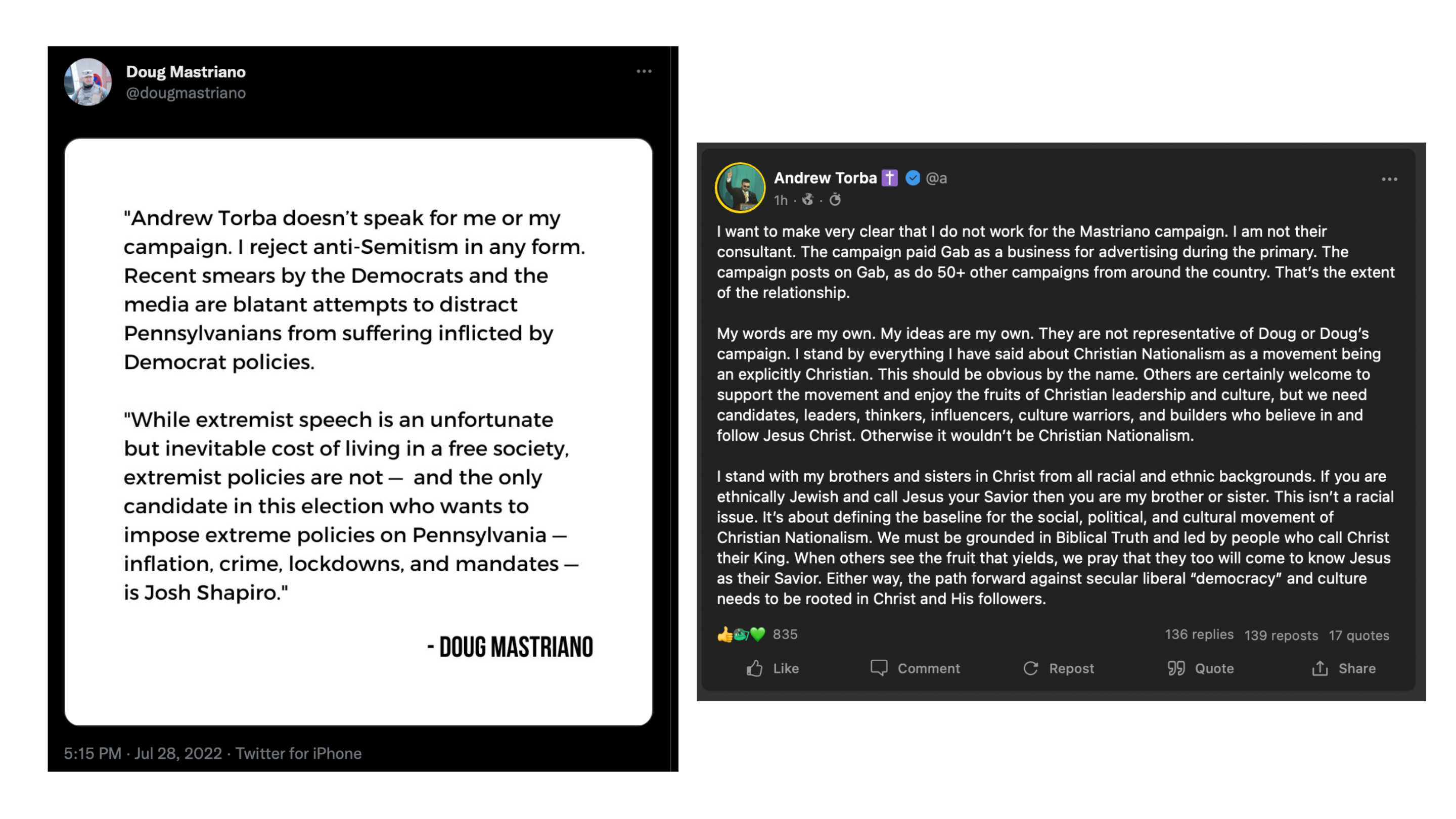 In a separate statement on his Gab profile, Torba said he does not work for Mastriano's campaign and that he is also not a consultant for the gubernatorial hopeful. 
Torba went on to defend his views toward Jews and Christian nationalism, the latter of which is the belief that the U.S. was founded as an explicitly Christian nation. "We must be grounded in Biblical Truth and led by people who call Christ their King," he said. 
Even though Mastriano has appeared to sign off of Gab for the time being, he's still active on other platforms, such as Facebook, where his live streams regularly pull in thousands of views. There are also more than 50 Facebook fan groups dedicated to Mastriano's campaign, including one for most counties in the state, the largest of which boasts more than 18,000 members.