Campaigns & Elections
What is the Keystone Party? A City & State explainer.
A look at the new third party that wants to shake up Pennsylvania politics.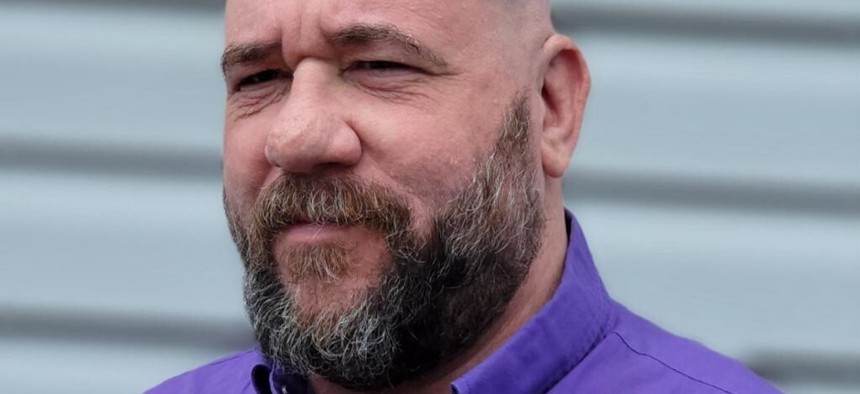 When voters cast their ballots in this year's general election, they will likely encounter a new political party looking to make a dent in this year's races for governor, U.S. Senate and state legislative seats. 
Candidates from the newly-formed Keystone Party will be on Pennsylvania ballots this fall, looking to not only pull off major upsets in their respective races, but help build a new party from the ground up. 
But what exactly does the Keystone Party stand for? And how does the party plan to go about building political power in such a divisive political environment? City & State spoke with Keystone Party Chair Gus Tatlas about the inspiration for the new party, and how they might win over voters in the next election.
What is the Keystone Party?
The Keystone Party is a new political party in Pennsylvania that is seeking to transcend the two-party binary and appeal to voters who are frustrated with the current system. Tatlas, the chair of the Keystone Party, said the new political organization was founded by a "core group" of people perturbed by a lack of action from politicians. 
"We just got to the point of frustration that no matter how hard we worked to try to address very specific issues that most people care about, that the politics as usual – is as usual," Tatlas said. "So we decided that we were going to start a party that was specifically built on solutions, and specifically built on popular solutions that most people in Pennsylvania already agree with, and we started from there."
One of the party's primary goals is to usher in a slate of government reforms, which Tatlas said are designed to make the state's governmental institutions more responsive to constituents. 
What does the Keystone Party stand for?
In his conversation with City & State, Tatlas stressed that government reforms are at the heart of the Keystone Party's platform, as part of the party's approach to stay solution-focused. Tatlas said replacing the state's current voting system with ranked-choice voting is one of the party's top priorities. 
Tatlas said implementing ranked choice voting – a system in which voters rank candidates by preference on their ballot – would give voters a voting method that they prefer, citing its popularity among advocates and even businesses and corporations.  
"Ranked-choice voting is something that everybody wants, and we find a lot of professional organizations in the state use it within their organizations," he said. "So, that was one of the most important things."
Tatlas also said the party supports reducing the scope of the Pennsylvania General Assembly to make it a part-time legislature, which he said could inspire state lawmakers to be more productive. 
But moving outside the realm of political reforms, the party's platform gets a little more flexible. Tatlas said that while the Keystone Party largely prefers that government intervention remains as limited as possible, there are times when the government should step in to help the people it serves. 
Tatlas said the Keystone Party supports "self defense" and "self ownership," which would cover the right to own firearms and the right to abortion access, but that the party won't draw lines in the sand when it comes to where candidates stand on issues. 
We just got to the point of frustration that no matter how hard we worked to try to address very specific issues that most people care about, that the politics as usual – is as usual.
Gus Tatlas
"When we talk about self ownership, individuals have the right to do with their bodies without legal interference. We're not specifically talking about abortion, and the reason why we did that is because in the old parties, they drew lines in the sand on issues like that," Tatlas said. "They said in their parties, 'We're drawing lines in the sand, and if you don't toe the line on the exact rhetoric we give you, then you're not going to get support in this party.' That has fostered extremism in American politics and in Pennsylvania politics."Are Keystone Party candidates running in 2022?
Having been formed in April 2022, the Keystone Party has a long way to go until it becomes an everyday name in Pennsylvania politics. And even if the party loses in all five of the races in which it has candidates running, this cycle could still prove a success. 
That's because state law requires minor political parties and one of their candidates to meet certain vote thresholds – 2% of the winner of the election's vote total in at least 10 counties – in order for the organization to be officially recognized as a political party in the next election cycle. 
That means this year's candidates could still have a major impact on the party's future. In the state's gubernatorial race, Joe Soloski, an accountant from Halfmoon Township, is running on a platform that includes cutting taxes, lowering government spending, decriminalizing marijuana and enacting term limits for state lawmakers. 
Nicole Shultz, the party's nominee for lieutenant governor, has also listed fiscal responsibility, limited government intervention and women's rights as key issues she supports. Dan Wassmer is the party's nominee for U.S. Senate, and all three statewide candidates previously ran as members of the Libertarian Party. 
Even if their bids for office don't bear fruit, Tatlas said the candidates running are doing a service to the party, as they lay the groundwork for future ballot access for the Keystone Party.
"They're running selflessly," Tatlas said. "They're running for the good of the party, and to get that minor-party access."