News & Politics
Biden renews call to 'battle for the soul of the nation' in Philadelphia speech
His second of three visits to the commonwealth this week focused on defending democracy.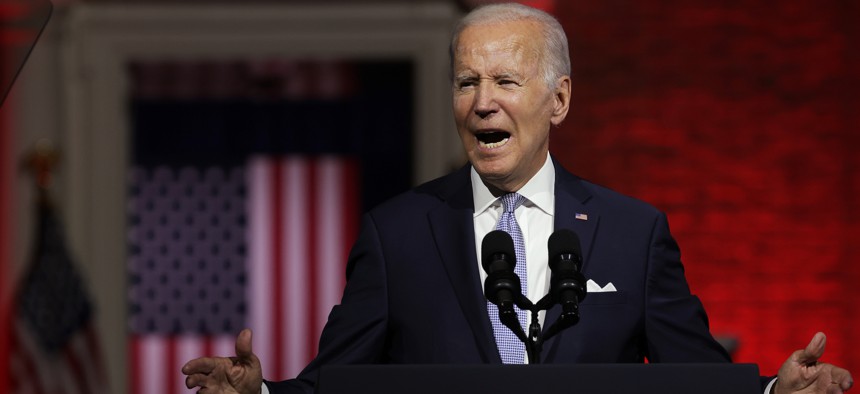 In a nationally televised appearance that recalled the messaging and energy of his successful 2020 presidential campaign, President Joe Biden delivered a speech outside Independence Hall in Philadelphia Thursday night emphasizing that the U.S. is in a "battle for the soul of our nation."
In his second of three visits to the commonwealth in the span of a week, Biden repeatedly called out former President Donald Trump and "MAGA Republicans" for seeking to overturn the 2020 election and for representing an "extremism that threatens the very foundations of our republic." 
Defending democracy has become a central theme of the Biden administration as the midterm elections near. He appeared in Wilkes-Barre on Tuesday, where he also blasted MAGA Republicans for attacks on the FBI following their search of Trump's Mar-a-Lago residence. He also plans to march with laborers in Pittsburgh on Monday. 
In addition to calling out right-wing extremism, Biden touted legislative accomplishments in an attempt to paint a picture of a more united country. 
"Not every Republican embraces their extreme ideology," he said. "I know, because I've been able to work with these mainstream Republicans."
Biden's closing message Thursday was a cautionary one, warning that the country could go down one of two paths. 
"America must choose to move forward or to go backwards. To build a future or obsess about the past, to be a nation of hope and unity and optimism or a nation of fear, division, and of darkness," he said. "MAGA Republicans have made their choice."
With barely two months to go before Election Day, the Biden administration is traveling around the country to both promote its legislative successes – earlier in the evening, Vice President Kamala Harris delivered a speech in Durham, North Carolina on the newly passed Inflation Reduction Act – and to paint a vividly contrasting picture of what the Republican Party would do if it were to take back the majority in Congress. 
In a statement released before Biden's speech, Republican National Committee Chair Ronna McDaniel said that "Joe Biden is the divider-in-chief and epitomizes the current state of the Democrat Party: one of divisiveness, disgust, and hostility towards half the country."
This was Biden's first major speech in the city since last July, when he spoke about voting rights during the AFL-CIO's annual constitutional convention. 
Trump is also expected to be in the Keystone State this week: In his first scheduled public appearance since the FBI search last month, he is slated to visit Wilkes-Barre on Saturday, where he is expected to campaign for Republican candidates in the commonwealth.